This is Day 2 of My Selangor Story so sit back and enjoy a video that summarises Day 2 of MSS!
Vote 5 Stars for Day 2!!! Click here:
Good morning Shah Alam! Luckily for me, the room overlooked the Shah Alam Stadium when I decided to try out the Pentax X70.
Say hello to the Selangor Sunrise!
Tips for a good sunrise/sunset shot.
No cockroaches in the room so far today, but wait till you see what happens next! So after my morning bath (sorry no pics), I went down for breakfast in the hotel lobby. Food was already prepared and was a decent breakfast I must admit.
Nice, tummy filled, you think I"d be happy.
Suddenly.....
Ah well, at least i did not take any plates from there. Too bad for Amelia...who did take a plate from the stack. Wonder what extra flavours were included. Anyway, the first destination for day was...
Thanks
BB
for introducing our visit to Royal Selangor! Thats right! One of the places you can visit in Selangor is the Royal Selangor factory! Say hi to Jun, our tour guide for the day (no he is not korean). Today, you are going to learn how to make your own pewter!
To the layman, Royal Selangor might seem to be just a pewter manufacturer, but in fact, it has rich chapters of history that would astound you. First up, we were guided into the Pewter Museum which houses many of the previous works and antiques. Royal Selangor was started by Yong Koon Seong, an immigrant from China at time in 1885.Then called Selangor Pewter, the company exported many tin products. In 1992, the company changed its name to Royal Selangor to reflect its royal endorsement from
His Royal Highness The Sultan of Selangor that time, Almarhum Sultan Salahuddin Abdul Aziz Shah, and to reflect its diverse product range, which has extended beyond pewter.
For me it is personal. Like the founder of Royal Selagor, Yong Koon Seong, my great-grand parents immigrated from China to mine for tin.
Next was the tour of the factory. After seeing how these beautuful creations are made, I am convinced that each and EVERY pewter is worth its weight in gold! The people making these pewters are all gifted craftspeople with skills that would put me to shame!
Oh well, its back to school for us. I can already hear you saying, "Back to school?" Yes back to school! Let me welcome you to the School of Hard Knocks, where YOU get to make your own pewter! Like you have seen, there are many stations on the factory floor. Due to the short time we were there, we only had time to explore how to emboss your name onto a circle of tin and then shape it into a bowl!
So here is how you do it:
1. Get a extruder with a letter on it
2. Use a mallet, and tap twice on to the top of the extruder
3. Place the circle on a shallow sphere matrix and start whacking, hard!
4. After getting the circle to fit into the shallow mould, place it into the deeper matrix and whack even harder!'
5. When its fits into the groove nicely, its ready for engraving an polishing!
Babe showing off her skills!
Nice right?? and I found a really nice use for it too! Also got to keep the apron!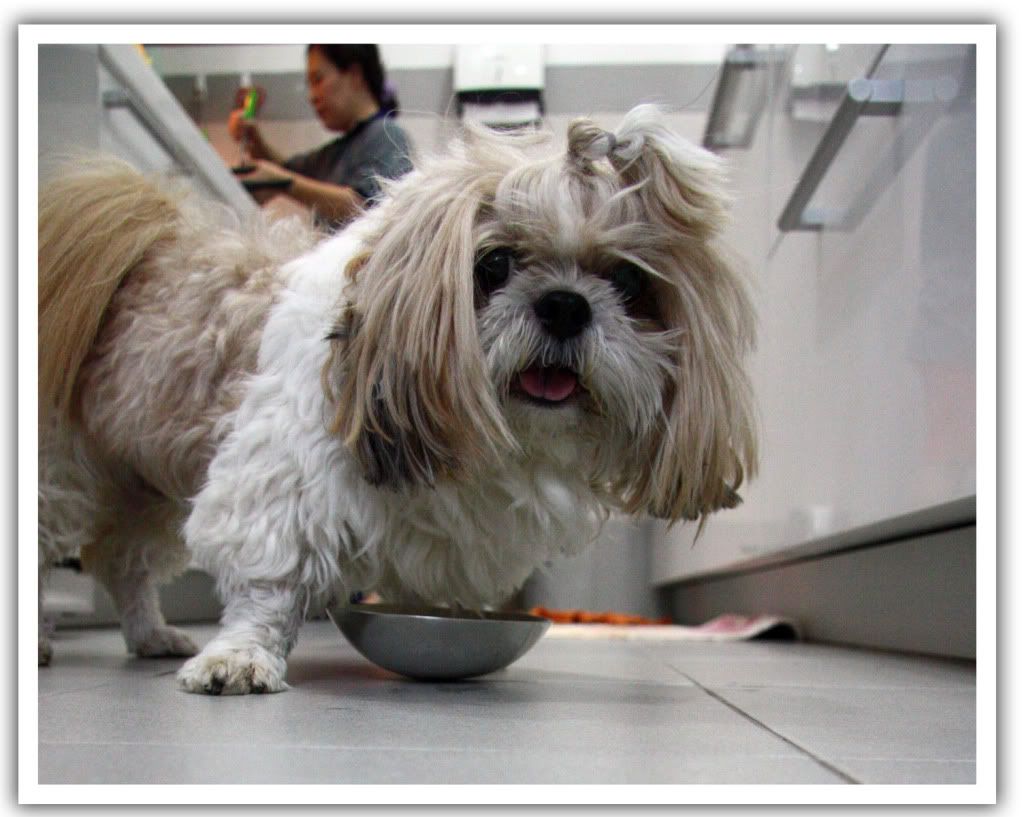 Honestly, all that knocking is hard work and so we adjurned to the coffee house where we were treated to some light refreshments!
At the same time, We even received certificates! Yay! Graduated from knocking school! Datin Chen Mun Kuen, the granddaughter of the late Yong Koon Seong, presented us with our graduation gifts.
As a finale, she shared with us the story of a most intriguing piece of pewter, the lucky pot. This pot, saved a life before.
The story goes something like this: During world war 2, a man was fleeing with all his belongings when the Japanese attacked. He was running away when he saw this teapot lying by the railway track. Bending down to take the pot, a bullet flew past his head, just missing his head. Safe, he dropped ALL his belongings, grabbed the teapot and ran as fast as he could to safety. After the war, he would use the same teapot to serve all his guests and relate his story. One day, Royal Selagor was
approached to polish the old teapot. Upon receiving the teapot, workers discovered Yong Koon Seong's signature at the underside! It was a pewter handcrafted by he himself! Today, the piece sits in the Royal Selangor museum waiting to tell its story to anventurous visitros. To date, the teapot is the only pewter to follow exactly the design of the original and still marked with Yong Koon Seong's signature!
Before we left, we got a chance to rub shoulders with the biggest pewter mug in the world! Weighing in at one and a half tonnes, the 2796 litre mug is dubbed the biggest in the world by Guiness World Records
For more information contact
"Head Office & Visitor Centre
Royal Selangor International Sdn Bhd
4 Jalan Usahawan 6, Setapak Jaya
53300 Kuala Lumpur, Malaysia
Tel: +60 3 41456000
Fax: +60 3 4021 6831"
or drive there at
View Larger Map
The temperature outside the bus got cooler and cooler! Next stop, Genting Highlands! Located 2058 meters above sea level, Genting Highlands is one of Malaysia's most visited tourist destinations! Situated at the border of Pahang and Selangor, the six hotels owned by Genting Group plays (pun intended) a very important role in the two states' revenues. The journey up to the summit would take another hour or so. The interesting thing about Genting Highlands is that it was once a dream of the late
Dr Lim Goh Tong, but more on that later. Of the land leased to the company, only 4% is developed and so leaving the highlands in a still very pristine state.
We arrived at our destination at about 12.30pm. We had very special guests today, one, Dato Anthony Yeo (Senior Vice President of Public Relations of Genting World Bhd, and YB Elizabeth Wong, Bukit Lanjan EXCO for Tourism, Consumer Affairs and the Environment. We proceeded to the Highlands Hotel to become the official reception party!
We even got to a do photoshoot!
Hungry! Like the speed of fat, we marched on to get some food! Lunch was on Genting as we were ushered into the Maxim Genting Restaurant! Anthony Yeo gave his speech and one of the more interesting piece of trivia I have for you is Genting Highlands has about 10,000 rooms and was at 93% occupancy in 2009! Now why did my dad go sell Genting shares! Lunch is served and look whats on the menu!
More goodies! All of us were given RM200 to spend! Wee!! Now thats first class treatment! In the midst of the giving, I enjoyed the selection of dessert presented! OMG! Heaven!
"Why so rush!" I was divorced from my mango pudding as lunch ended abruptly!
Apparently, we had to get some check in done and I guess it was worth it. You know why? Cause I got this twin room all to myself for the night!!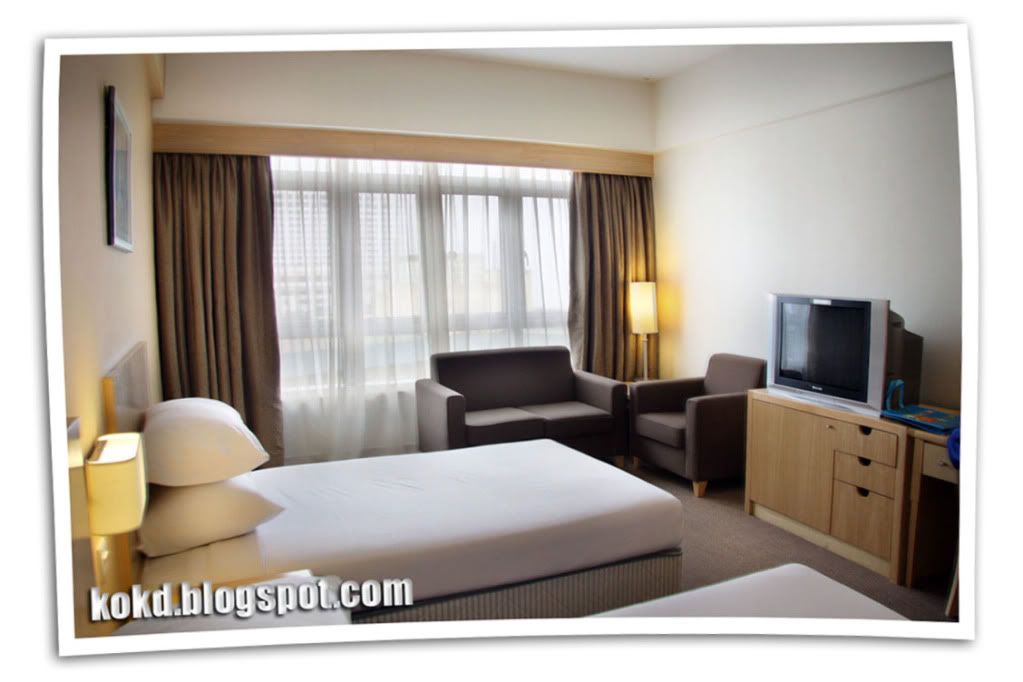 Hmmm, now who do I share it with... hint hint...
Thank you Genting!!! As you can see, we were given all access passes by Genting to explore ALL the parks!! Sadly, our time there was short and we only managed to get onto a few rides and get some pictures! It was also raining at the time to weather plays a very important role. Check the weather forecast before going to Genting! Chances are, global warming has made it really wet up there!
Nonetheless, we still had the indoor parks to play at which provided more than ample entertainment for the top 30 bloggers. Dinner was free for all, but seeing that time was at a premium, we decided to go to the closest restaurant and ended up eating chicken rice! The other nice restaurants were just too far away to walk for us!
What a lazy hungry bunch of bloggers we were! But it was for a good purpose, we had FRONT ROW SEATS to DAZZLE! Genting's International Entertainment Show. We had to be at the Arena of stars by 8.45 pm otherwise the gate closes! With a capacity of 6000 people, the arena attracts visitors everyday and the shows run at different days of the week! Check Genting's website. I still can't get over it! FRONT ROW SEATS!!!!
OMG!! I was planning to watch Dazzle since July but I could not find the time to take BB up! It must be heaven smiling upon me that we got to see the show together before I leave for London! Thank you GENTING!! Moreover, in a rare gesture, Genting has granted the bloggers permission to shoot during the show so that you can have... FRONT ROW seats the show as well!! Terms and conditions apply of course including no standing, no videos, no flash and none of certain acts. Normally, no photopraphy is permitted, and there will be attendants enforcing that. Lift a camera up and it would be just like the movies!
Since you are snug in your seat, read closely and you might even learn a trick or two!
The first act was called the Living Statue in what seemed like a fusion of hip hop and contemporary ballet. The main act was performed by Charles, who learned his trade from Jerome Murrat. Read an interview with Charles! A slice of mime and a hint of hand puppetery, it was a great opening act!
This is something worth watching live in Genting!
With so many sexy girls, why not do some Pussycat Dolls? Watch it to the tune of any Pussycat Dolls music.
This curious looking man is the umbrella guy. Out of nowhere, he pulls out at least two dozen umbrellas! Even two beach umbrellas!!
It is amazing how many acts they perform, this one was a voilinist playing to hip hop.
The what followed was a hand shadow puppet that would make your jaws drop! Have you ever seen hand shadows mimic micheal Jackson and Elvis??? How about stevie wonder
and a whole host of animals like chimps, elephant, eagles and even crocodiles! In short mind blowing. Sorry, no pictures allow so here's the best I can do!
The one in Genting is much better than this!
What i did not really enjoy was the invisible man. Genting did not let is take any pictures, but I did managed to get a shot of the act! Ladies and gentlemen, I give you the INVISIBLE MAN!
As advertised. Can you see him?? I can't. Nor did I really enjoyed that. Shud have done matrix ping pong instead.
If you really want to learn how to do magic, this is the juicy bit. He came to the front row and pulled out a dove right in front of our eyes! Wow! He also played the change the note trick where he turned an RM1 note into a RM10 note!! How to do this. The next act was making something disappear in front of a person's eyes! This one
got me spilling milk out of my nose(if I were drinking any) Spectre was called up volunteered himself to show the thousand strong audience. First he made a tissue paper disappear. Next he made his shoe dissapear! It was so quick and so obvious that it got the masses laughing like mad! I enjoyed this one and look at the slide closely at how magic for one person is logic for a thousand, and a good laugh too!
We were brought back to the 70s when the ensemble performed to ABBA and Dancing Queen
The next act was called quick change. Easier to let the pictures tell the story.
The amazing thing is that each frame is 2-3 SECONDS apart! If you can change that fast do tell me your trick!
And the finale:
Wow... Amazing night! Time to get back to enjoy my room!
Contact Genting at
"Amelia Anne Martin
Executive
Public Relations and Communications
Genting Malaysia Berhad
amelia.martin@rwgenting.com
+603 6105 9427
Genting Highlands Resort
69000 Genting Highlands
Pahang Darul Makmur, Malaysia
www.rwgenting.com"
and here's how to get there!
View Larger Map
Tomorrow: Survivor kampung style. Can you live without the comforts of life? Explore kampung life with me in day 3, see the scars on the moon with the X70 and more!