Vote 5 Stars for Day 3!!! Click here:
Wow, what a wonderful night it was! I sloppily got out of bed and I realized something was different... I wasn't in my room... I was in Genting First World Hotel! Oh Yeah... Day 3 of MSS starts now!Wasting no time, i got up and got ready. A long day lies ahead as you can see in this video!
Breakfast at First World Lounge
Breakfast was at the tallest point in Genting. Situated on the 28th floor, the view was second best in the resort highland. The best view is coming up soon!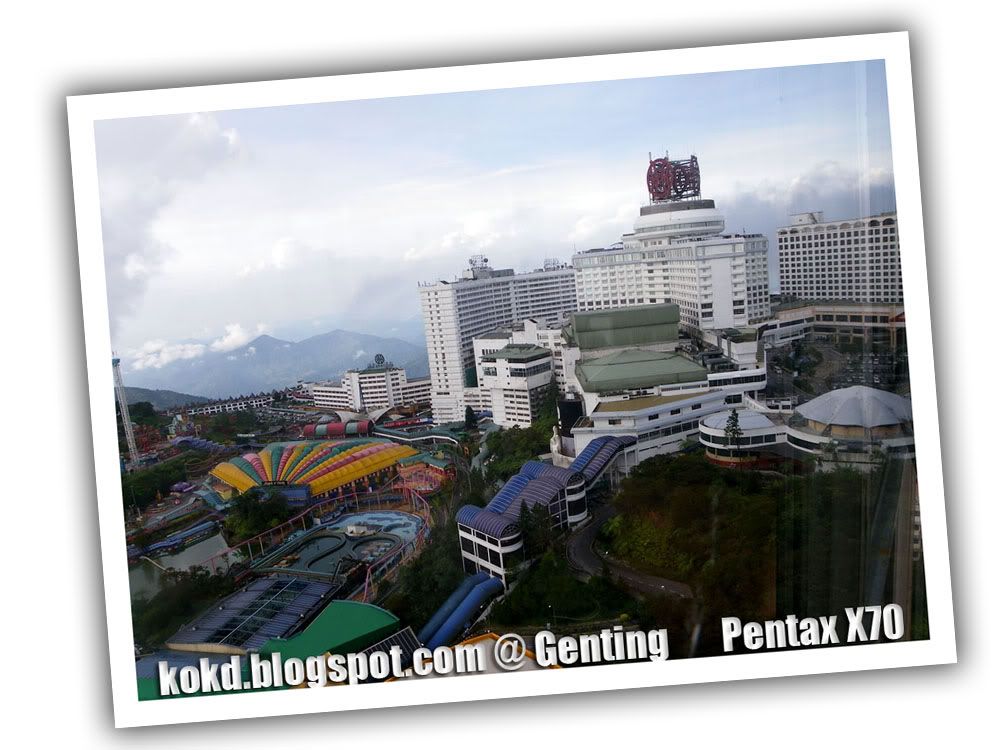 I decided to see what the
Pentax X70
can do and I was in awe.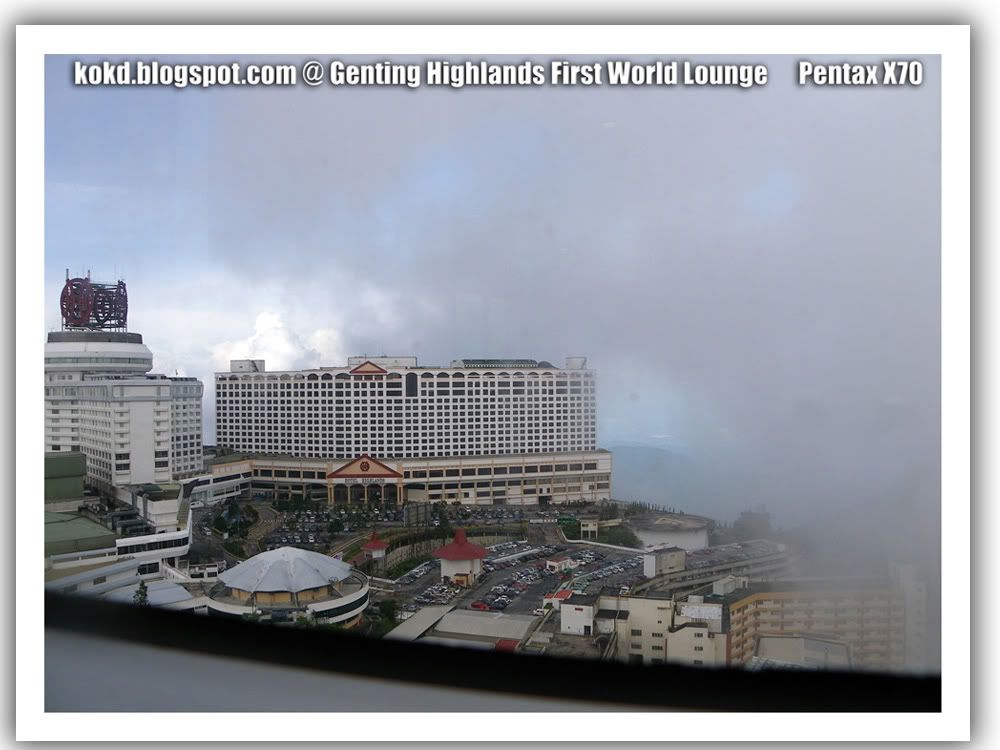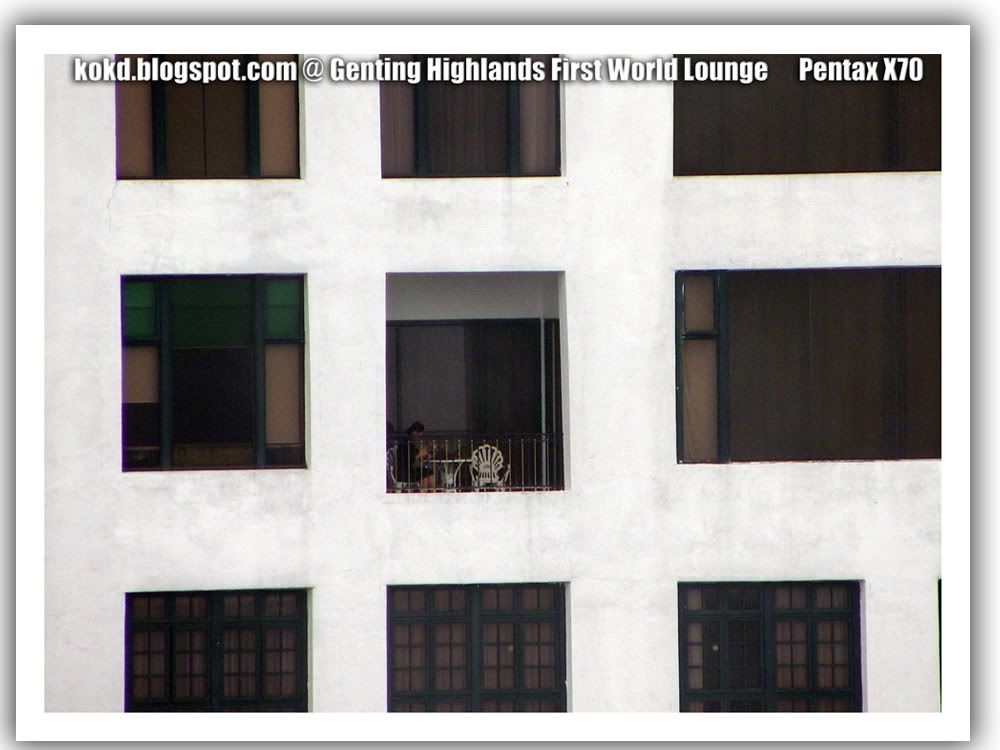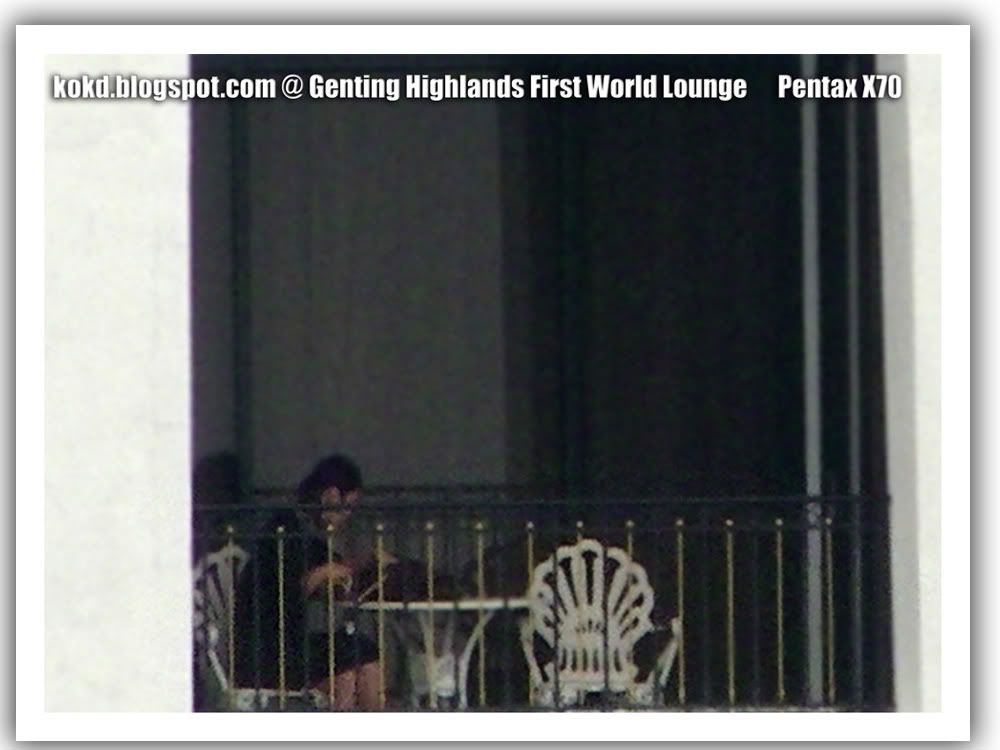 The First World Lounge is only one of the many places to eat in the world's largest hotel. There is one restaurant on the 8th floor of tower 2 and the big terrace on the 3rd floor. Breakfast was delicious in the private lounge! Eastern and oriental quisines were lined up in a buffet!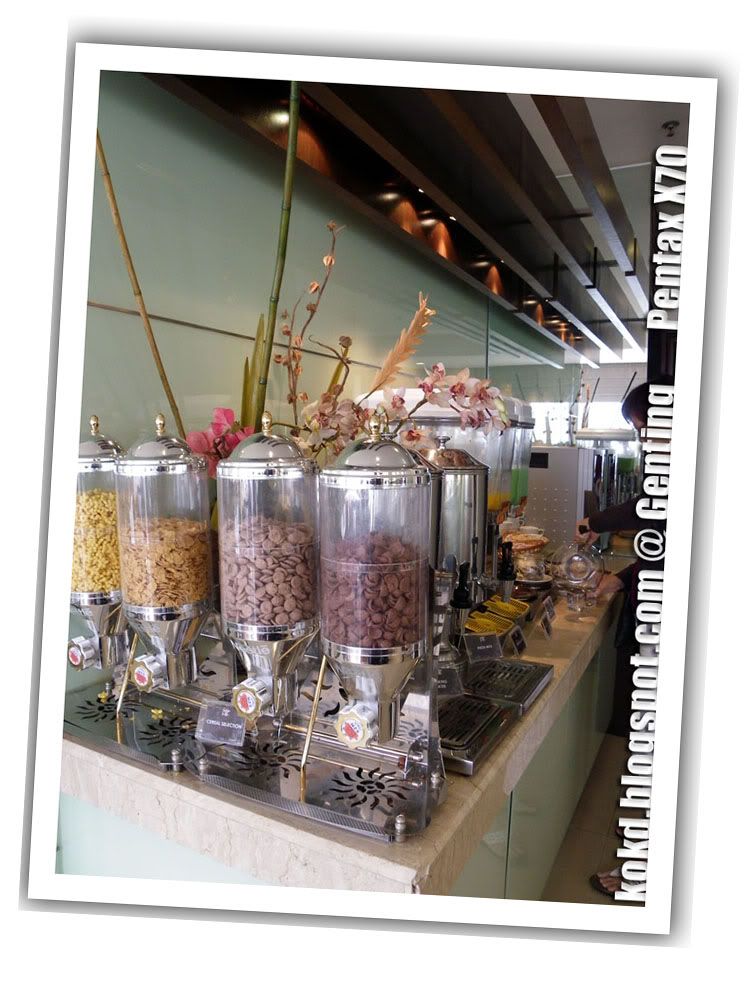 Word of caution: do not eat too much before you descend Genting or you will lose your breakfast faster than you ate it! After breakfast, it was down to the lobby and off we go with Mr Phillip and Ms Amelia sending us off. We even managed a group picture! Smile all you fresh faces!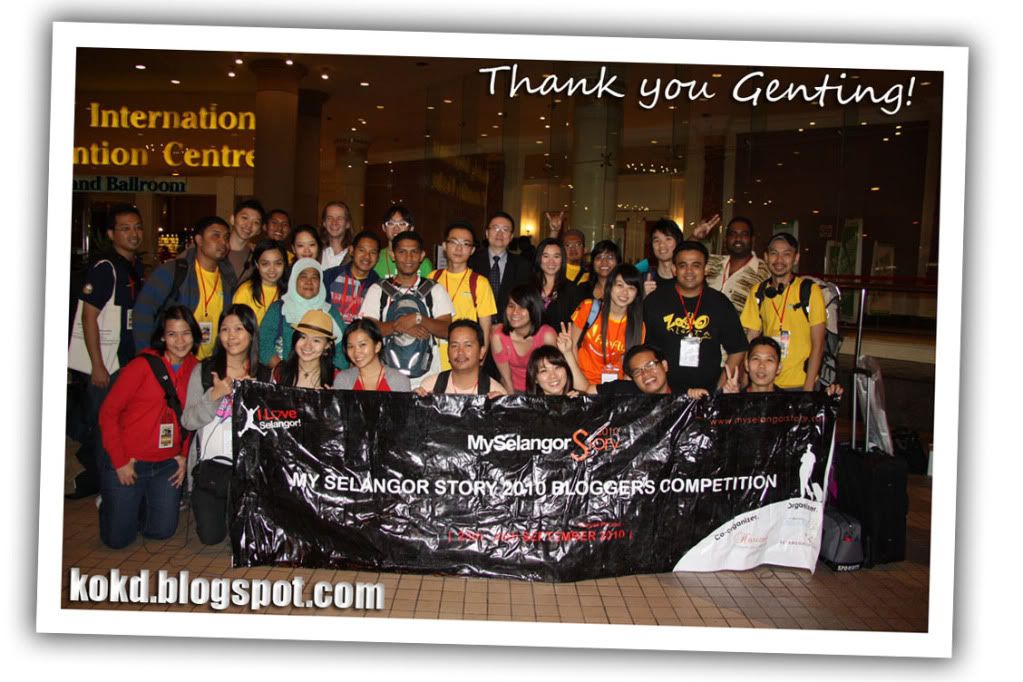 Bon voyage to Genting Resorts! Really had a bomb there!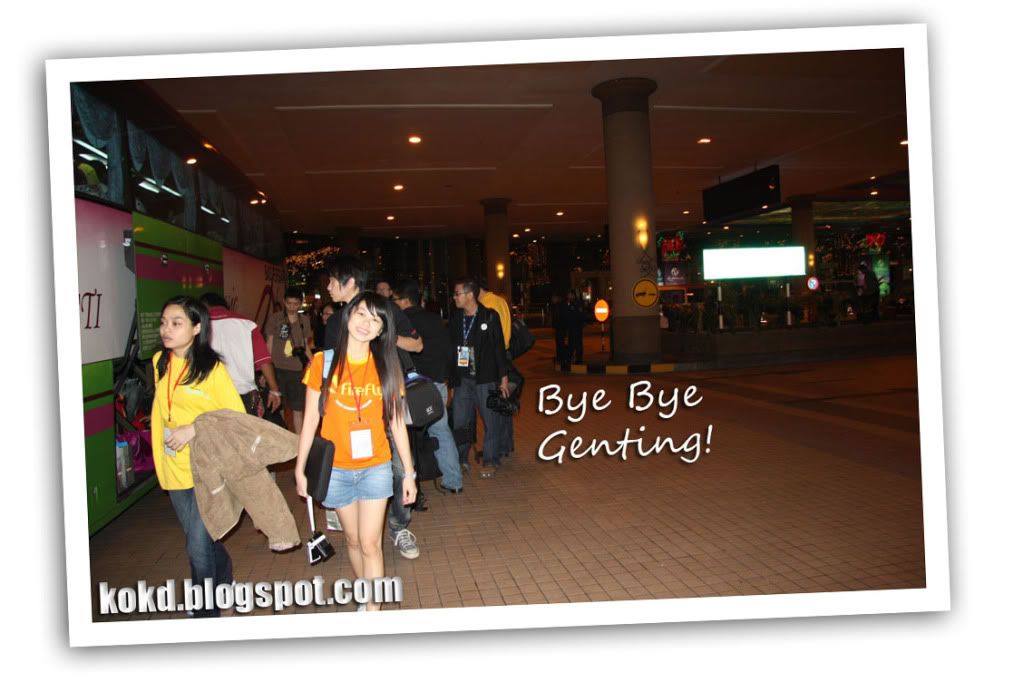 Pray for Fortune @ Chin Swee Temple
Only a few minutes into our journey down the peak, my eyes caught sight of our next destination. The best view at Genting is supposedly here: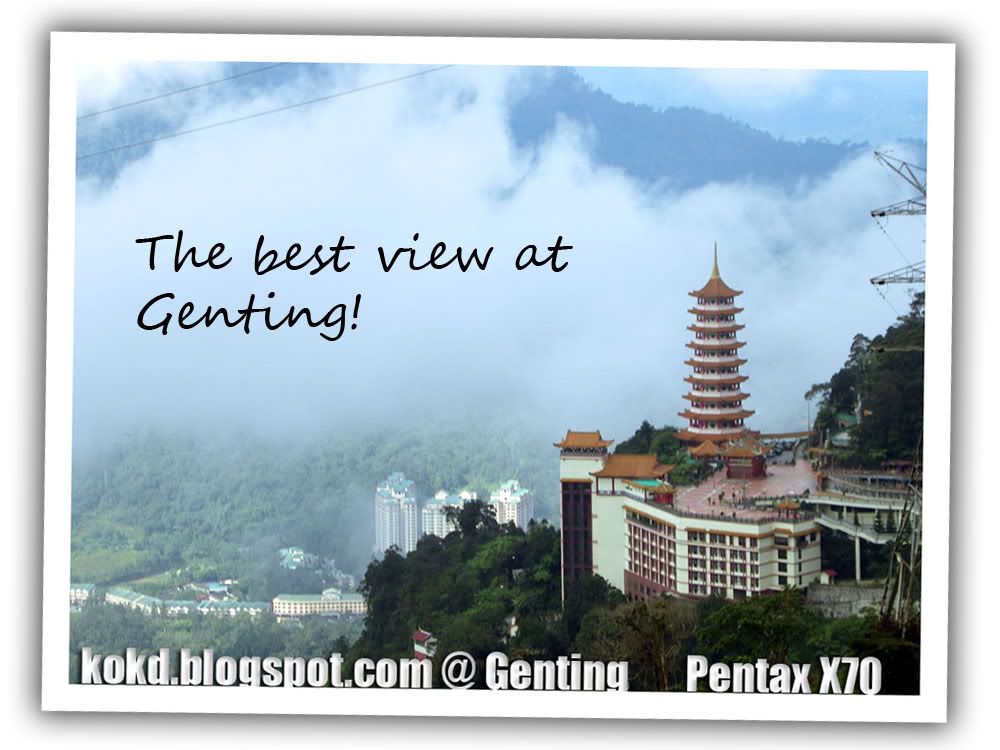 Down the hill was the majestic Chin Swee Temple where Lim Goh Tong had has vision years ago. Our bus parked by the grand archway that welcomes you in.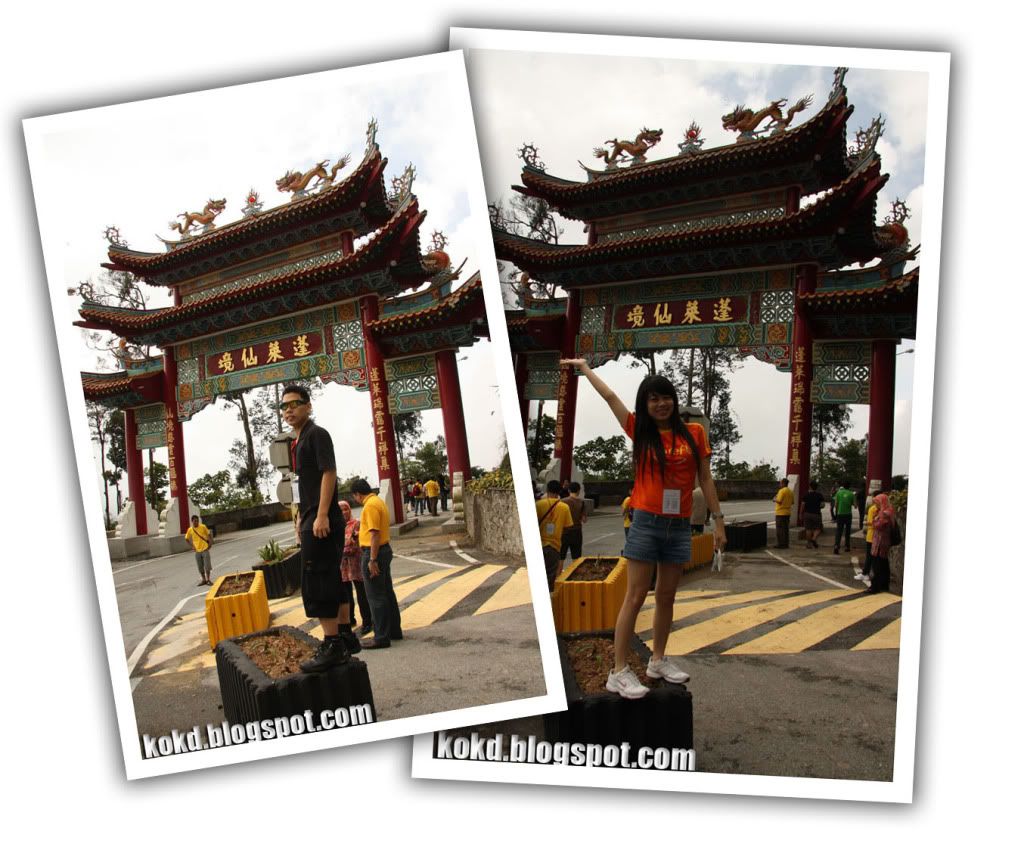 The story goes:
One day while Goh Tong was up in Genting, there was a storm. As a contractor developing the roads up, he and his crew seek shelter in a cave nearby. That night, he a a dream of Chin Swee, a diety from China. In his vision, he was told to develop the area and it would prosper.
Following his vision he developed genting and made his success there. As a tribute, he built the Chin Swee temple at the very spot he had the dream. Construction took 18 years because of the rocky nature of the area, where most of the temple was built without heavy machinery. To date, the temple has hotels or anyone looking for a more spiritual visit to the highlands and is a popular place for people to garner luck from above.
Lets see, if you did not know, this is a Buddhist Temple, and for any proper temple, it must have 3 things,
1. A pagoda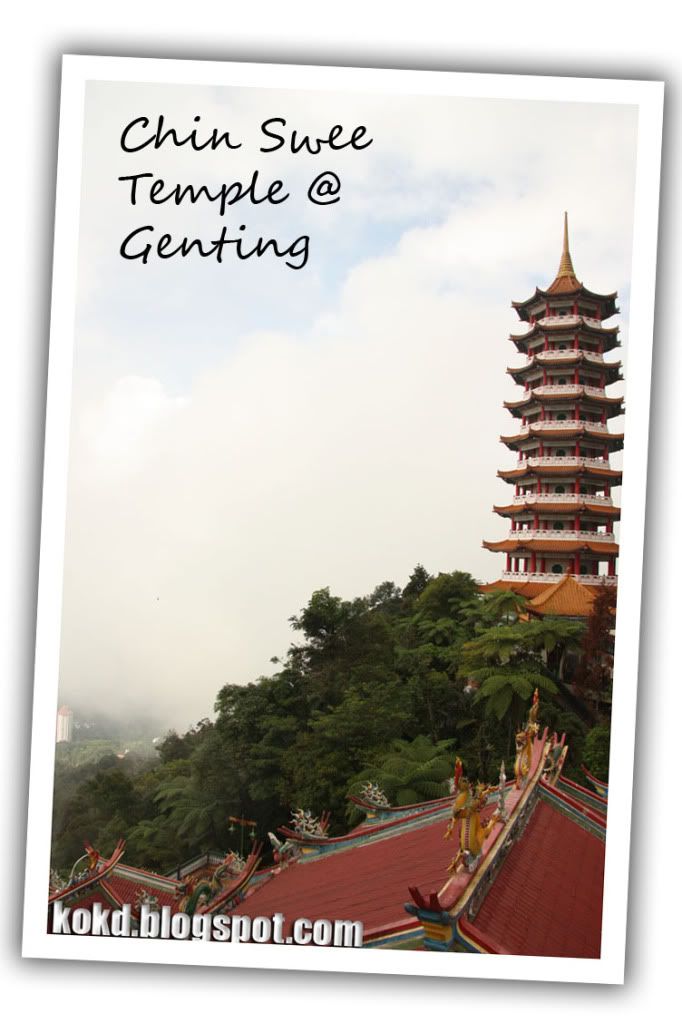 2. A statue of Buddha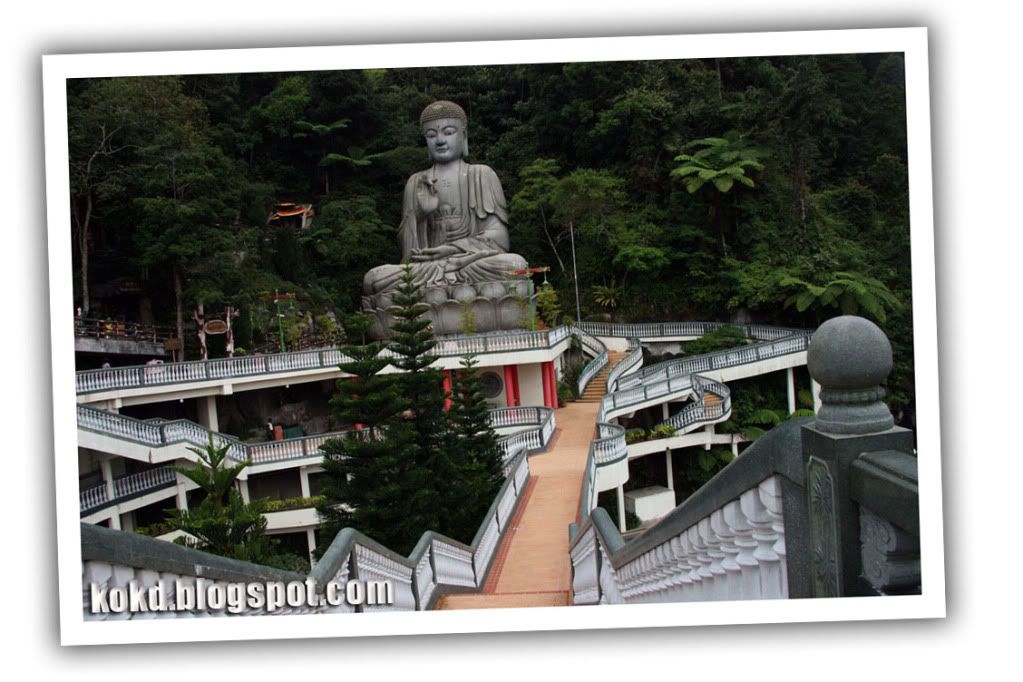 3. A Bhodi Tree (The tree that Buddha meditated under)
Hmmm.. did not have time to find it... but it would be interesting to see such a tree grow here. Do tell!
We did have some time to pose around though:
Our visit there was too short indeed. In a matter of minutes, we were in and out of the temple. However, we were lucky that the view from there was unobstructed by the thick clouds. Must go again!
For more information contact:
Amelia Anne Martin
Executive
Public Relations and Communications
Genting Malaysia Berhad
amelia.martin@rwgenting.com
+603 6105 9427
Genting Highlands Resort
69000 Genting Highlands
Pahang Darul Makmur, Malaysia
www.rwgenting.com
or you can get to Genting by bus from KL or drive there:
View Larger Map
Today, We will be having a more rural experience. We will be heading north west to the shores of Sabah Bernam close to the border of Perak. But first, we took a short visit to the forest!
Kanching Forest Reserve
Welcome to Kanching Forest Reserve. This park, run by Tourism Selangor, has several hiking trails that overlooks the scenic waterfalls.
Good to be one with nature! Here, the top 30 bloggers took a 10 minute hike up the trail and we immediately recognised the sound of water churning. Just 500m from the carpark, we have reached the base of the waterfalls.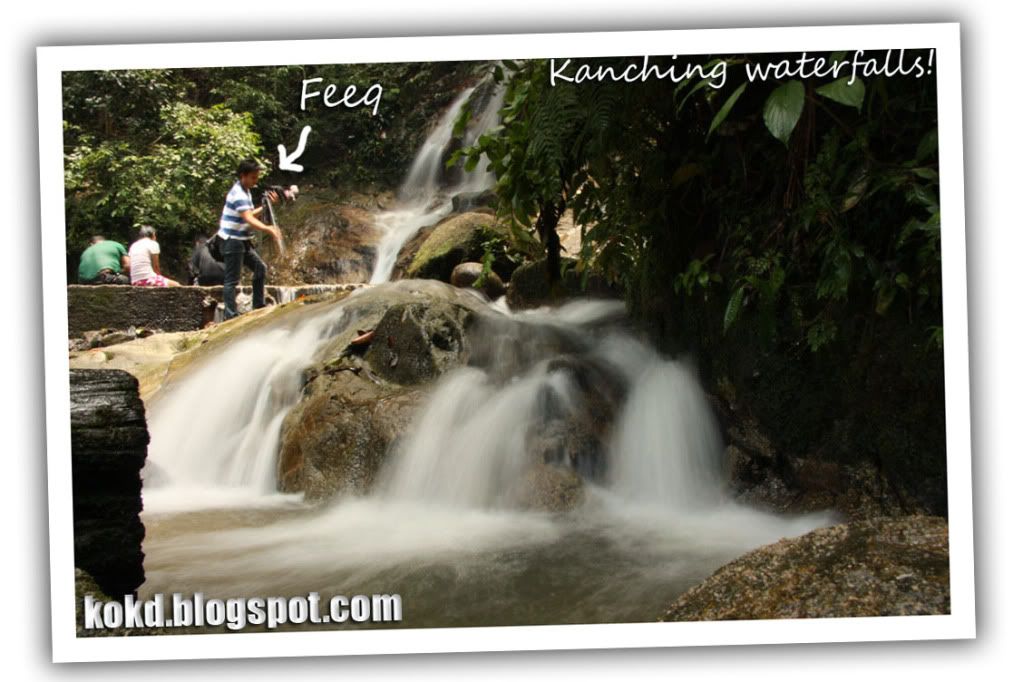 Here, some of the bloggers prefer taking photos while others prefer just enjoying the ambience.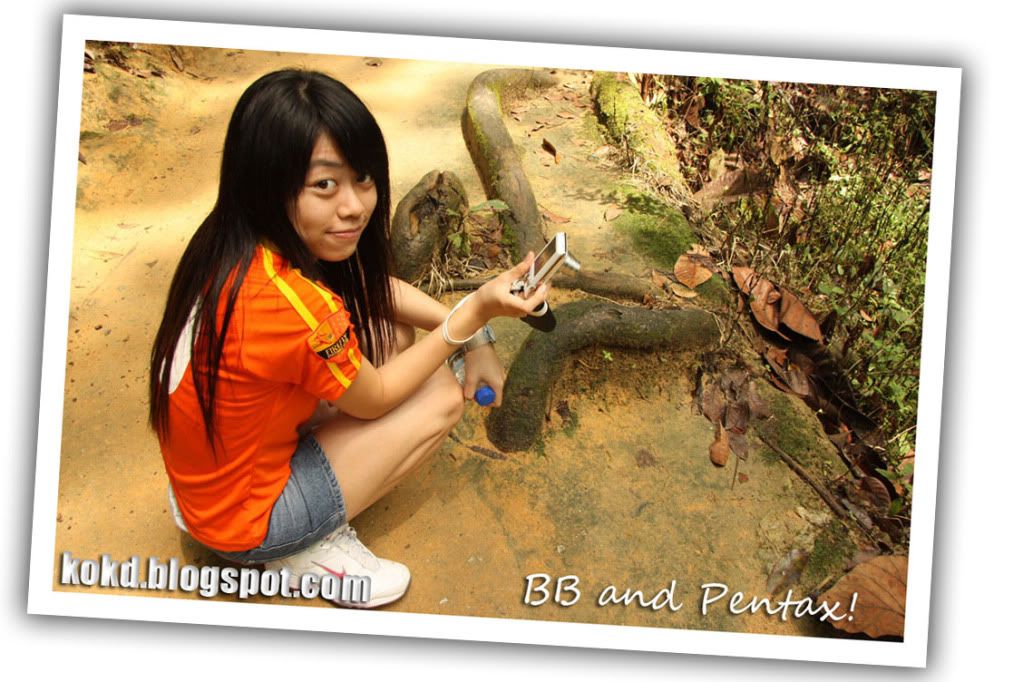 Indeed, it was a scenic route that invites you to hone your nature photography skills. A good time to try out the
Pentax X70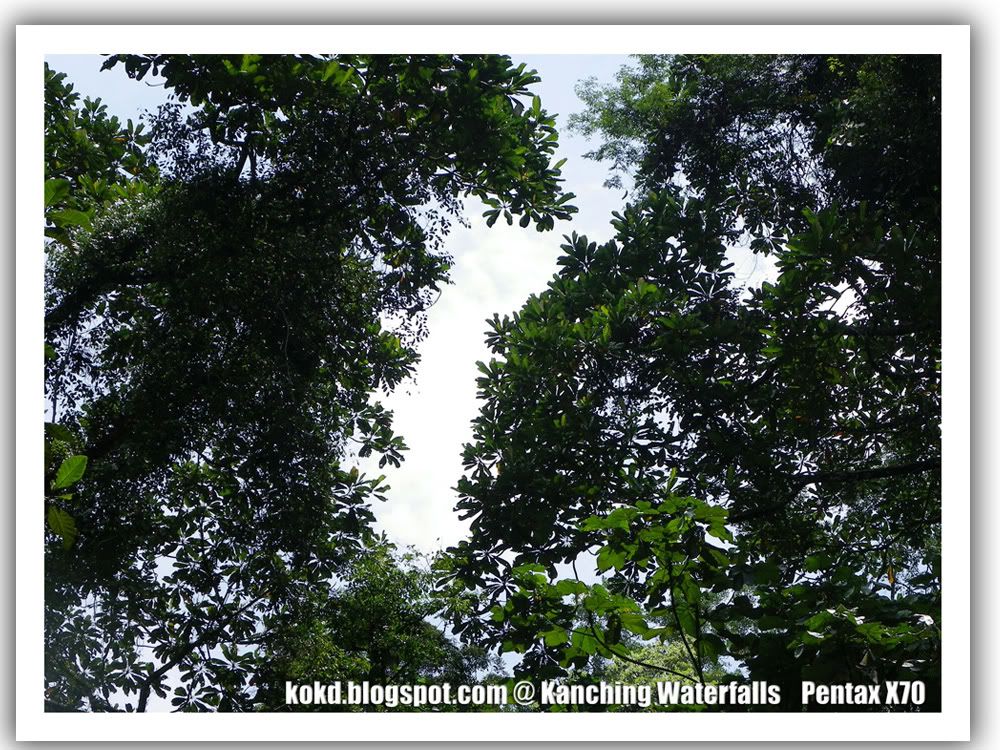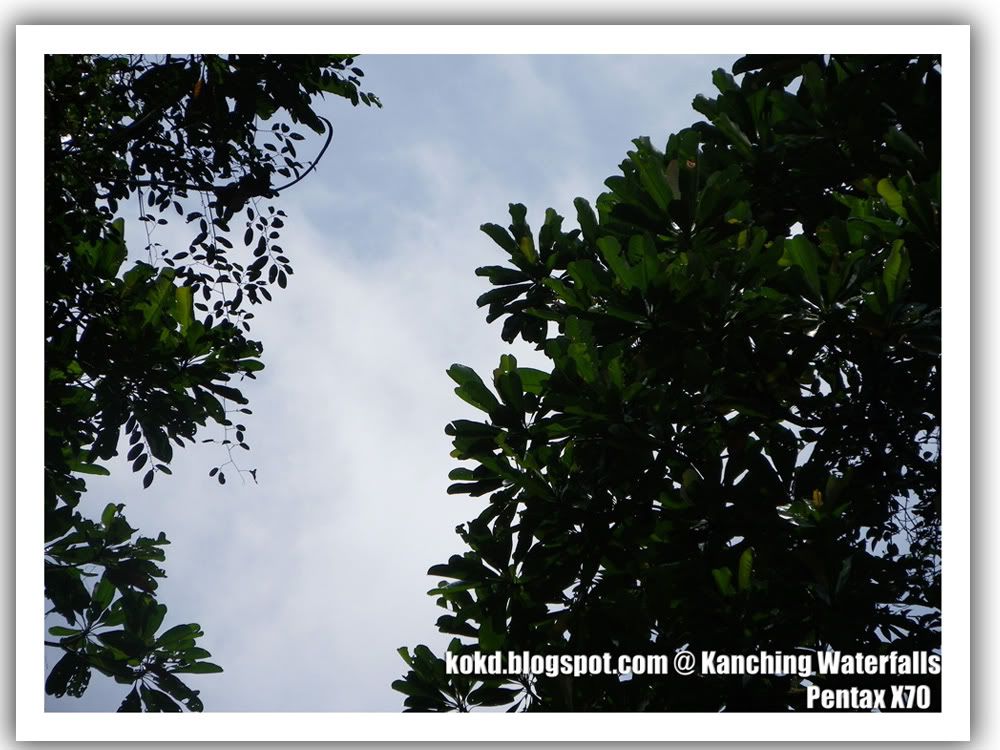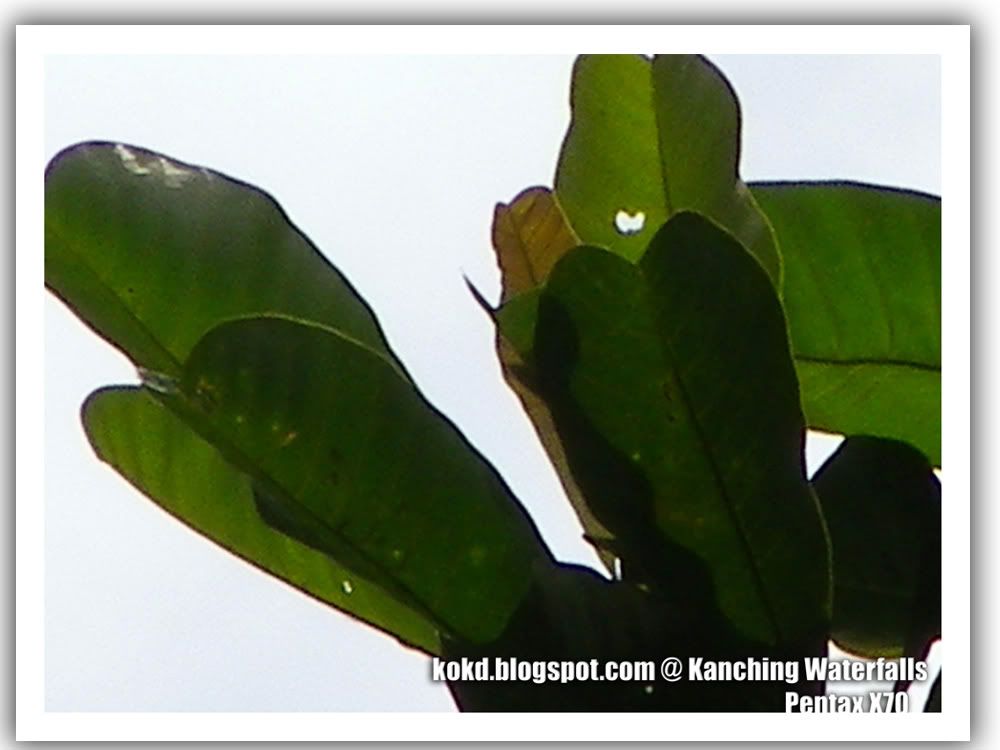 Luckily no one was skinny dipping. All kinds of flora and fauna still exist in the pristine forest, albeit the occassional pieces of litter.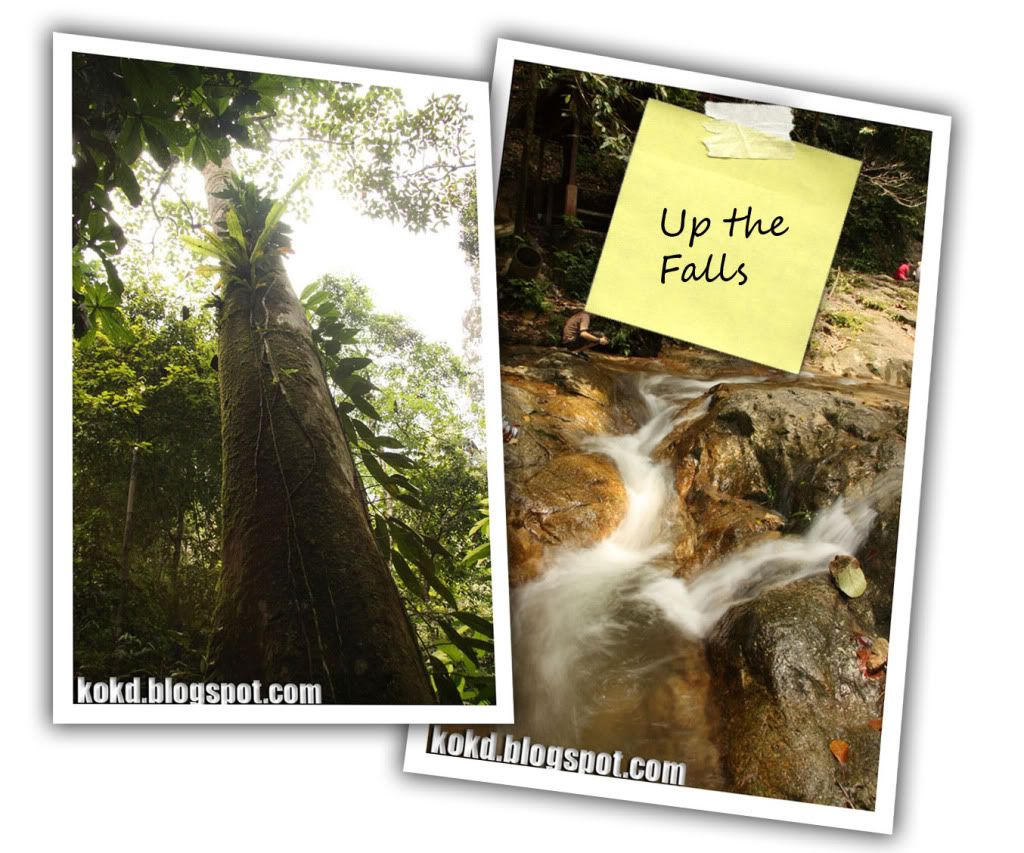 Indeed, Kanching would be a great place to enjoy the cooling waterfall breeze or to dip in after a good hike up the soring waterfalls. It's tall, trust me. After being one with nature, we adjurned to the riverside for lunch. Under the cloudy sky, we enjoyed out lunch with a little bit of sunlight. It was quite stuffy and if there is any thing that could be done, I would recommend having better facilities for people who actually visit the place. Toilets and canteens included!
One very stark problem was the amount of rubbish around and I discovered why after we disposed of our stuff in the bins provided: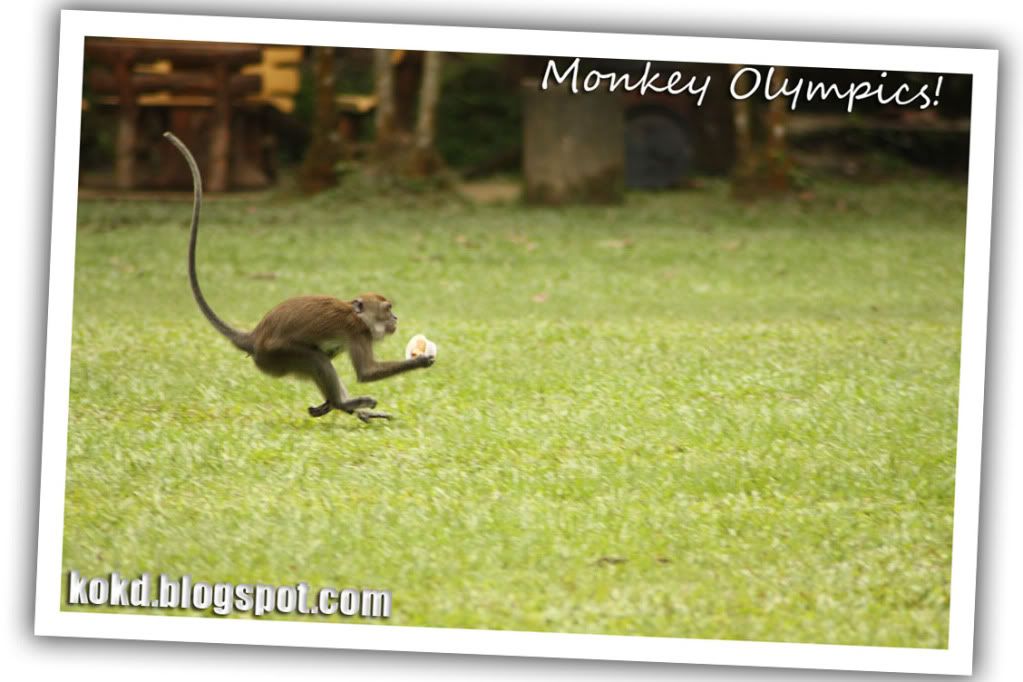 They are many and they are hungry! These monkeys have turned scavengers and were behind the mess in the reserve. The bins should be removed and signs reading "Take your rubbish home" should be in place. That way, the monkeys would not scavange for leftovers and return to the wild whilst keeping the reserve clean.
Time was short and we moved on to our next destination as an afternoon drizzle followed us to the waiting bus.
For more information on Kanching, contact:
Tourism Selangor Sdn Bhd
Address:
Lot P7, Jalan Indah 14/12
Section 14
Shah Alam
Selangor
40000
Malaysia
E-mail: info@tourismselangor
Telephone: +603-5513 2000
Fax: +603-5513-6268
Information: Business Hour: 8.30am - 5.30pm, Monday - Friday
Still free from development, the forest reserve is easily accessible by car.
View Larger Map
Kampung Boy @ Durani Homestay
Driving two hours, the 30 bloggers became witness to the changing of settings. The cityscape transformed plantations to forest and eventually we ended up in the middle of a paddy field! As reached, I could already see a welcoming party for us! We have been expected and we were treated to a selection of traditional kuih-muih and some coconut juice! Yummy!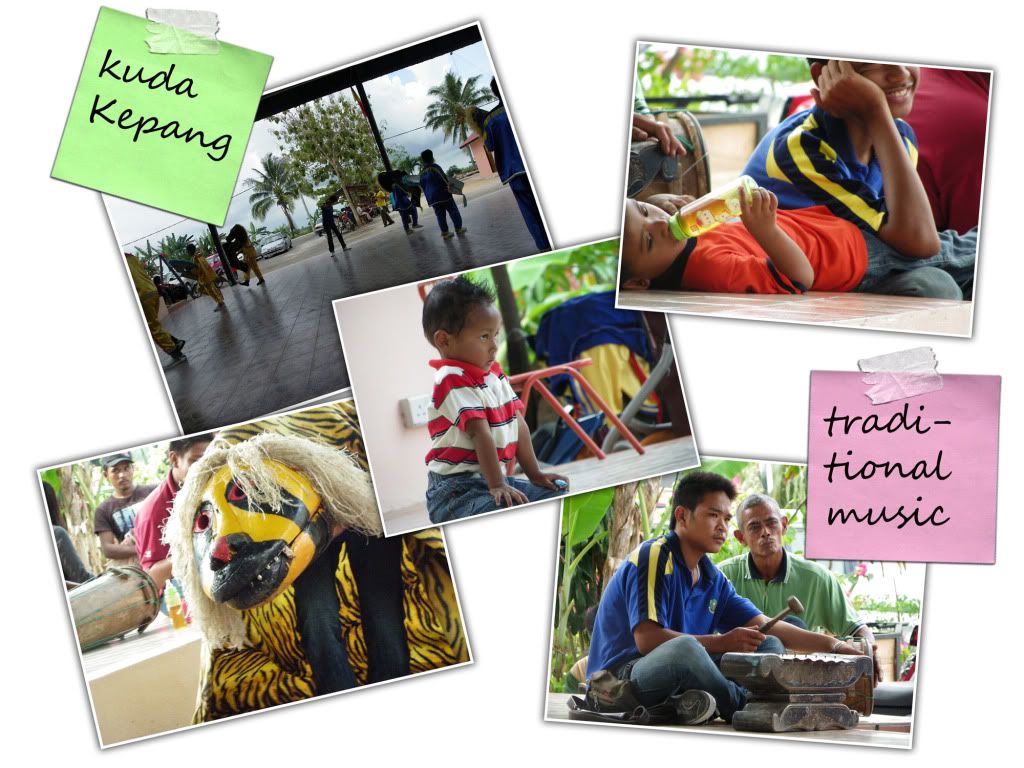 After that, there was a traditional performance - the Kuda Kepang - means horse dance - which was performed by the youths of the village.
Man you should have heard the whip snap! Scary!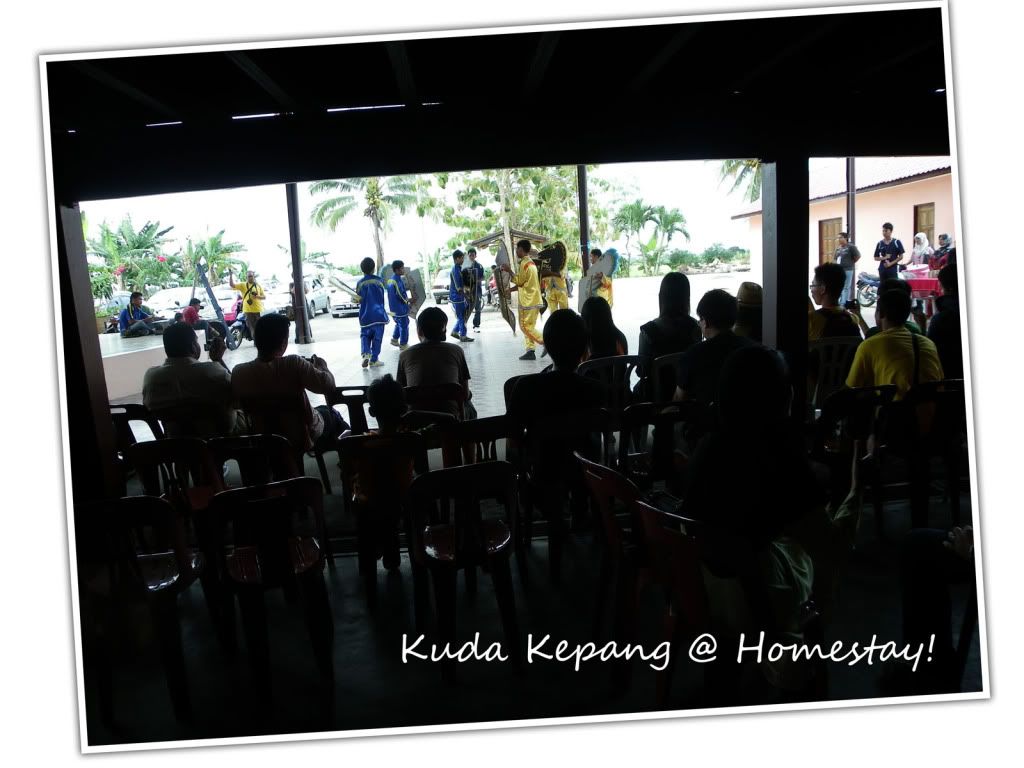 Our bloggers even joined in the fun and went to learn how to do it! In my opinion, the reception was great! The only thing that was amiss was the performance after the kuda kepang. It feature four guys behind scary masks and two more in a makeshift tiger suit. I feel that the impression less than pleasing and one should do your best in a performance. Recommended reviewing the tiger thing!
Anyway, we were grouped and assigned to our foster family for the night! Abang Ben, a lecturer at University Teknologi Petronas, and I were assigned
to En Azizan, a retired police officer: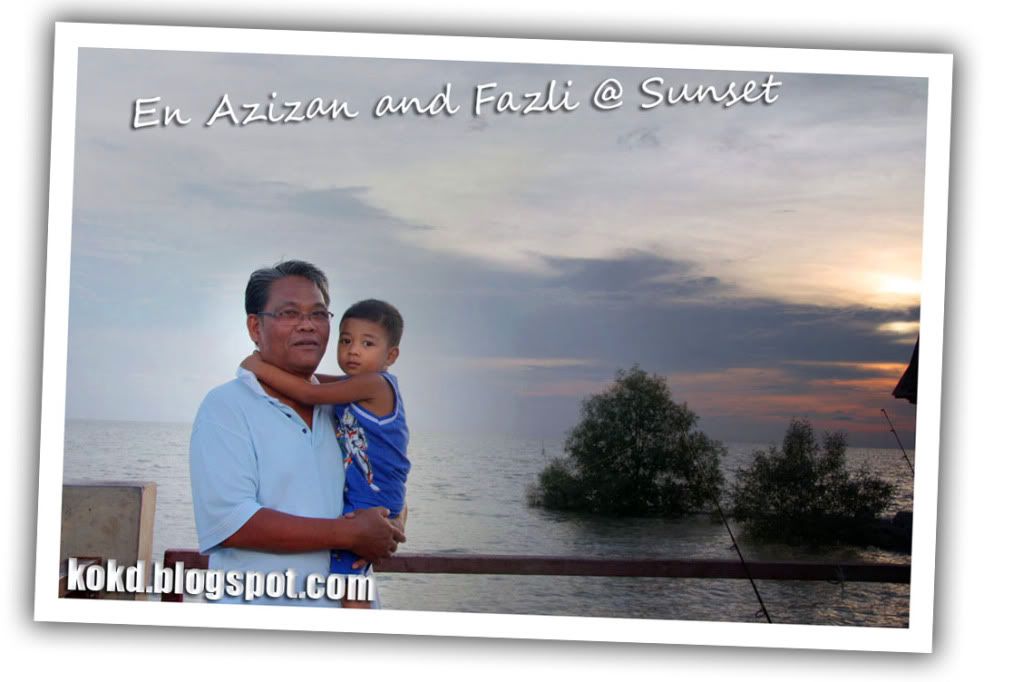 The crowd disbanded and I was heading to my home for the night!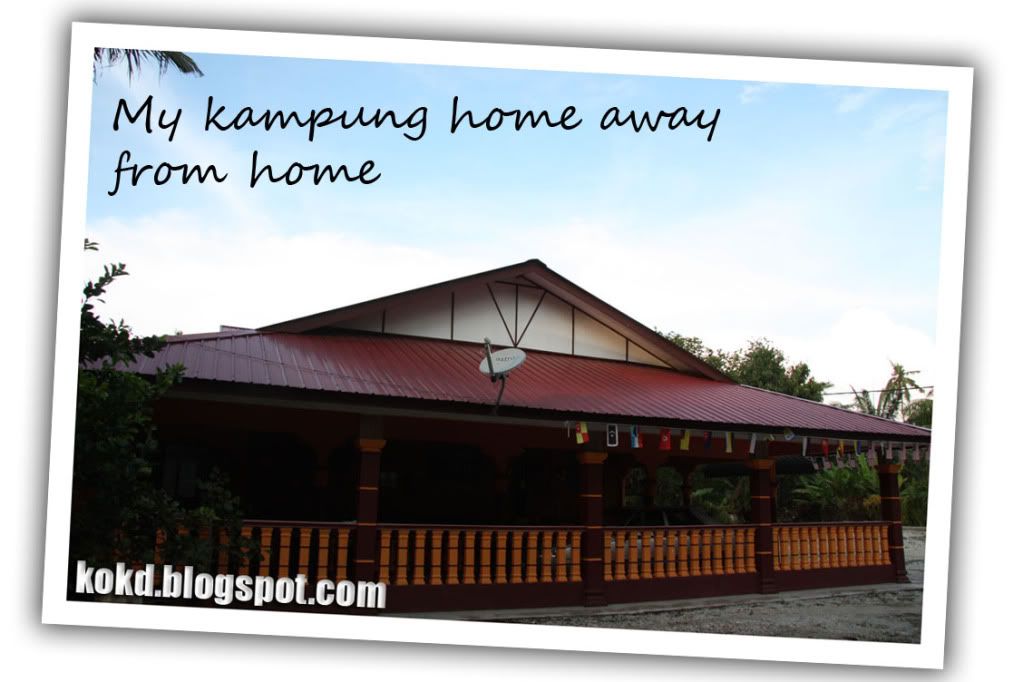 Was more modern than I expected but oh well! The inside looks surprisingly cozy. The wooden floors were lined with rugs and the windows were softened by curtains shielding the afternoon light.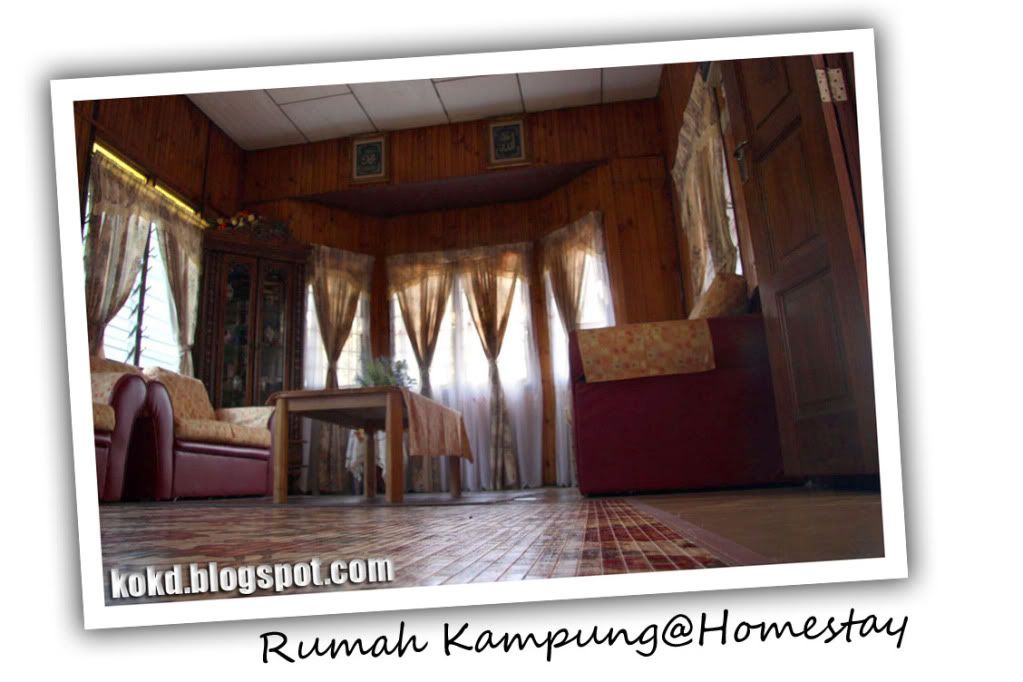 If you did not know, kampung houses are built raised. This allows any flood waters to pass under and it also acts as a natural air conditioner for the house by keeping a reserve of cool air below!
Seeing me interested in photography, En Azizan suggested that we go for sunset at the beach! Why not! It was a 10 minute bike ride from here to the beach!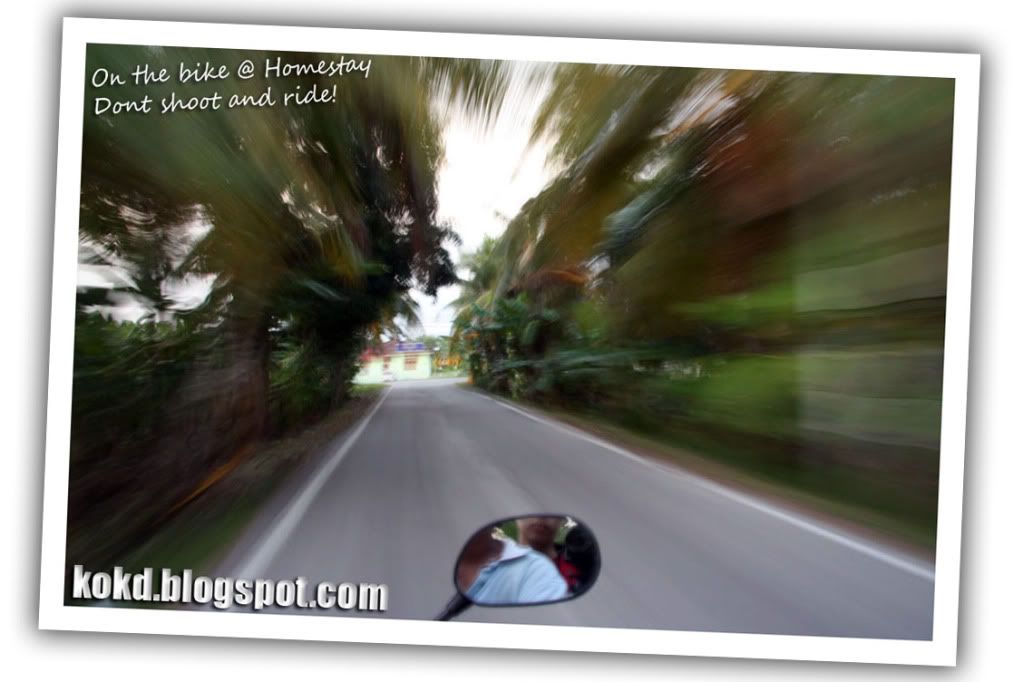 At the end was the jetty which fishermen would sail from. There were also chalets at the edge of the water. The sun was fast setting as I got one of the best shots of the trip.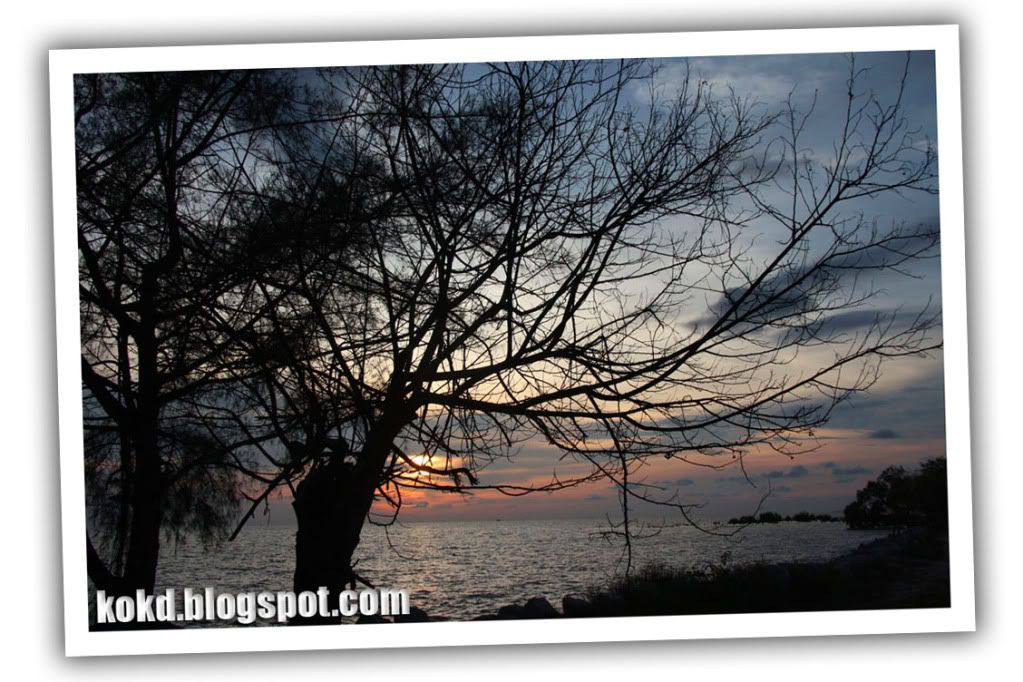 Heading back, I thought to myself, "Isn't this peaceful? The village, the beach, no civillisation, no traffic jams, no polluted air. I'm a kampung boy for a day and I am enjoying it. The sunset and dinner was served! Could not get any better! Beef rendang! Sorry, I thought it would be rude to take pictures of the food in front of my foster family! Oh well, I enjoyed the meal as I recalled how i got here.
Time to freshen up, kampung style. Don't worry, you still get piece of civillization:
PS. You might need to bring your own toilet paper! Another thing to be aware of:
After dinner, we gathered to see some of the most amazing bugs in the house!
To find out more or to experience the Homestay programme here, contact
Contact : Encik Abdul Rahman Daud
H/P : 6 013 6077 025
Email : doranihomestay@yahoo.com
and here is Kampung Sungai Dorani:
View Larger Map
Fireflies at Kuala Selangor
56 kilometers from Kuala Lumpur lies one of the only places left in Malaysia to see fireflies! In actual fact, fireflies are beetles! These beetles live on the berembang trees which span the river. When the adults come out to mate, they will emit light from their tails to signal potential mates! Wow, one light stand! To actually see the firefles on the river, you need to get on a sampan! Fireflies don't like the noise and the light. I mean would not want a huge human making noise and shining lights on you when you are trying to get it on would you? Off we go to the boats!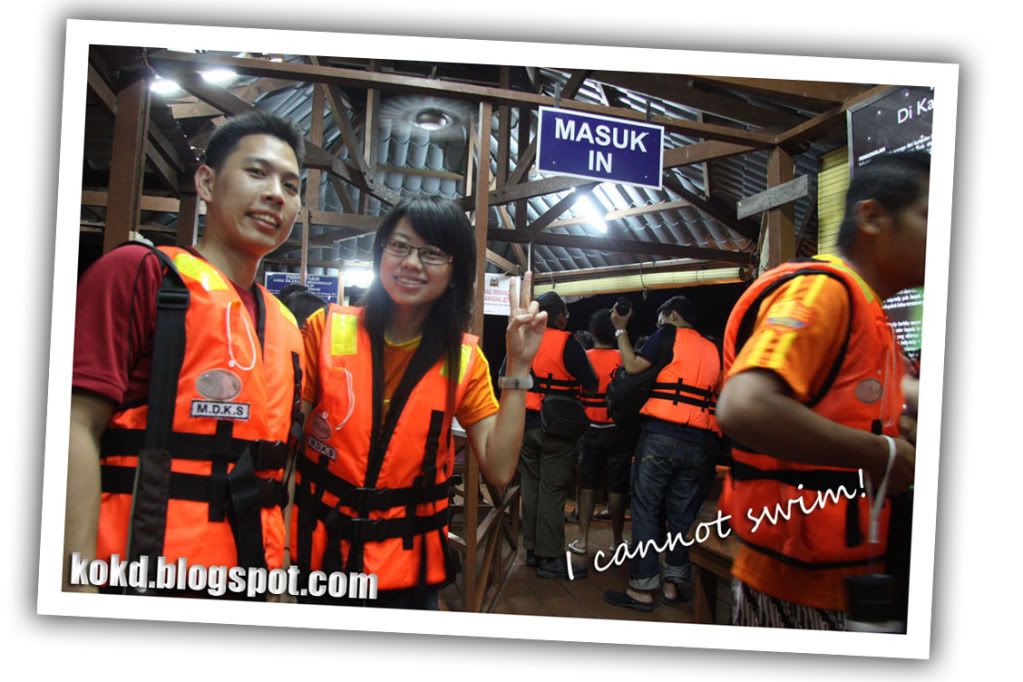 Unfortunately for us, the moon was bright in the sky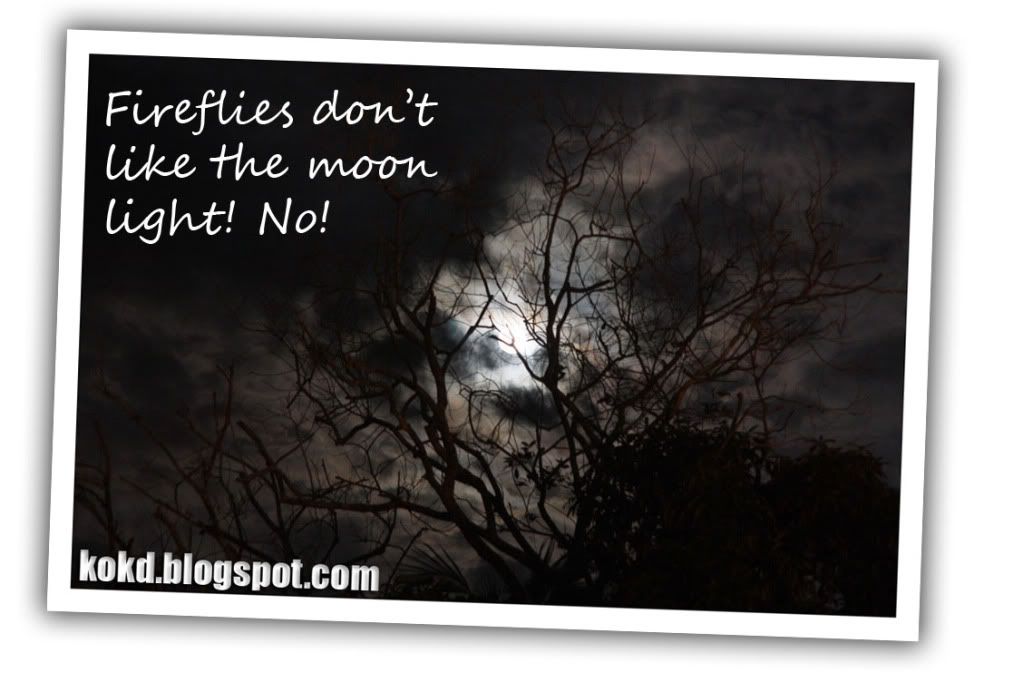 and so only a handful of fireflies were out that night: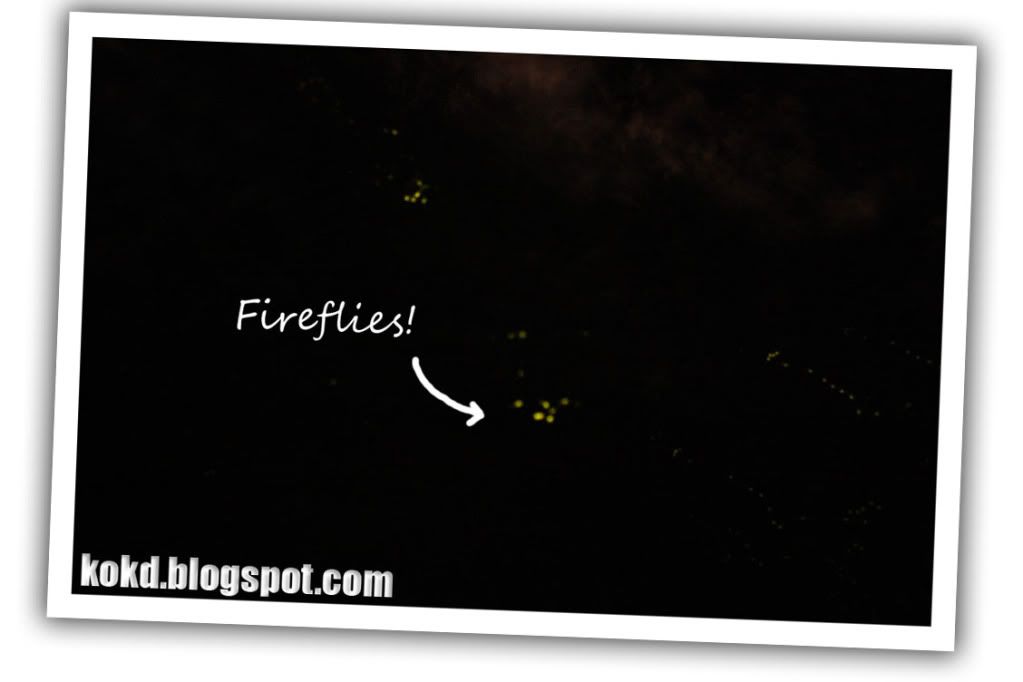 Walau wei! So dark one! With 3 girls on the boat better not touch touch later let Bb smack!
Nonetheless, we were happy that we got to see at least some fireflies!
There is also a visitor center there that teaches you about life as a firefly!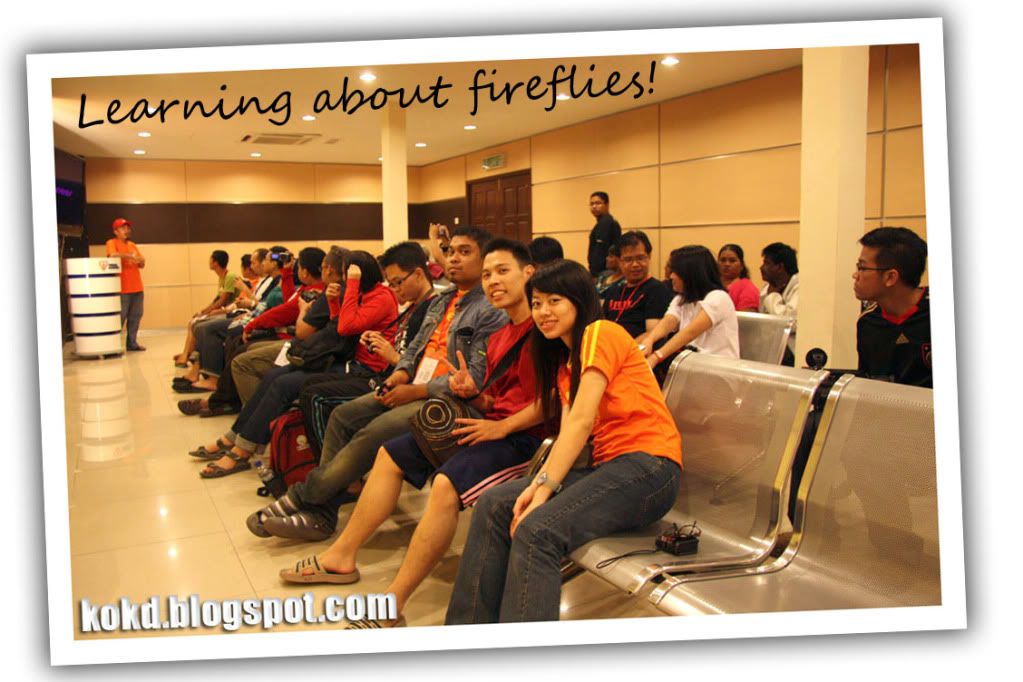 The centre is well organised and looks clean enough. However, the most obvious thing that is wrong around there is how the jetty is lit up like the brightest firefly in the river. Even with banning construction at the river, the jetty should be darker to attract more fireflies! Also, silence should be observed! We left the place and headed back to our homestay!
In a surprise gesture, out sponsors took us to Satay Hut for a midnight snack!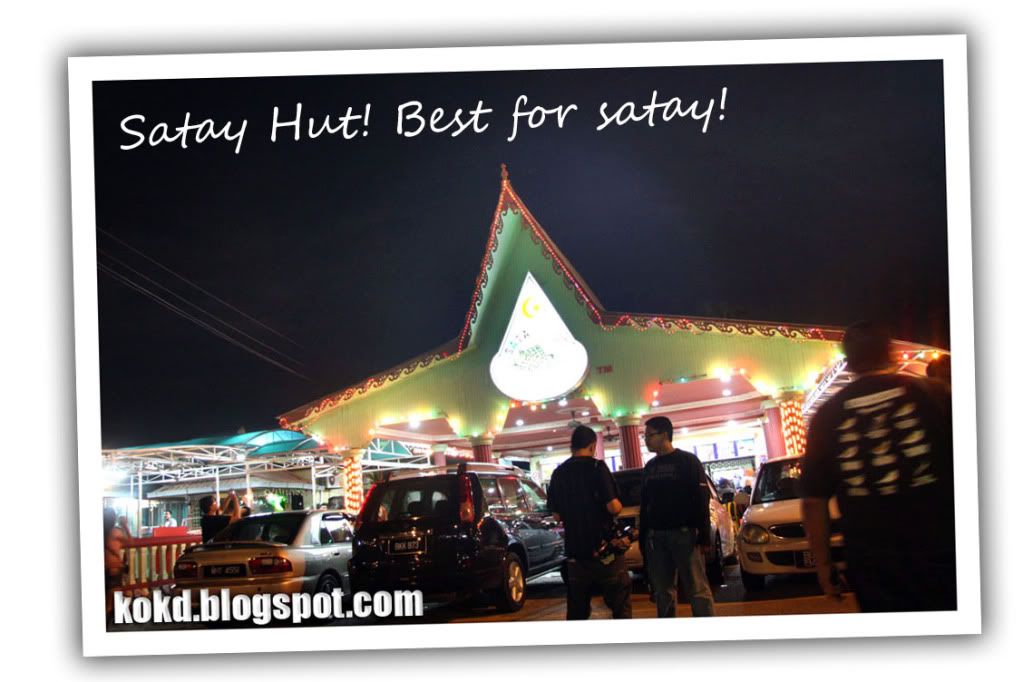 Its an okay place so me and Bb decided to take some pictures!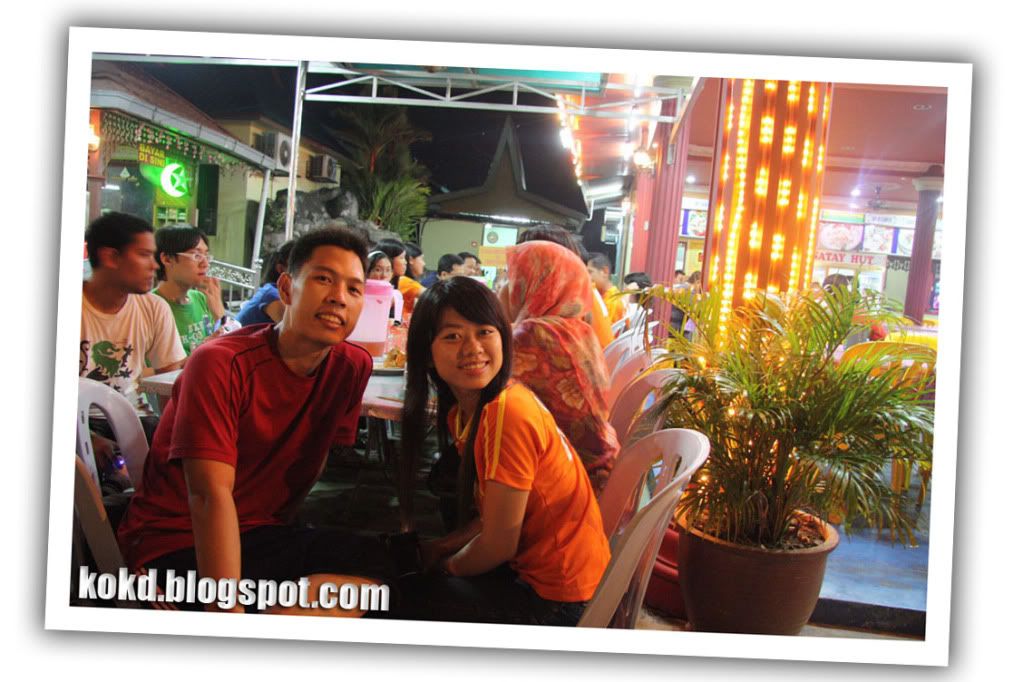 The satay was amazing! There were so many people that they had two grills!

For me, I thought it would be a good time to try out the
Pentax X70
and it was awesome!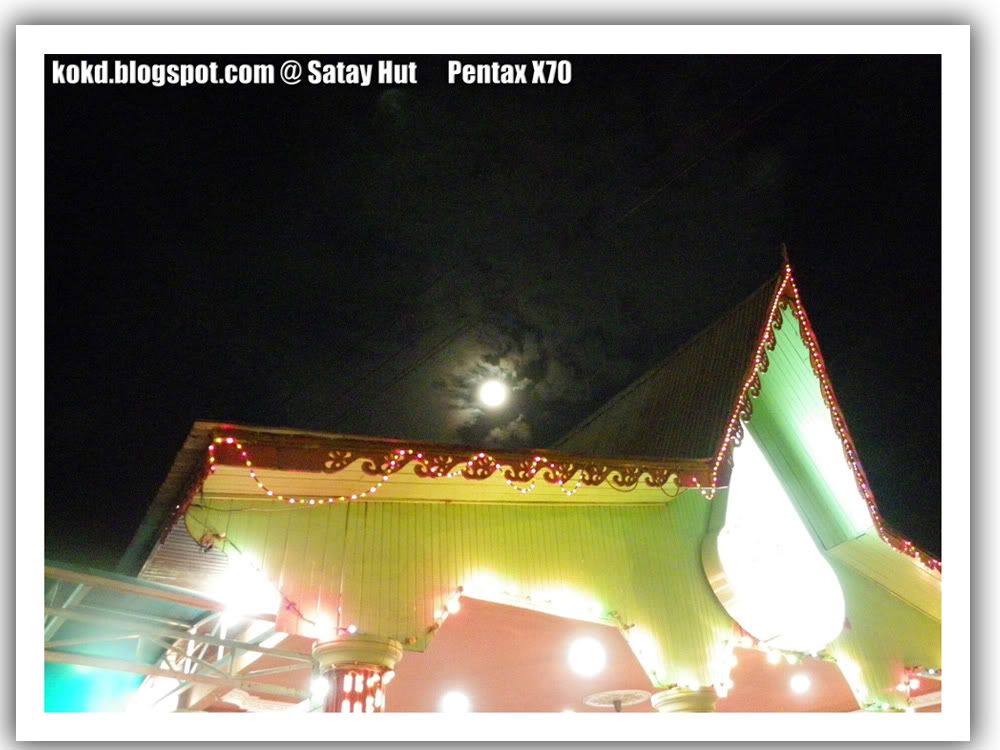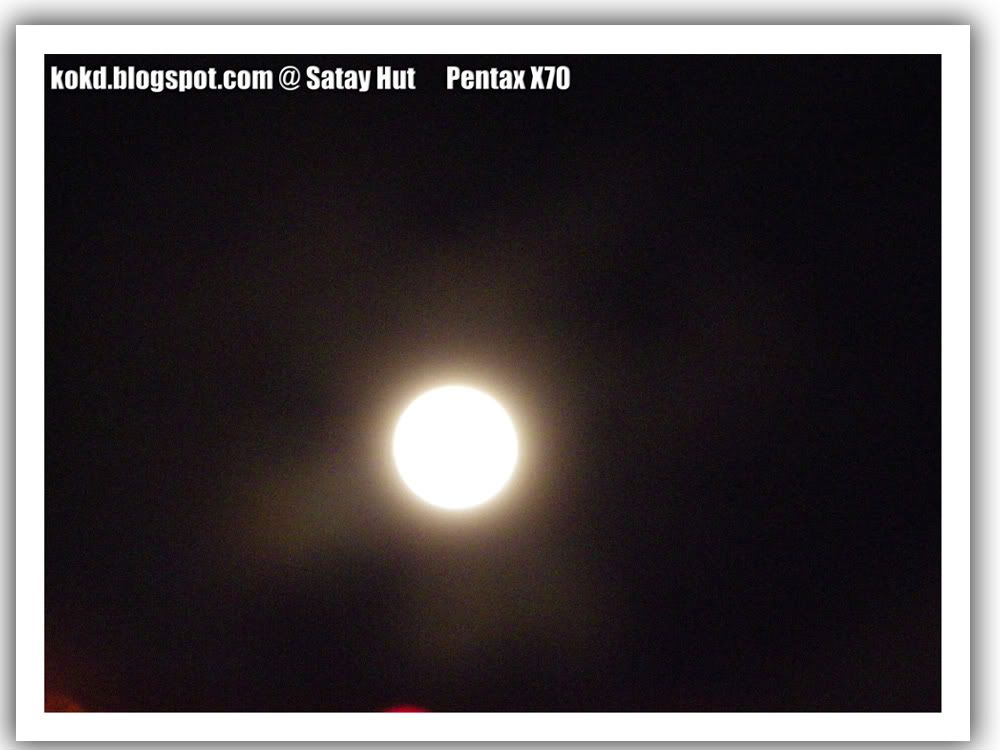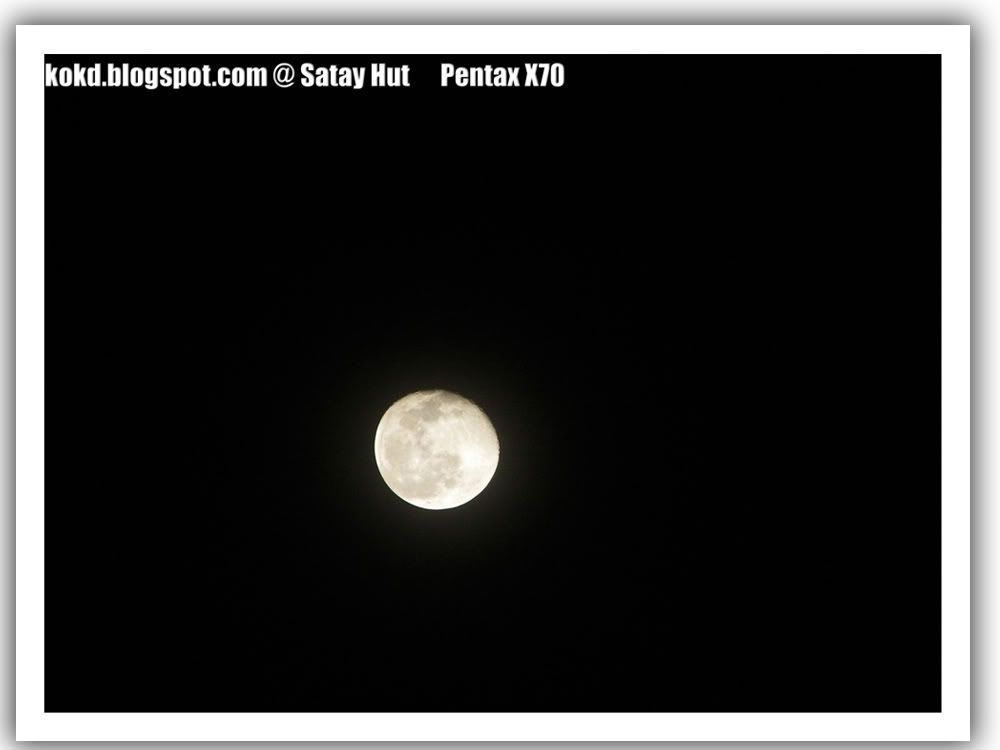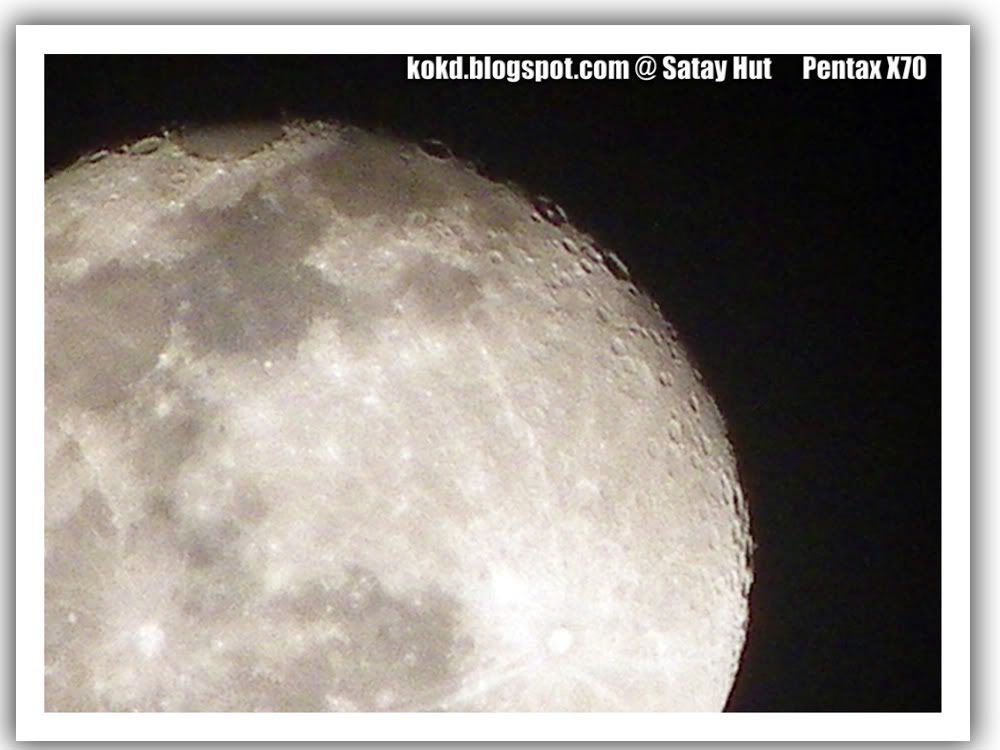 For more information on fireflies, contact:
Zulkifly bin Samad
Pegawai Pembangunan Mampan
zulkifly@mdks.gov.my
+6 012 285 1103
Majlis Daerah Kuala Selangor
45000 Kuala Selangor,
Selangor Darul Ehsan,
Malaysia
www.mdks.gov.my
and here is where we are!
View Larger Map
Goodnite Peeps! Tomorrow: Free and Easy day!