Hi peeps, vote 5 stars for me for Day 4!!! Click here:
Here is a video of what happened in day 4!
Don't miss out on the details and nice pictures below and do visit the sponsors! Learn how to eat a buffet and see what is nice in Sunway!
A Kampung Affair
Ah the fresh air, the sound of the roosters and the kampung sunrise! The little children were already up finding thier own form of entertainment in the peaceful settlement. How about the place I spent my night at? Interestingly enough, It was a nice house, with plenty of room! I had a double bed but sadly, there was still sign of modernisation! See the satellite dish? Yesh, these people are no stranger from satellite TV.
and do not worry, they have cars!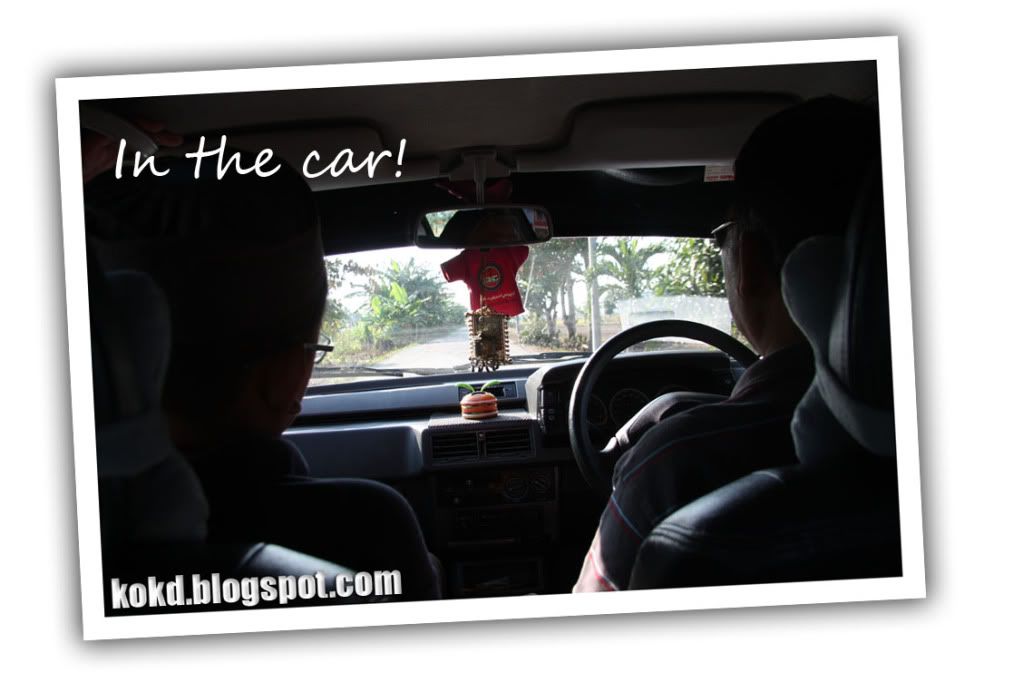 Breakfast was served after I did had my morning bath. There was rice, fish, chicken and morning tea! We packed out bags and managed a group photo with my host, En Azizan, his son and his grand children! To the right is Abang Ben! Smile!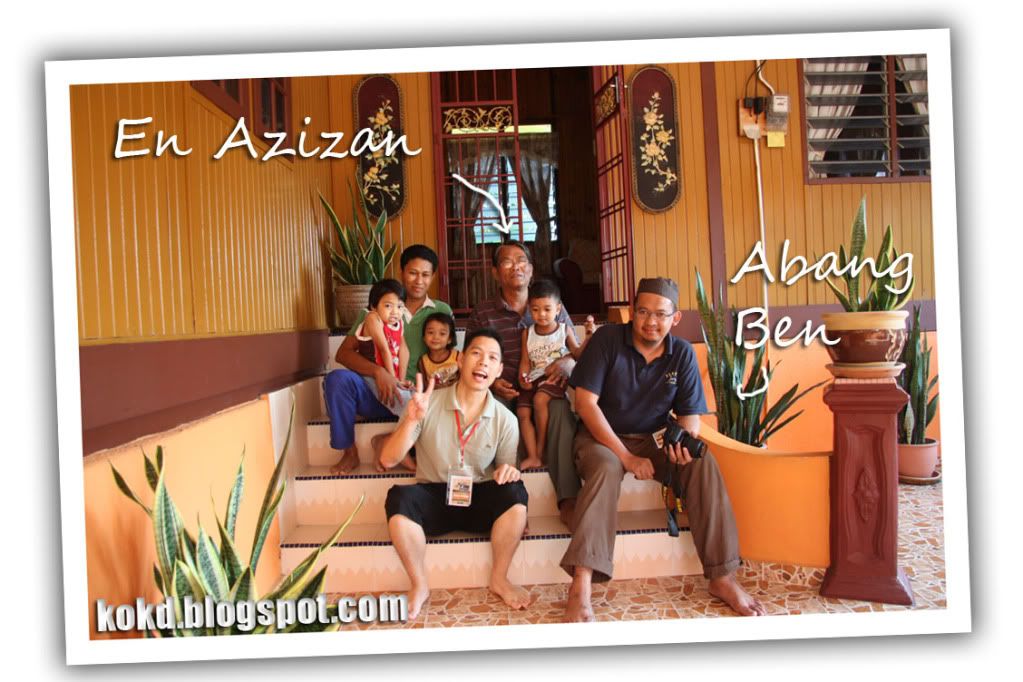 Tips for the photographer: The kampung is surprisingly a good place to get many nature shots! Get the sunrise overlooking the kelapa sawit plantation or the sunset by the sea! There are also many faces and flowers to try your macro! Don't forget that you can also get up close with the Pentax X70!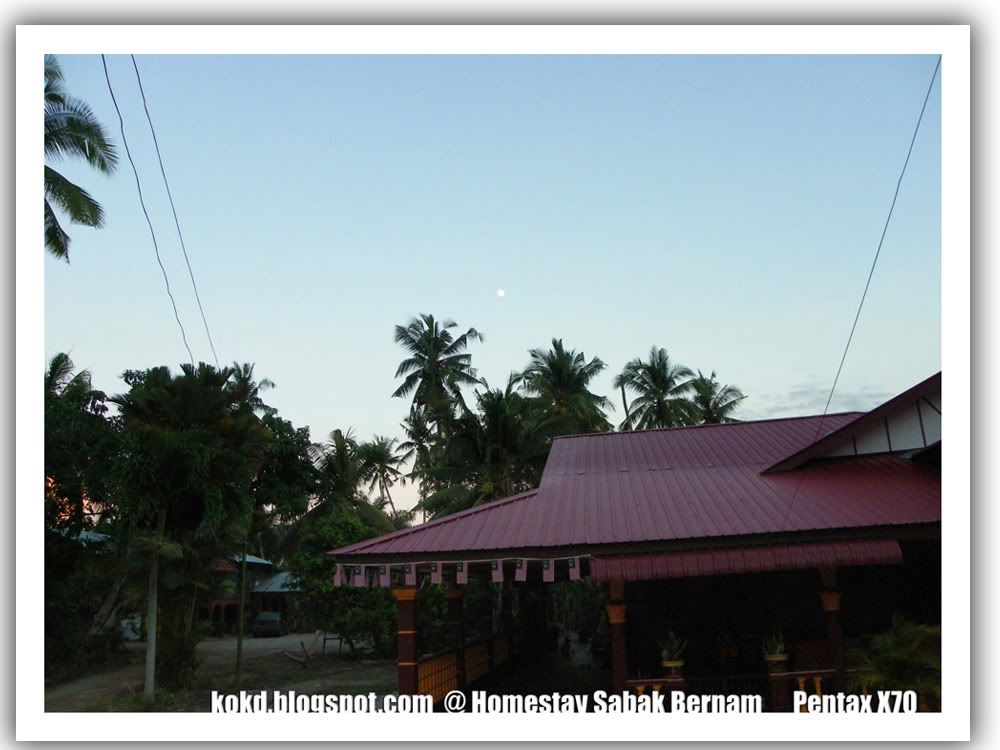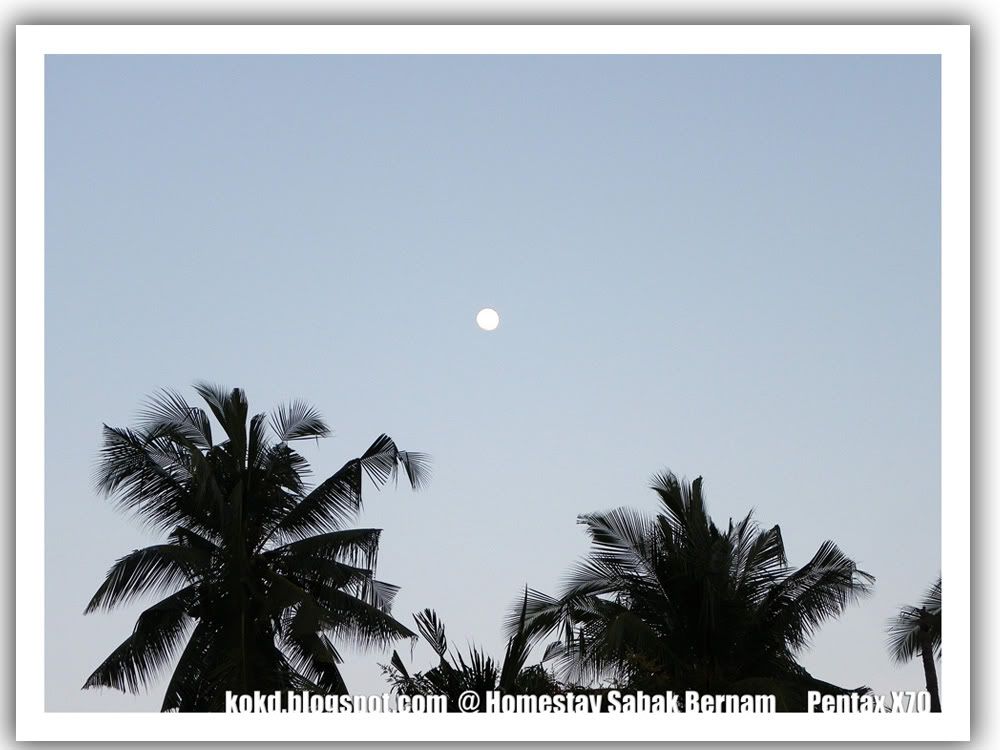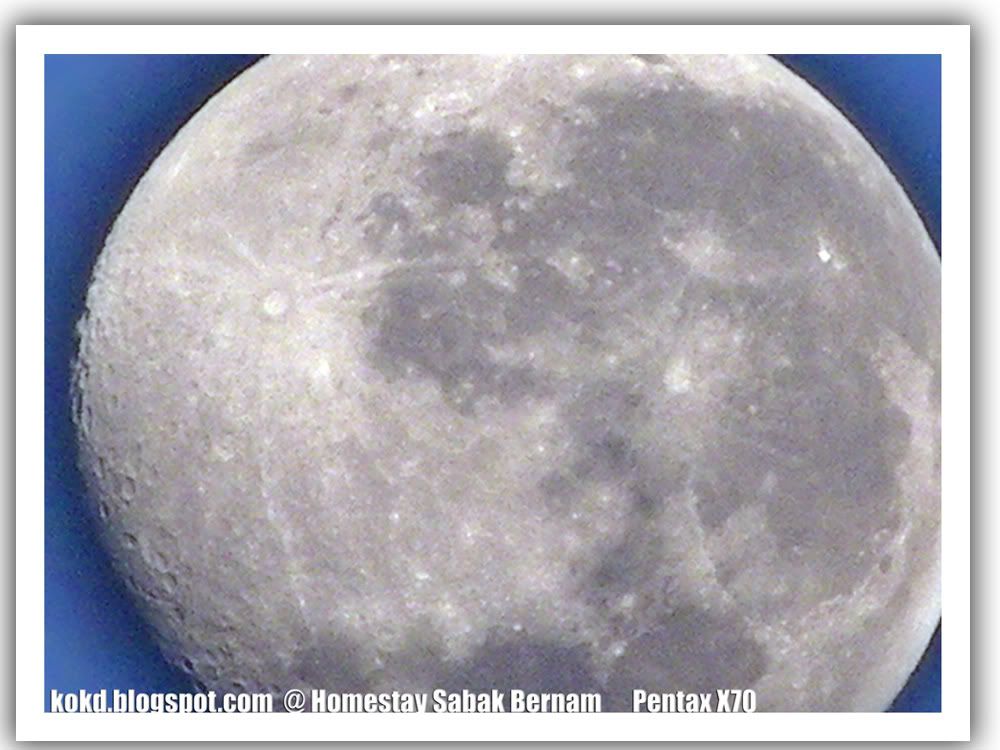 Compared to normal DSLR, the shooting range of the X70 (1cm-outer space) is superior! I can attest that any decent lens that can do what this camera can do will cost you in the excess of a few thousand USD! If that doesn't make your jaws drop, I challenge you to find me a mini DSLR that can stand up to the X70!
Bidding farewell to En Azizan, the bloggers assembled back at the place we met where our bus was already waiting. Everyone I talked to shared with me their experience! Some of the bloggers were caught sick, while others learnt how to make the ketupat!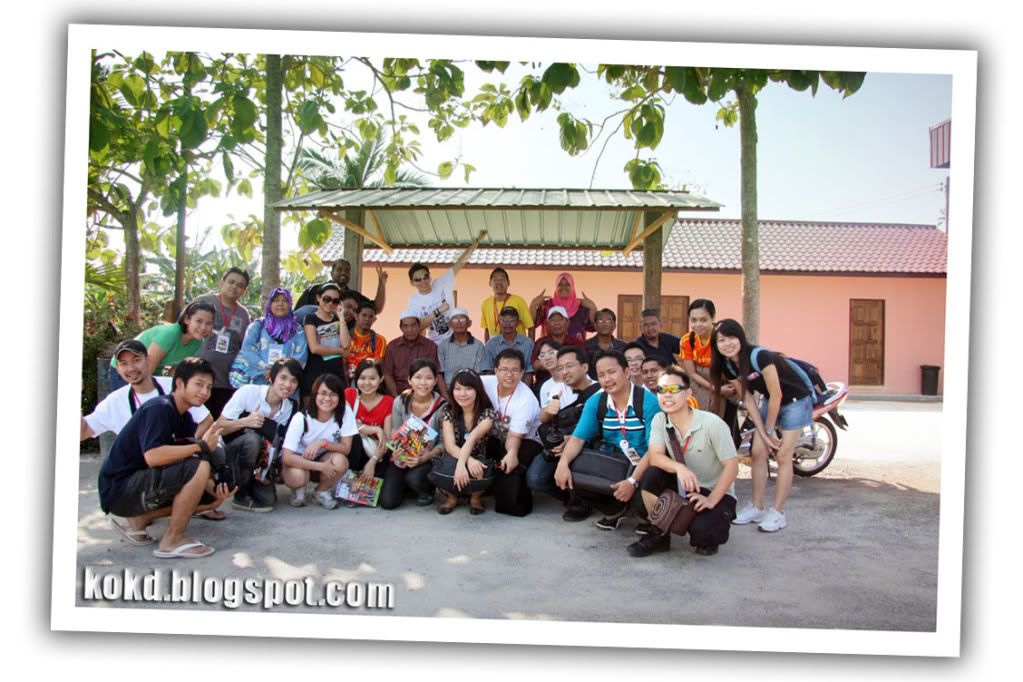 For me it was a nice experience to come out here into the place where not many people go. The only thing I wish that could make this visit more memorable is to actually spend more time there. From other reviews, I read that you could actually learn many things like kite making and flying, fishing, working the fields, harvesting the crops and also cooking your own traditional rendang OMG! Oh well, this is definitely a destination to visit! But if you prefer the comforts of home, but still yearn for a traditional setting, there are still chalets available next to the water front!
Sunway City
Our next destination takes us south back to the heart of Petaling Jaya where me and
Bb
first arrived. Our next destination has some connection with
Royal Selangor
. Yes, Sunway City was nothing more than a tin mine decades ago. In fact, Sunway Lagoon was itself a tin mine.
Next to Sunway University College, lies a reminder of the city's humble beginnings. The main attraction we will visiting today is Sunway Pyramid! Complete with its very own Sphinx, Sunway Pyramid is indeed one of the best places to be in Selangor!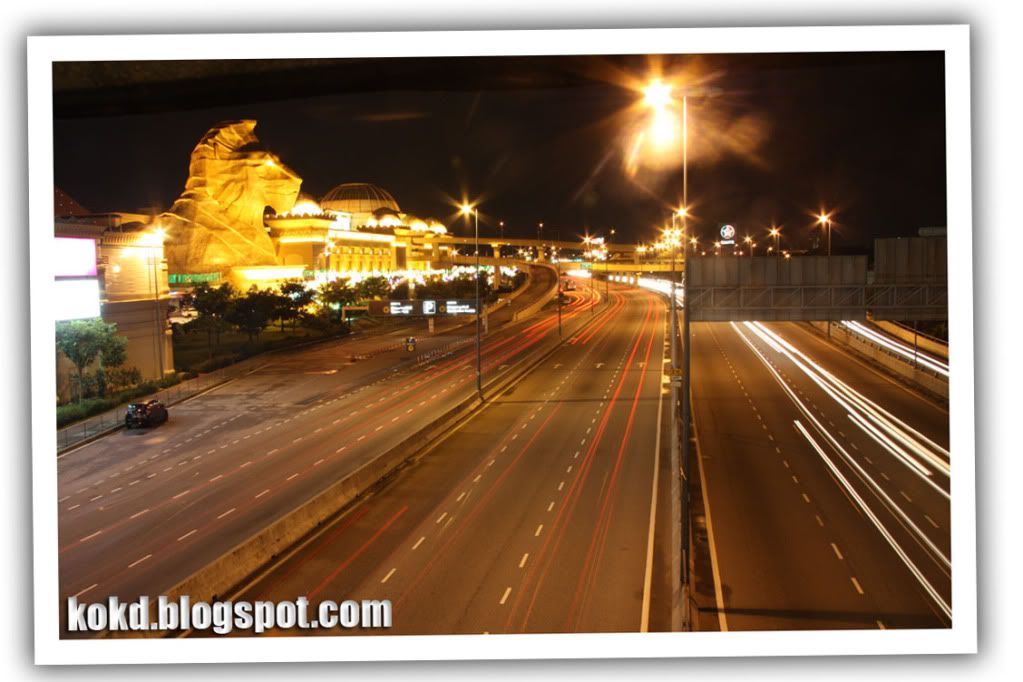 Located in between 4 highways, the New Pantai Expressway, the Federal Highway, the Kesas Highway and the Damansara Puchong Highway (LDP), Sunway has become a very central location in Selangor.
If you did not already know, Sunway Pyramid is a shopping mall dedicated to high end customers. The facilities are in tip top condition. Hehe, me checking out the gents!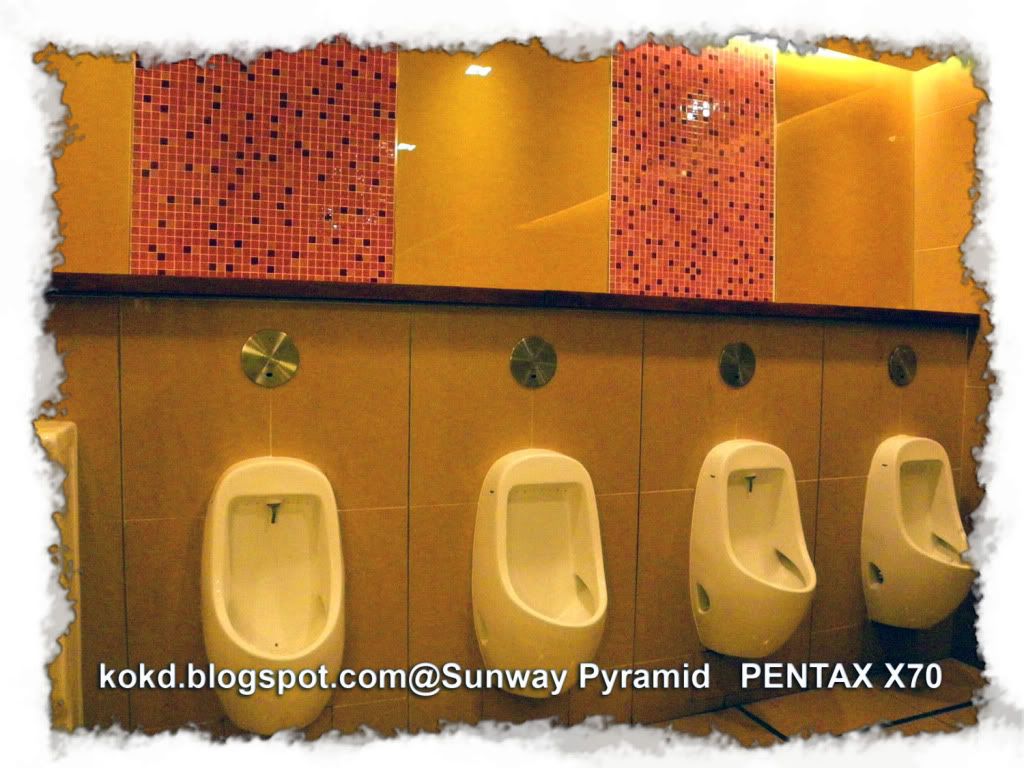 Inside, there are loads of shops and entertainment outlets including an ice skating rink, a bowling alley, karaeoke, bars, clubs, pubs, Sunway Lagoon and a cineplex!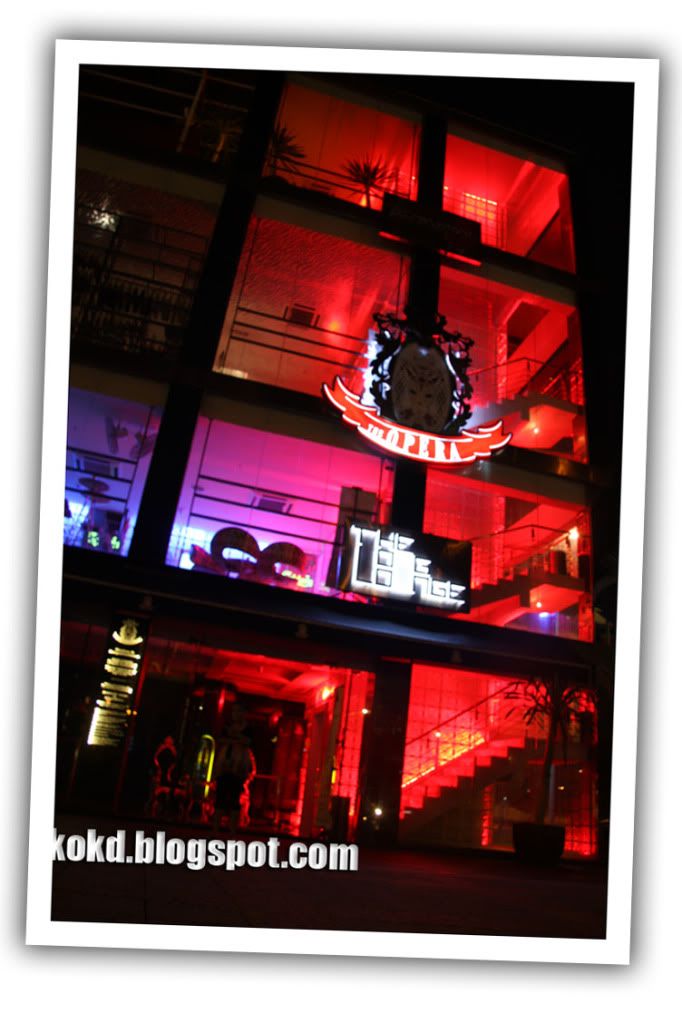 Sunway Pyramid is also host to some interesting areas. Best of all, the WHOLE PYRAMID HAS FREE WIFI! Thats hard to beat! In case you get lost:
Main Atrium - Main entrance where you have the Sphinx and the Pyramid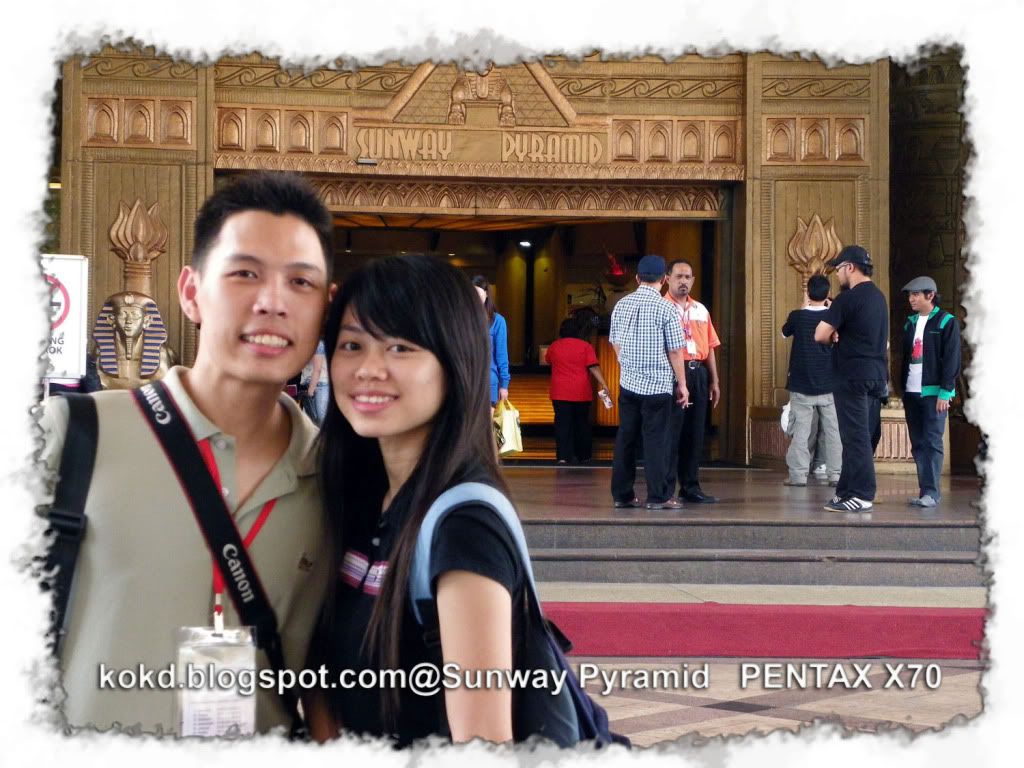 Ice Rink - Connected to Hotels and many restaurants, back entrance to Sunway Lagoon
Digital Center - For computers and gizmos
Asian Avenue - View of Sunway Lagoon, Eastern food and shops
Marakesh - Middle East Themed area - Restaurants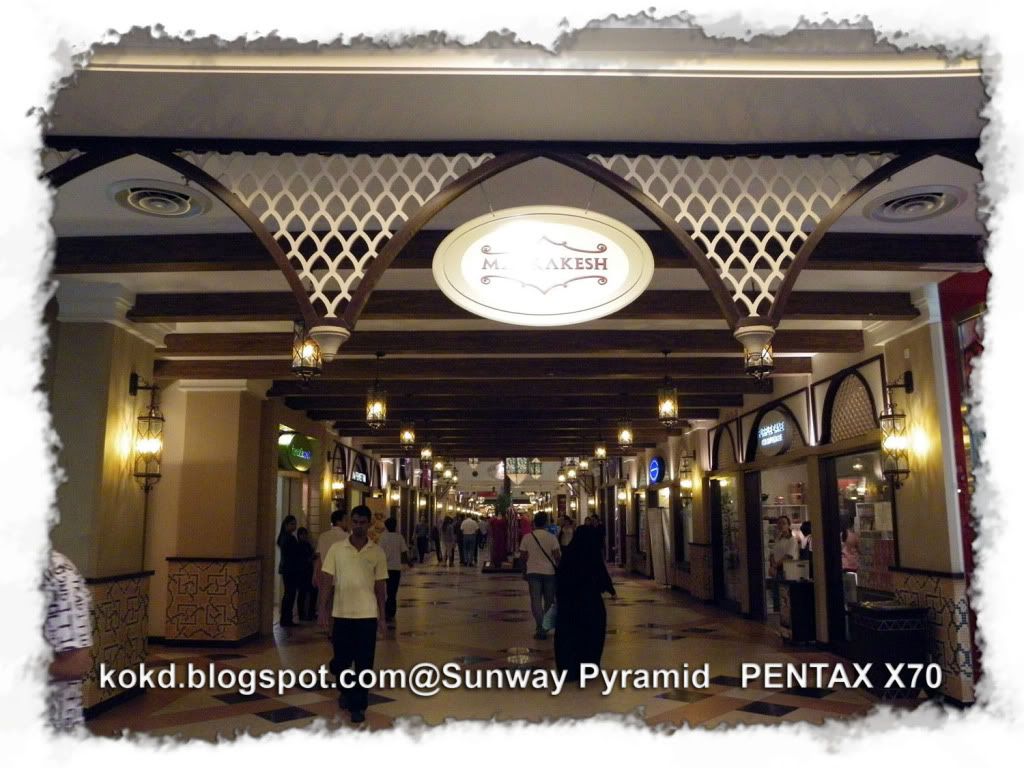 South Entrance - Front entrance to Sunway Lagoon, Interstate Bus
North Entrance - Banks and the Cinema, public bus stop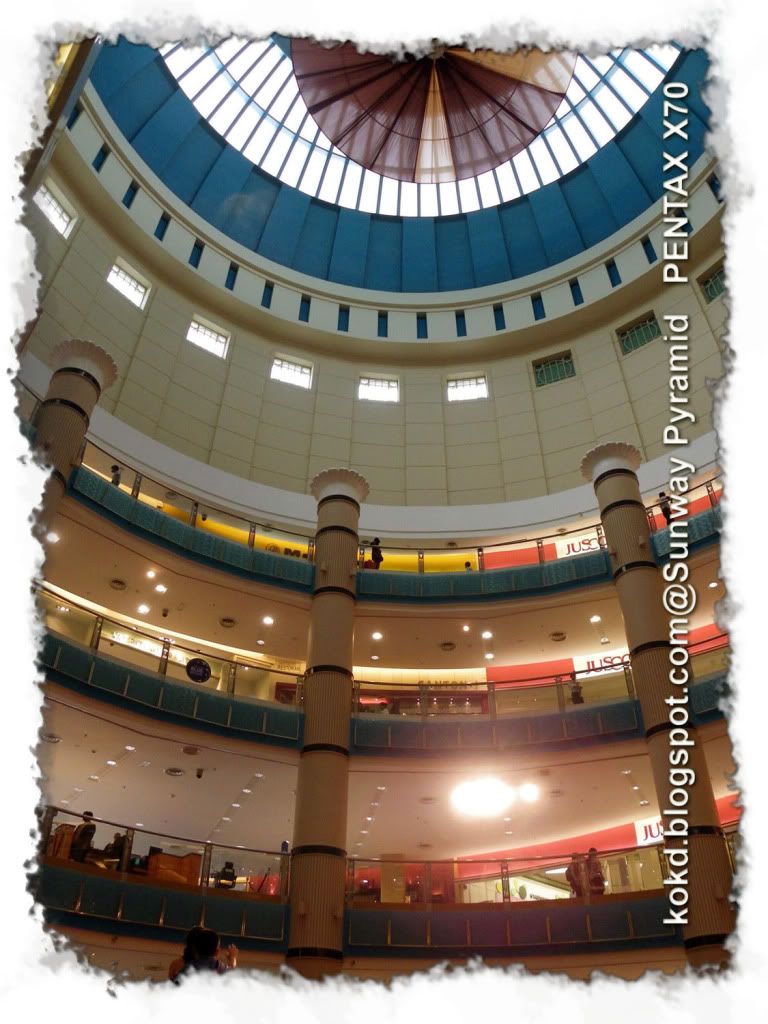 East Entrance - Bowling, more restaurants, Karaeoke, Hotels, fountain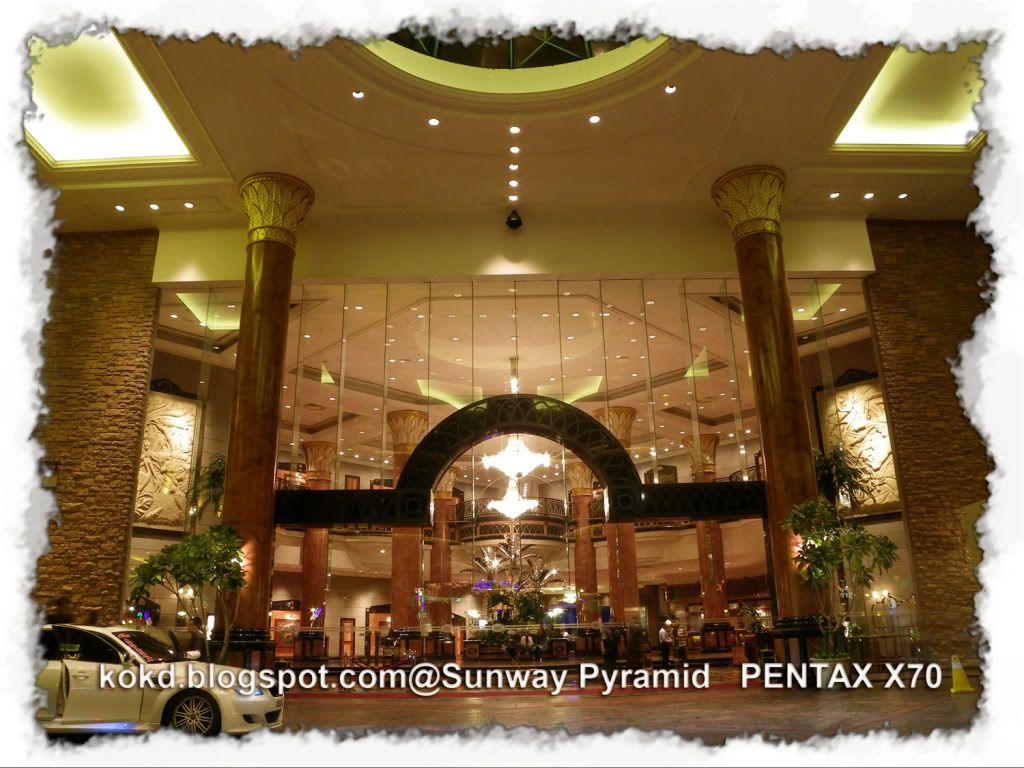 Anyway, if you remember the Genting World Card we got,
Babe
and I decided to redeem our points for Baskin Robins!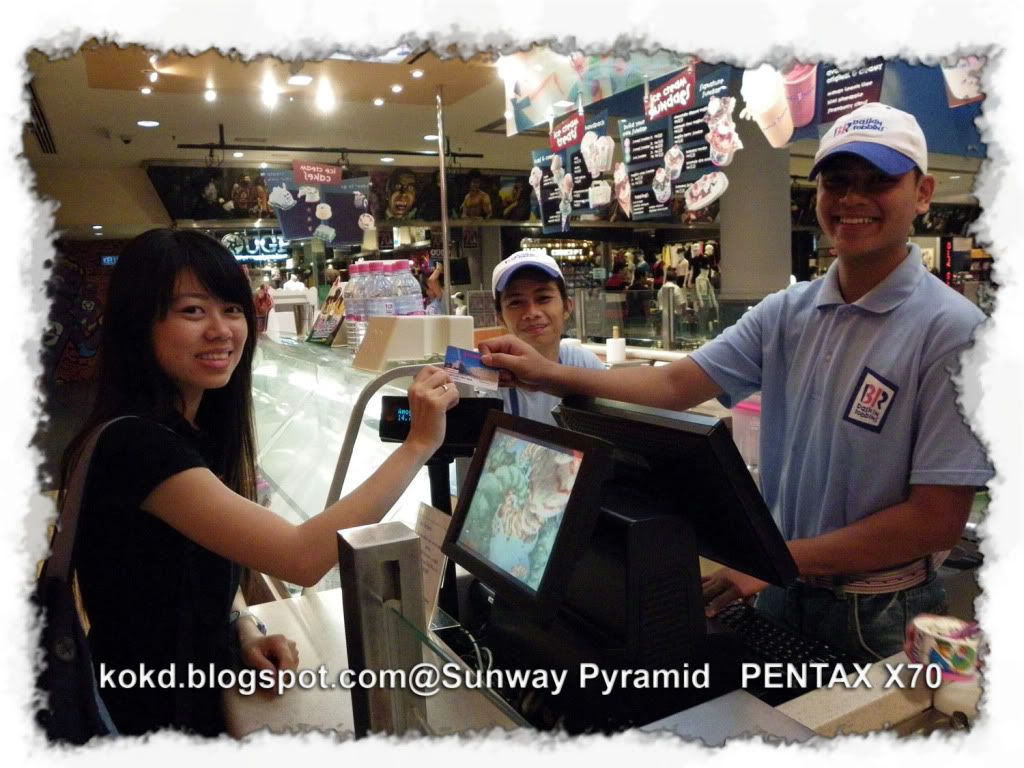 The other place you can redeem free stuff using your Genting Card is Starbucks and BHP Petrol Stations! 100 point = RM1. The view from Baskin Robins was pure artwork! Right up there is the cinema and arcade!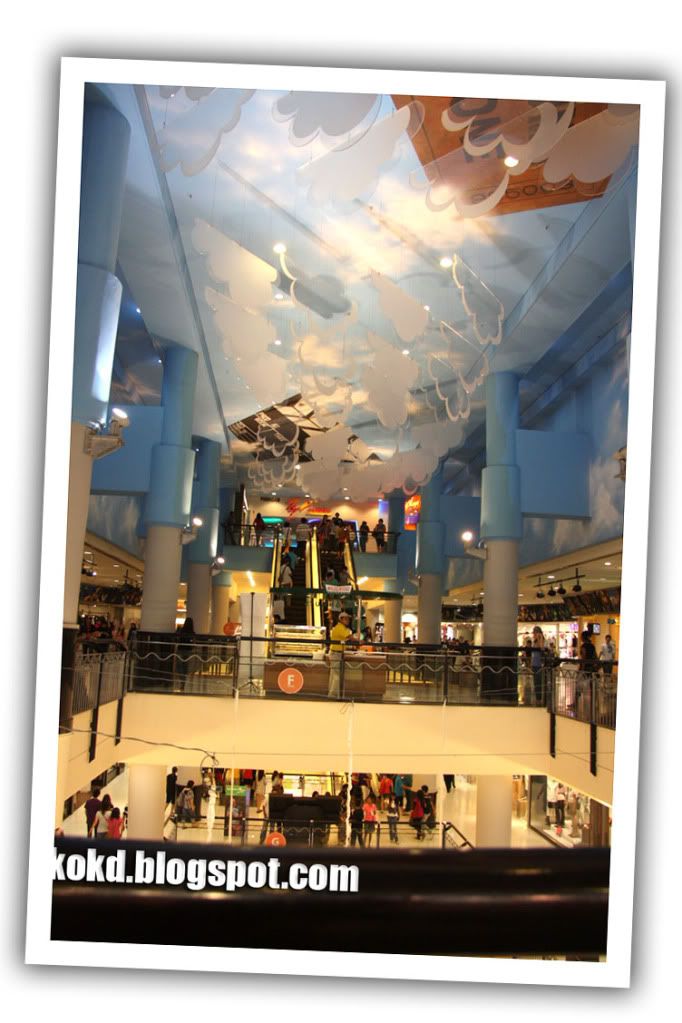 Ice Cream! If you can picture it, there we were, Babe and me in the middle of the crowd, feeding each other ice cream and laughing away as we exchanged stares! As we finished our ice cream, we were greeted by the many events that Sunway Pyramid hosts. The first unlikely character to greet us was the Michellin Man!
Die all you evil petrol pumps! I've got tyre man! Further down the path, there was a hair cutting marathon going on and there were also public make up shows: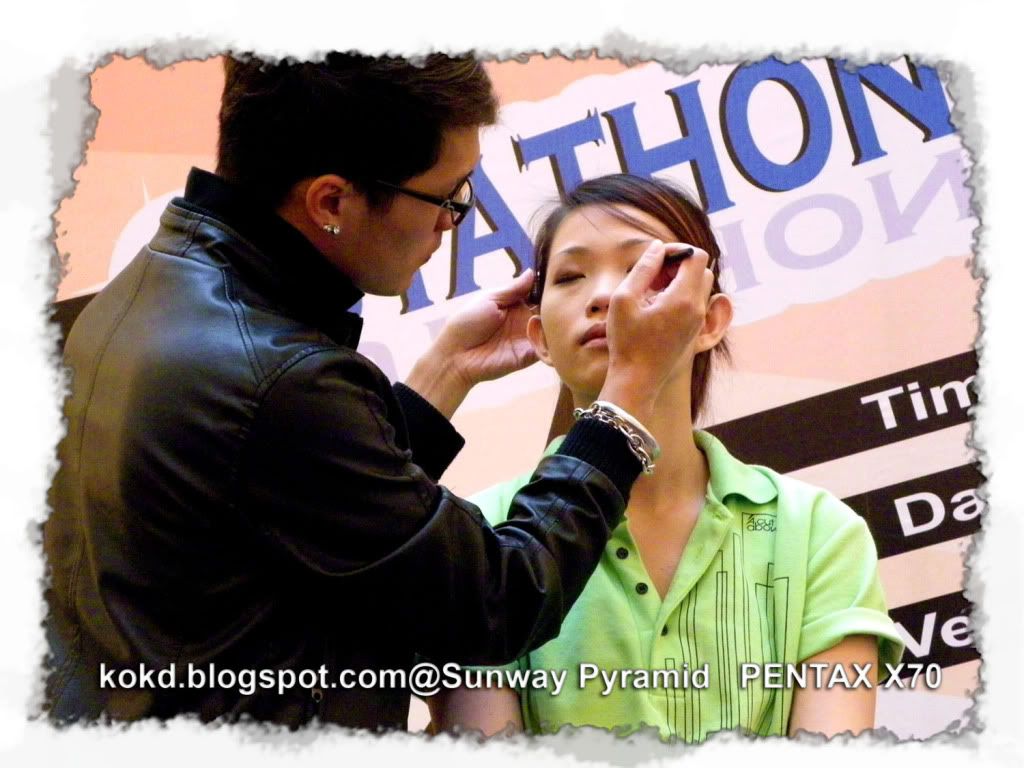 In fact, you will get free make up if you are lucky! Next up, a waxathon where they will wax you over! An so with that thought, we left in seach for more. Making tracks, we caught up with the other bloggers! Like any good bloggers, we could not resist a photo opportunity! Indeed, do not miss the opportunity to take pictures at the entrance of the pyramid!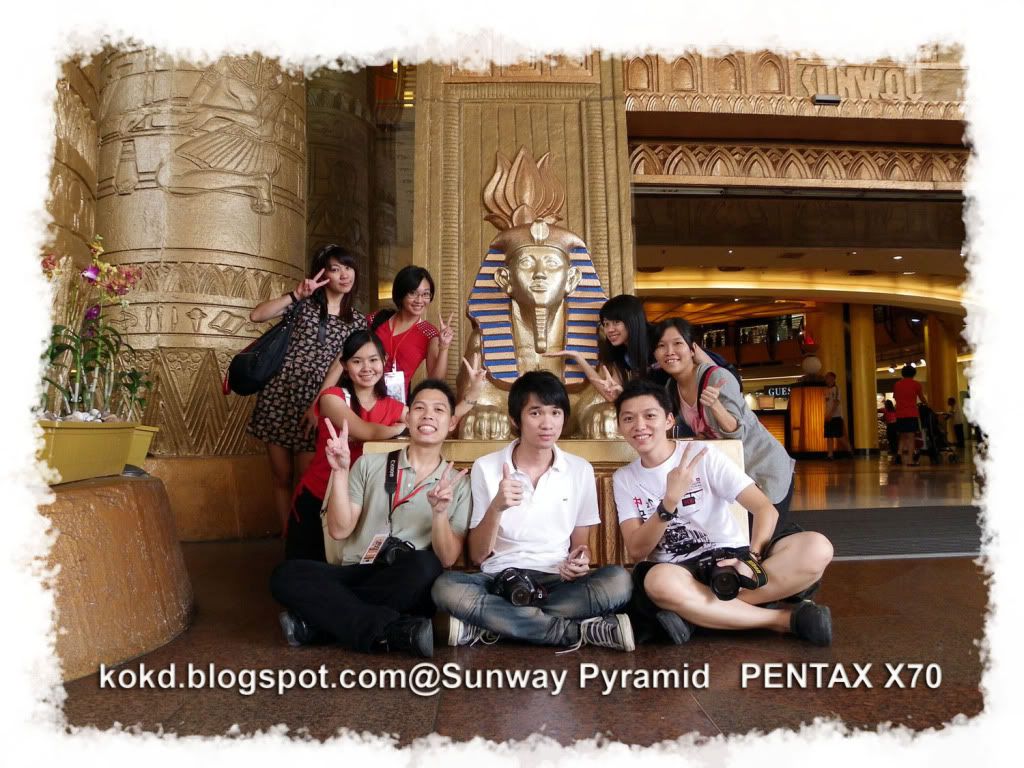 I almost forgot, lunch! Yes, the most important meal of the day, right next to breakfast, dinner, supper, tea and snacks! Okay, Sunway Pyramid is host to many, when I say many I mean more than the fingers and toes on your hands and legs! Lets see, local, westerm, eastern, Indian, Chinese, Indonesian, Japanese, Korean, American, Italian, Spanish you name it! Time to put on the food hunting hat and search for food!
Mantra @ Sunway Pyramid
Blogging is a tiring business and so, in our Sunway Pyramid excapades, we bloggers decided to try out Mantra which is located next to the ice skating rink!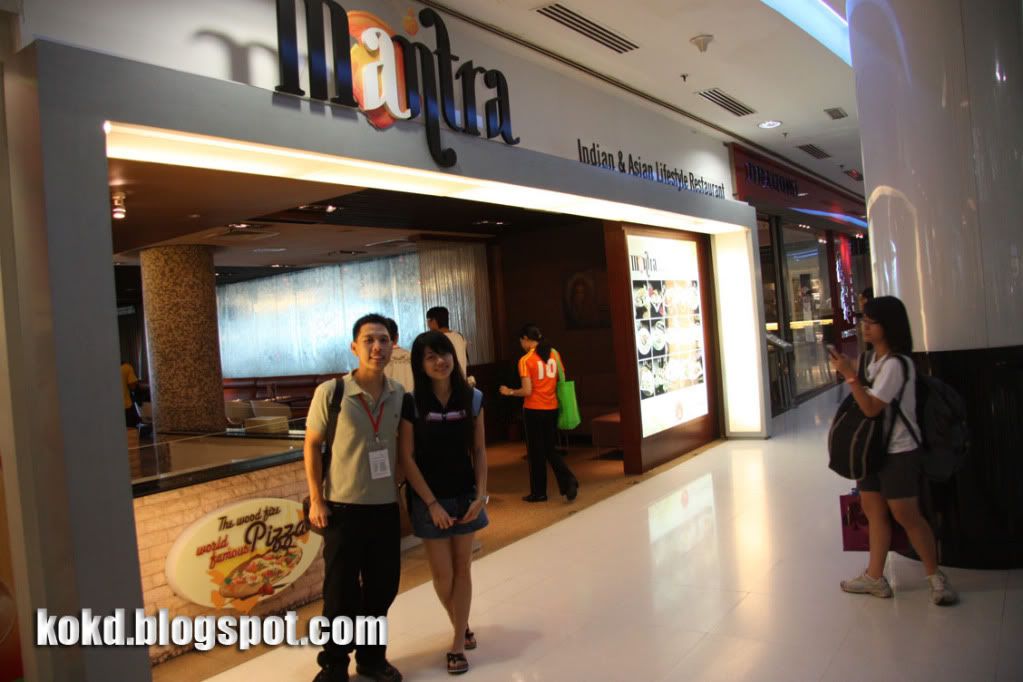 Besides the beautifully furnished interior, the restaurant has one of the best views of the lagoon and the hotels.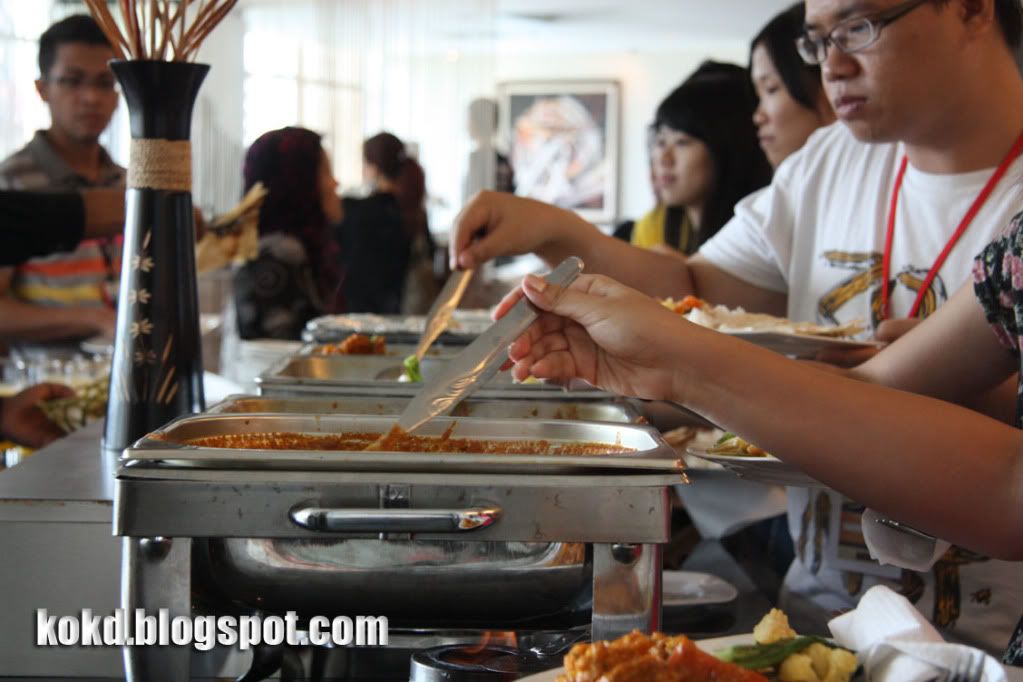 Lunch is served! Today: a selection of curry, vegetables, steamed rice, and rendang! We enjoyed the traditional buffet just to wash it down with some orange juice!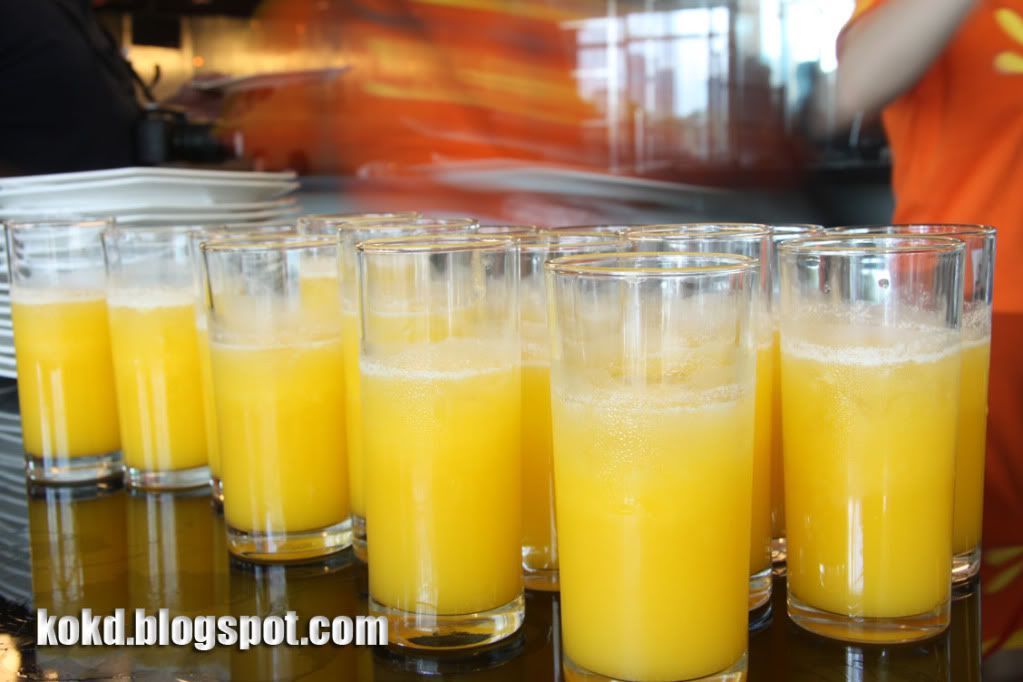 Not forgetting dessert!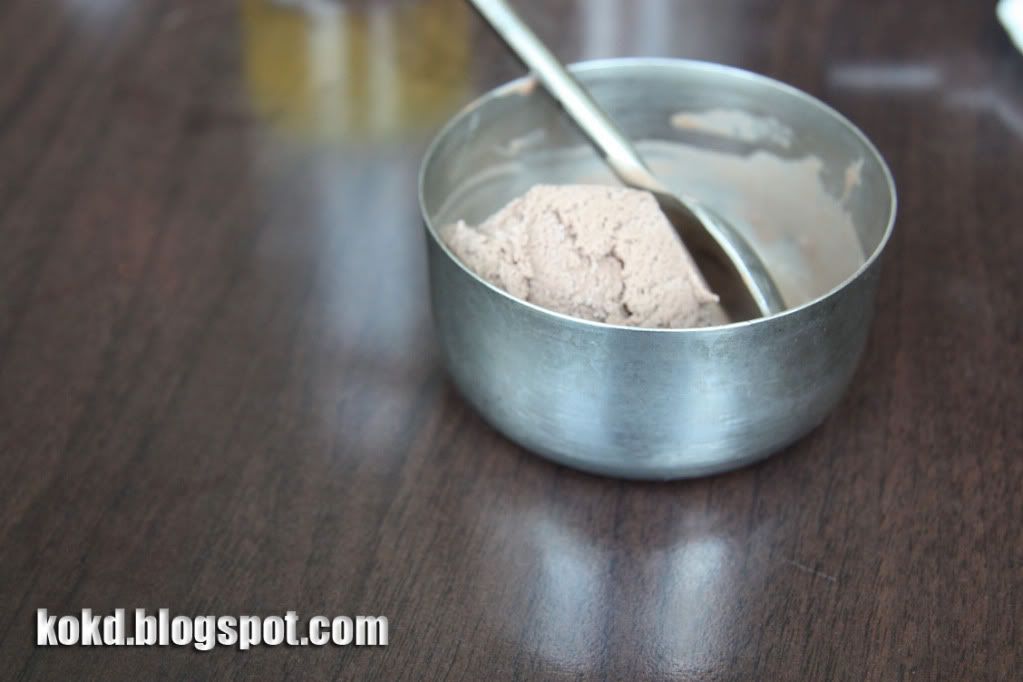 The final verdict is:
Food: Its alright, serving local dishes.
View: Great atmosphere overlooking the lagoon
Check in Pyramid Tower
Today, we will be checking into Sunway Tower Suites! (Sigh, no Spa) Anyway, here is how your visit would go: Upon disembarking the bus you will be greeted by the funkiest lobbies: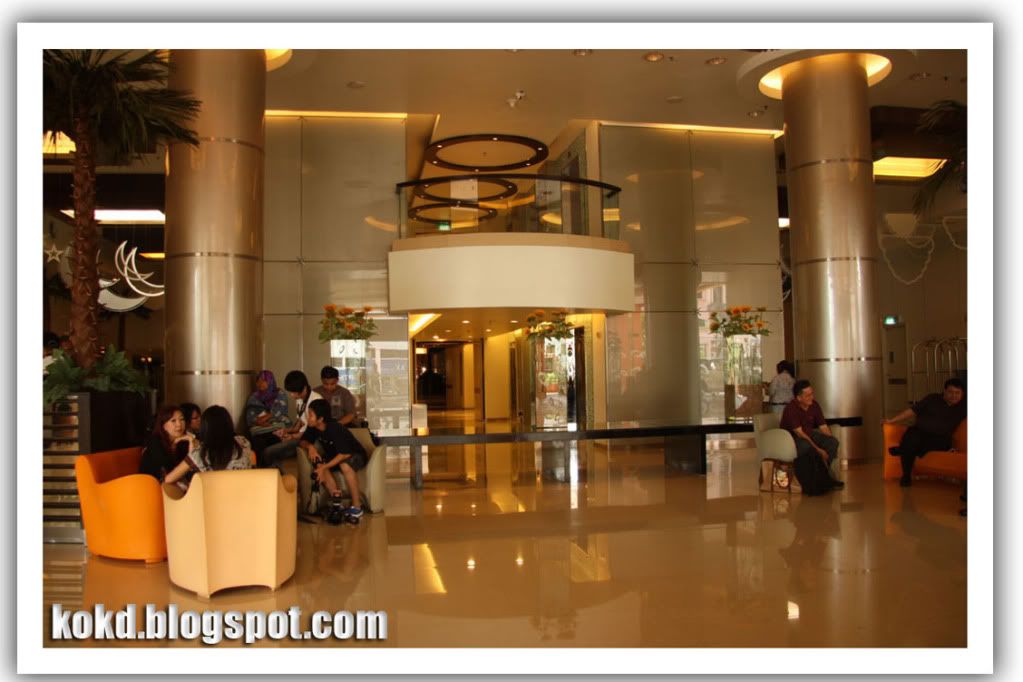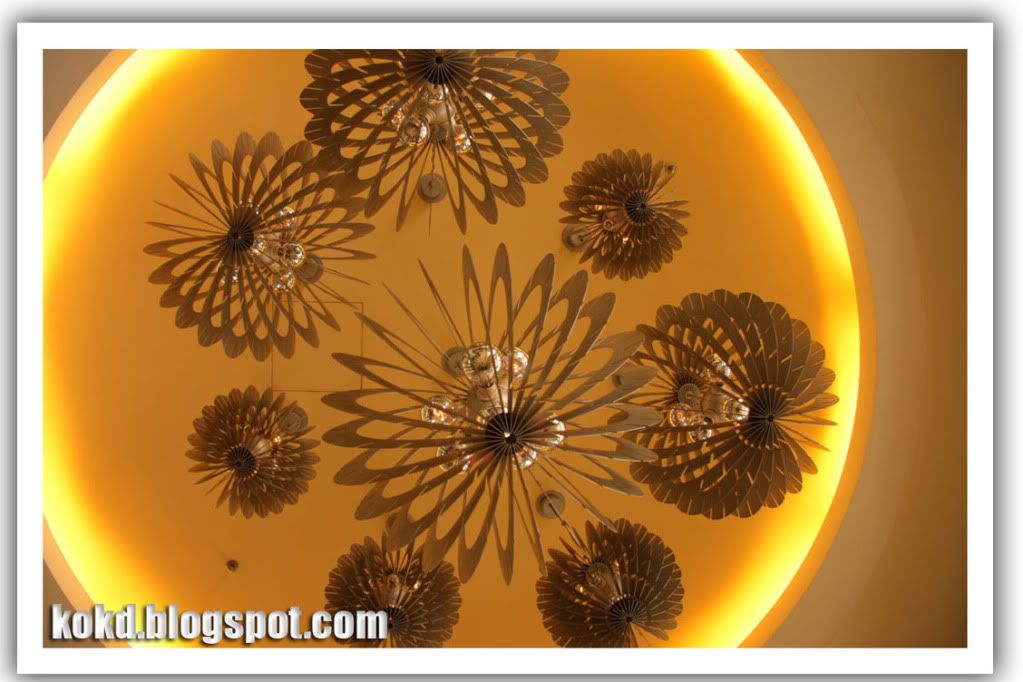 Check out the room! Today Dylan will be my roomie! First thing he did was mess up this picture! Here is how the rooms look like before Dylan: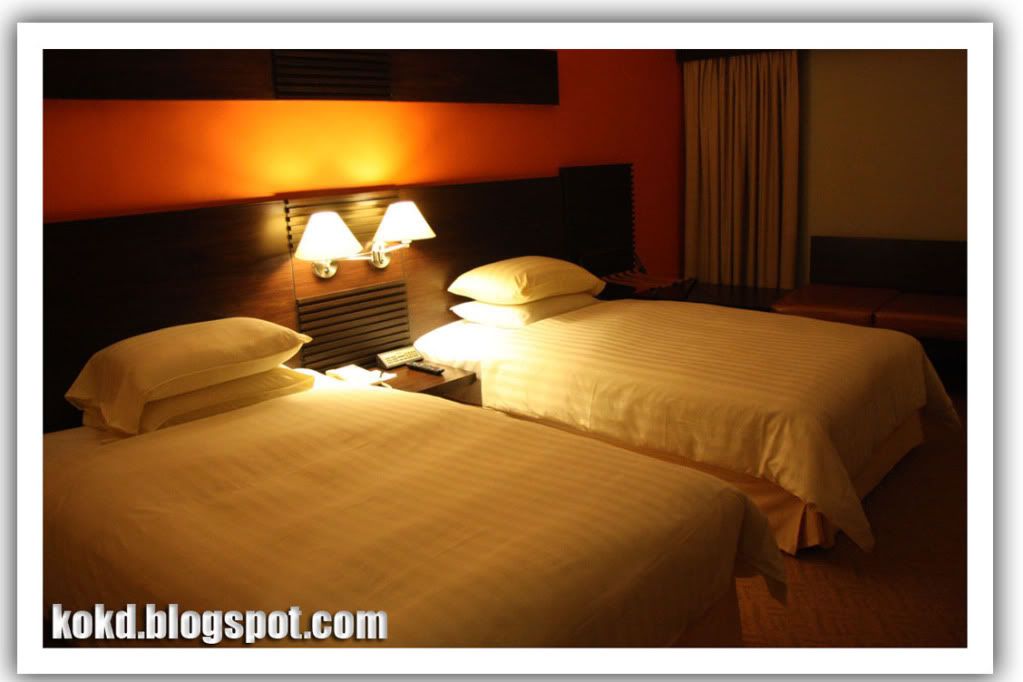 The first thing about the room I noticed was: no windows!!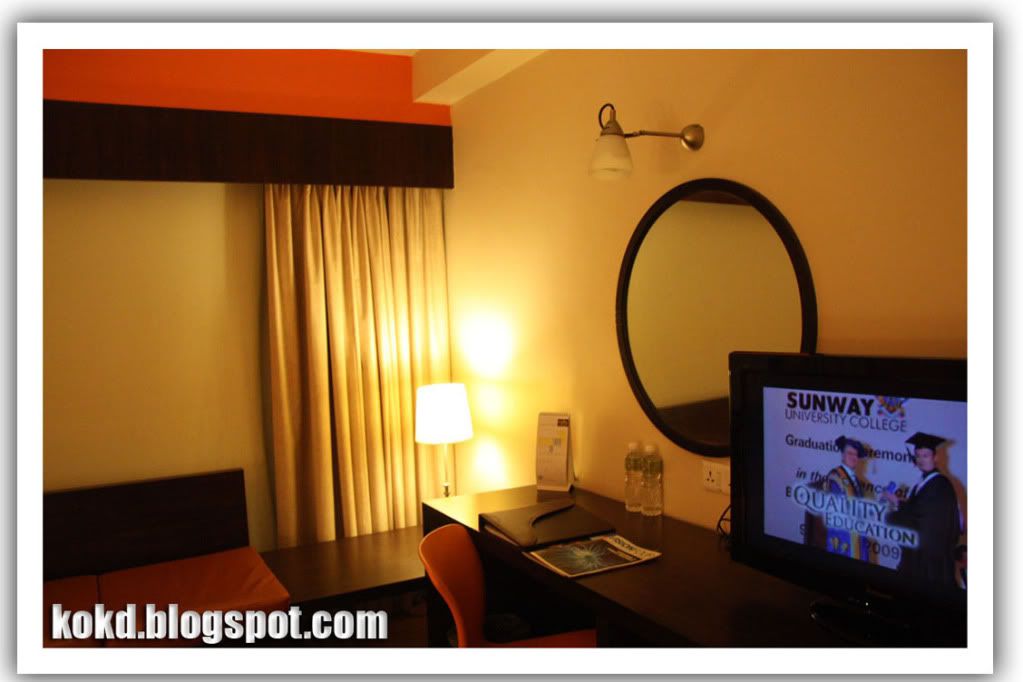 All the facilities you need are already there including fully stocked bath, widescreen TV, hangers, a minibar and the likes.
However, the only thing I did not like about the place was the noise at night due to the air conditioning ducts!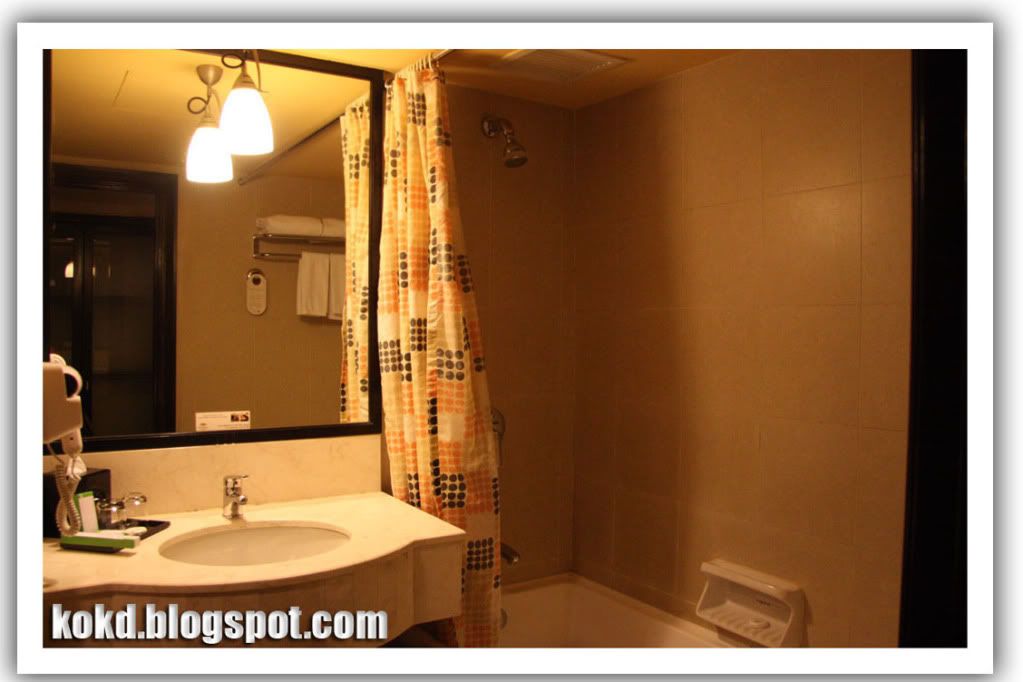 Perhaps my ears are over sentitive but it was really annoying to sleep with the background noise!
Other interesting things include the rooms are connected! So you can get a group of friends to join in! The other wierd thing I noticed was soft drinks dispensers in the hallway and ice dispensers... Wonder why? Ah well, time to get some dinner!
Dinner @ Sun and Surf
Here is what bloggers do: Wake up, eat, blog, sleep. Eating bloggers particularly like, second only to blogging! Anyway, after our excapades in Sunway Pyramid, the MSS Top 30 bloggers were treated to a buffet dinner at the Sun and Surf! Located on the ground floor of the Pyramid Hotel and Spa, the public is actually allowed in!
The lights were dimly lit... giving you that romantic feeling... plus it saves electricity. As you enter the restaurant, you will be awed by the amount of food there! Dang... writing this post is already making my mouth water. Oh no... worse, here come the pictures!!
A display of assorted cakes and pastries!
A selection of different flavored Mooncakes just in season! If you did not know, moon cakes are made for the Chinese Mid Autumn festival and is a festive goodie!
Roasted Lamb with biryani rice! Tips to bloggers: This picture was hosted in Picasa. I think photobucket does a better job!
Salad bar, including all the dressing you will ever need.
Fruits including dragon fruit, honey dew, pineapples, water melon and papaya!
STOP HERE!!!
.
.
.
.
.
.
Okay, after getting my first portion, I noticed that many people do not know how to get the best out of a buffet! First let me point to you that the average human stomach can hold about 4.5 litres while an asian one will hold about 4 litres. Women have even smaller "reserve space" which might be really sexy but not good for buffets! So let me take you on a tip on how to get the most of your buffet line! Find the tips all inserted among the pictures!
Kebab sliced and prepared by an expert chef:
For a healthy meal, get some vegetables and fruits 30 minutes before your main! Uncooked vegetables and fruits actually help you develop your immune system if you actually eat it first rather than last. This is because by the time all the fruits go through the 8 hours in your gut, all the nutrients and proteins would have been oxisied!
Wide varieties of oven baked bread:
Baskets for 5 choices of keropok!
Ease up on the carbs. Carbohydrates like rice, bread and noodles are the ones which will fill you up quickly! Take small portions of this not only to ensure that you don't have excess energy lying around, but also to allow you to get more out of the buffet!
Sharksfin soup and mushroom soup ready to go!
Get as many kinds of meats as possible! Okay, here is some biology, you immune system and body is built out of 20 different amino acids or "building blocks" if you want to call it! The building blocks become the foundation of your immune system which keep you free from infection and heal your body quickly! For those who do not do biology, a healthy diet allows your body to build defence against cancers!
Seafood including prawns, oyster, and fish!
But not all the 20 building blocks are available in every type of food. Some are found in fish, others in lamb, chicken, duck and different animals that store these building blocks! Get some of those and be promised a healthly life!
Sushi and sashimi!
Next tip, ease off the water. To get more value out of your buffet, drink less water to allow more space! Beer, juice and cocktails are fine!
Besides the well decorated interior and the presentation, the restaurant features and outdoor grill where you can enjoy your meal in the tropical night! Stuff from the grill, lamb, prawns satay, and all sorts of mean including seafood!
Traditional kuih-muih!
Next to get more value out of the buffet, be adventurous, try new food that you do not usually find on the street or at home!
Strawberries that you would not find on the shelves,
Finally dessert was a finely crafted fruit float in a cup!
Also, take your time in a buffet. Eat slowly as the time may allow so that you can digest as you go along!
Finally, enjoy yourself! After all, you have all your friends around! After dinner, the top 30 bloggers decided to play those annoying table games! The highlights which are too lame to explain include the "Telepathy Link", "How many sheep?" and the most annoying one which i just got was the "Black Magic" lame trick. Next time I'll get them back!
The only thing lacking in this place for me was the fact that we only had ice water to drink. Boo... Perhaps the people organising the buffet would be so kind to provide drinks as well. After all, who would want to wash down a good buffet with plain iced water?
Anyway, this post just made me hungry for some dinner! End of day 4! If you want to arrange a visit or for more information on Sunway, do contact:
Adelene Wong
Head - Brand Communications
Sunway city Berhad
adelenew@sunway.com.my
+6 03 5639 8797
Sunway City Berhad
Level 1.2, Menara Sunway, Jalan Lagoon Timur
Bandar Sunway, 46510 Petaling Jaya,
Selangor Darul Ehsan,
Malaysia
www.sunwaycity.com
Also, if you are driving there and need to find the city in the sun, here it is:
View Larger Map