Hi peeps, vote 5 stars for me for Day 5!!! Click here:
It dawned to me that today is Day 5 of MSS! The tour is almost coming to an end. I thought to myself as I got up of bed to wash up. I could get use to this life, the hotels the trips and the sights. But the reality is, today me and the 30 bloggers will be spending our last night together. It had been long and tiring, but with the thought of the new friends I found and a new day at hand, I found the strength to get up and get going. I have been at the Sunway Tower Suites for only one night but the comfort already got me. Time for a new day! Enjoy the video!
Tropicana Medical Centre
Breakfast this morning was at the Atrium. But I will leave breakfast for now. That is because we have more interesting things at hand!
As part of the My Selangor Story tour, the top 30 bloggers will be heading to the Tropicana Medical Centre located in Kota Damansara. Here we were greeted by Mr Alan Chin, the Marketing Manager at the centre. Fomerly known as the Damansara Fertility Centre, Tropicana medical provides top quality medical services specialising in fertility. Upon entering the hospital, you will be greeted by the reception and a visitor's centre.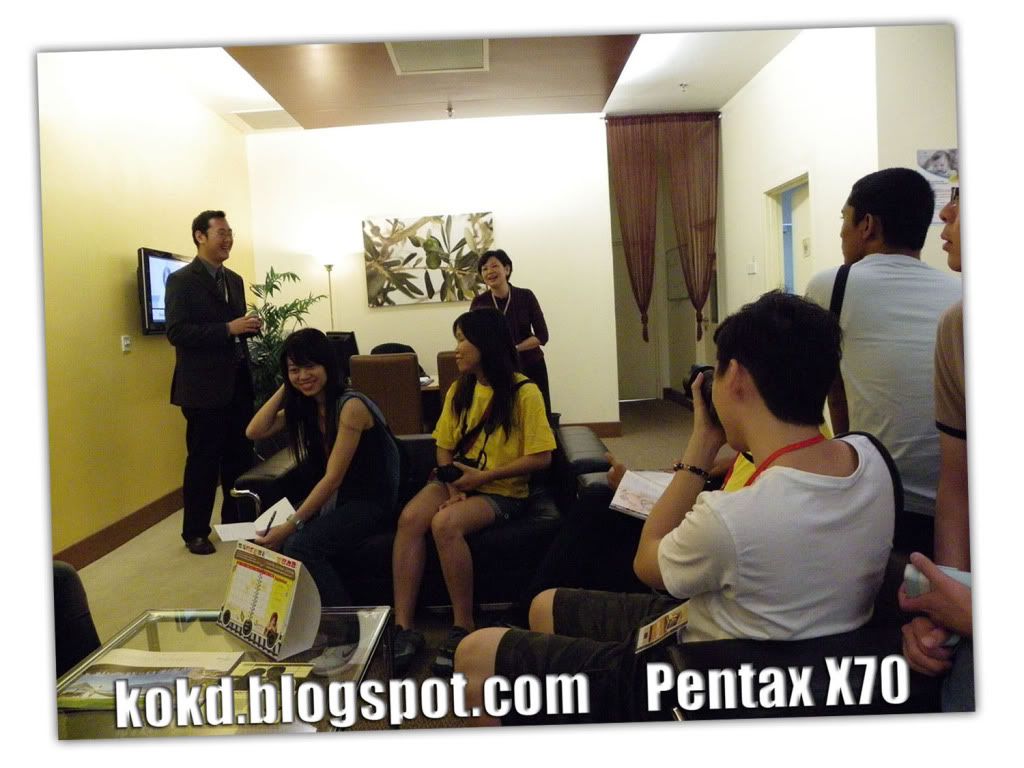 Here, patients can make enquiries to the panel of experts. As you can see, one of the main focus of Tropicana Medical Centre is to take away that old hospital feel. Entering the medical centre does not give you the chills as well. The interior is well decorated and softened either by clever use of lighting or the creative use of colours and decorations.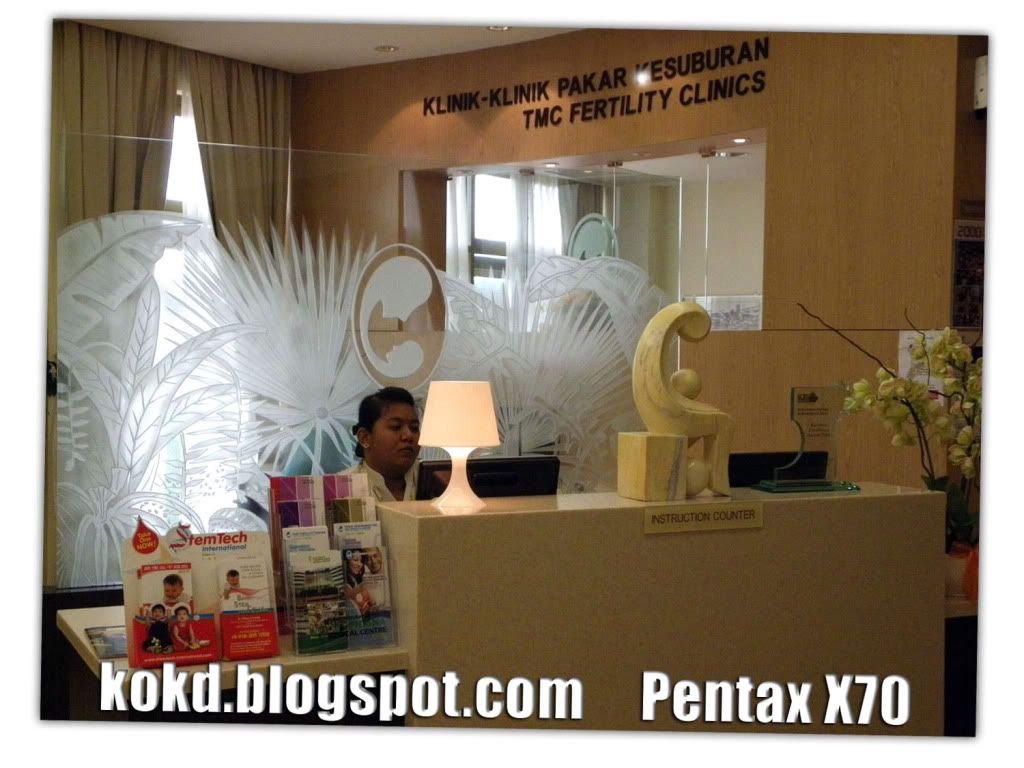 Interestingly enough, the people at Tropicana were so kind to allow us access to their specialist centres. Our guide was a technician there who showed us how these machines were operated. The first piece of hardware in the medical centre was the CT Scanner otherwise known as a CAT Scan. The CT scan is non magnetic and allows one scan the inside of your body! Seeing it, I could not resist getting on and getting a go!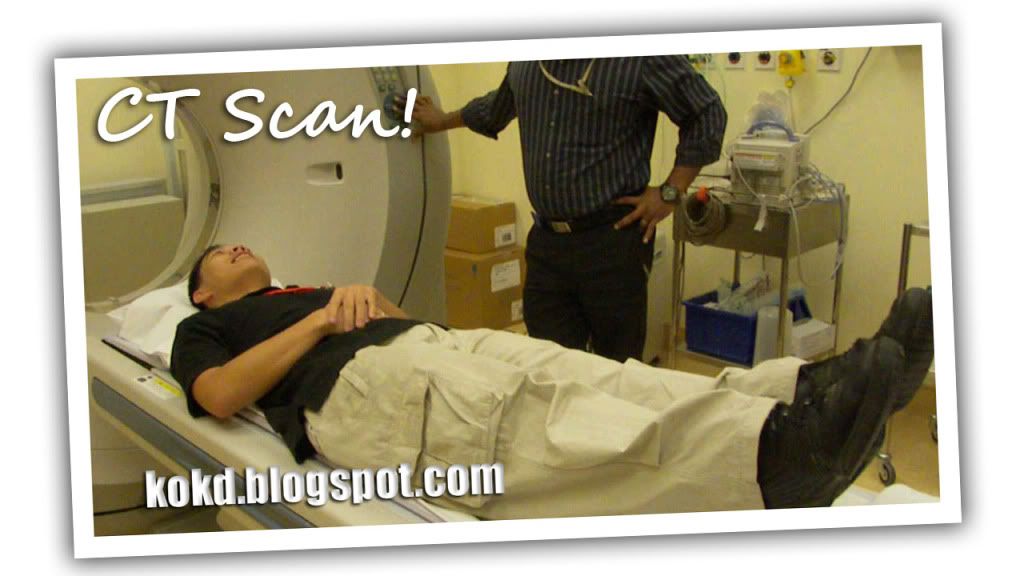 The next piece of hardware was the Magnetic Resonance Imaging device! Visiting this piece of equipment for real life was actually quite an experience! First, we had to remove all metal objects from our bodies. This was because the magnetic field was so strong that it will stick any metal object to it! I did not go though, seeing the technician's keys fly horizontally. I prefered to watch from a safe distance behind glass panels! Did not want to fry anything.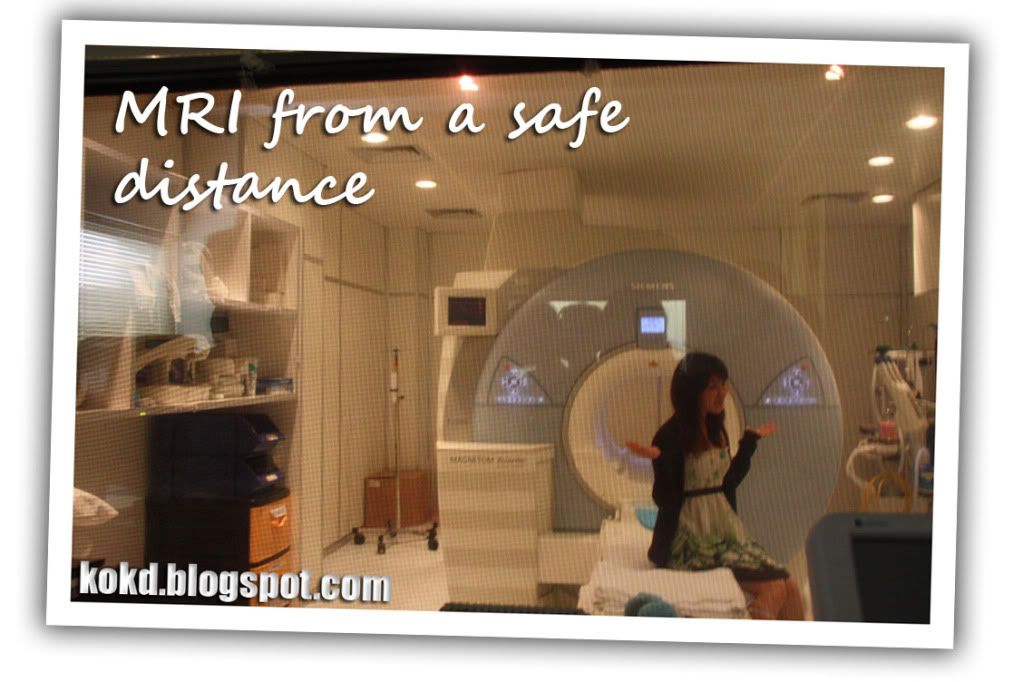 Together, these machines form the fundamental of non invasive imaging, that means being able to look inside your body without having to actually cut you up! in an adjacent room, there was the mammogram machine! I was always curious how mammograms were done. Mammograms are used to screen for cancerous growths in the breasts. To demonstrate how it works, I have volunteered myself! Basically, there is this machine that has a scanner on top.. A plastic plate slide down and presses on the breasts to make it as flat as possible without hurting the patient. A series of scans are than performed to screen for any growths!
Unfortunately, this scenario is not all that ficticious. Men have the chance to develop breast cancer as well so for men, they actually pull out your man boobs as far as it can go! Ouch! Making my way out, I saw something that I should not have seen. See it in the video!! Anyhow, our next stop is the fertility centre. In case you still did not know how babies are made, then read closely! Welcome to the Fertility Centre!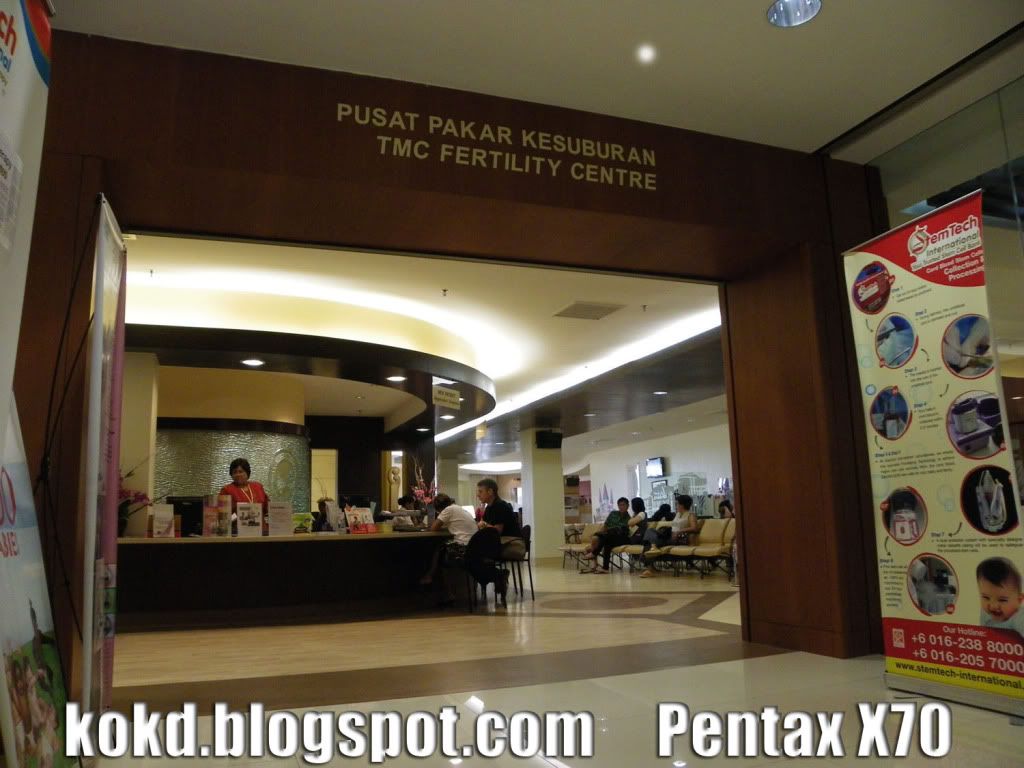 In practice, this is were babies are made! You will be amazed what modern medicine can do! To kick off the process, first, we need some eggs. Ladies if you were to check in to the centre, this is where your eggs will be extracted!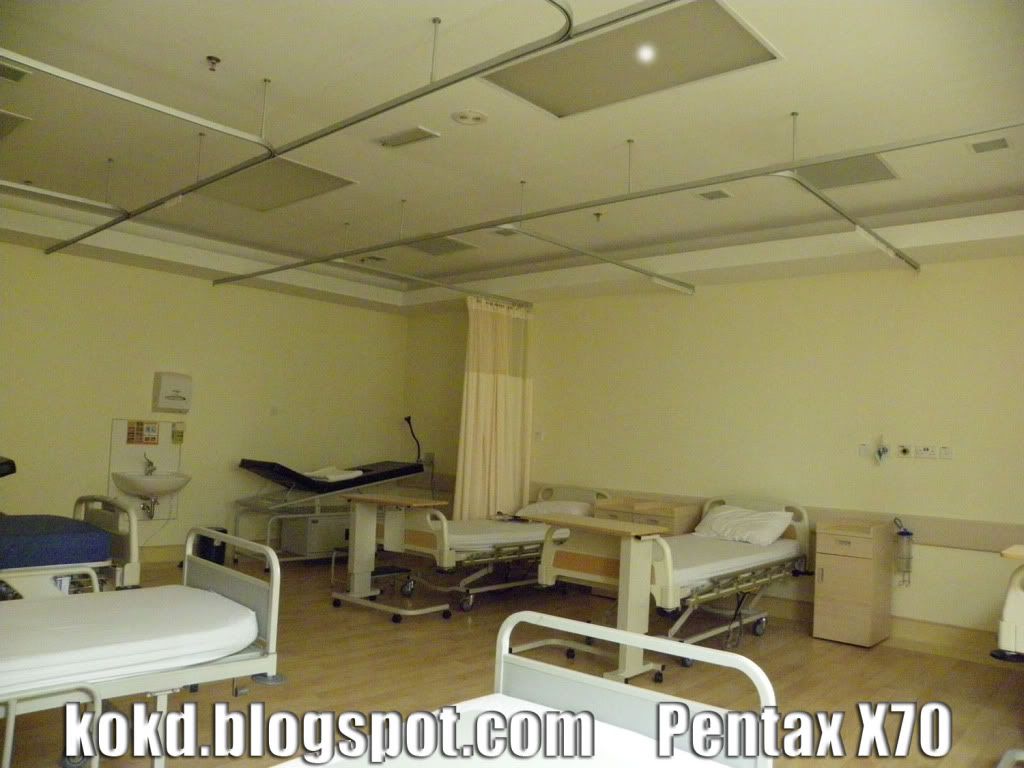 Typically, a healthy female produces 2-4 eggs every cycle. Next, some sperm is needed. In the other side of the centre, you will see this.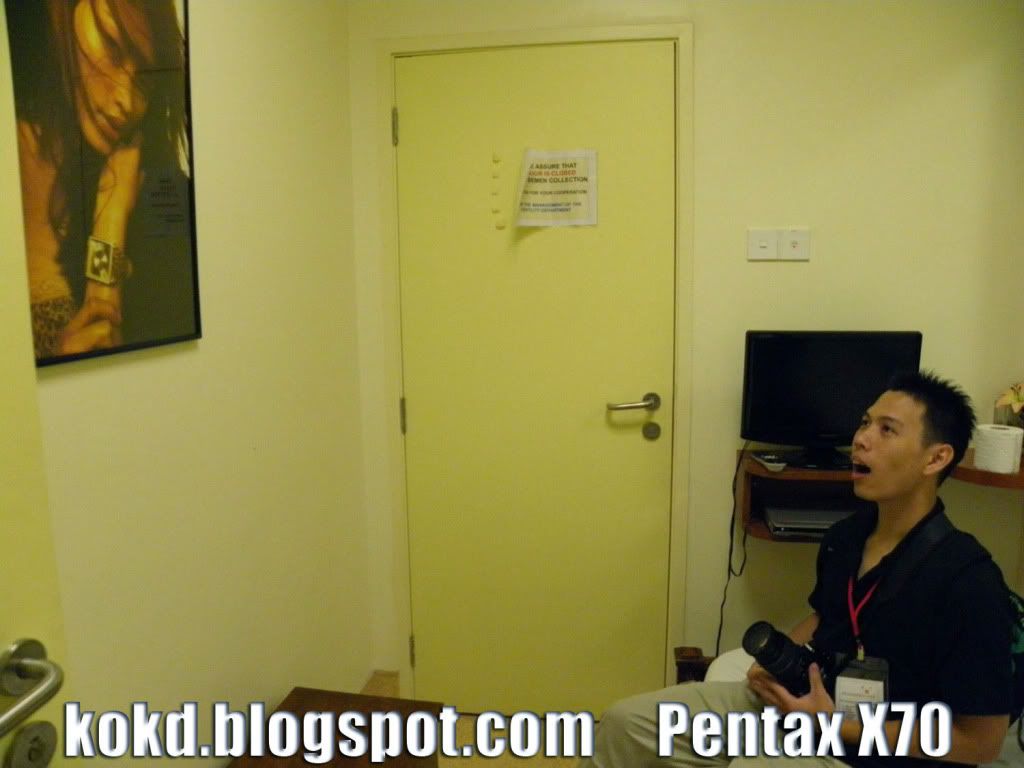 Since no porn is allowed in Malaysia, the best they can do is Amber Chia. Don't know if that helps. Yep, thats my canon. When you are all set, the sperm and eggs can be stored for as long as you want!! At a fee of course in the order of hundreds of ringgits per year. The cost is due to the fact that the eggs and sperm need to be frozen to very low temperatures using liquid nitrogen. They are kept in here:
Nope, this is no place for frozen yogurt. Well now that you have your sperm and you eggs. At this station, the eggs and sperm are combined! This place is called the IVF (In-Virto Fertilisation Labs)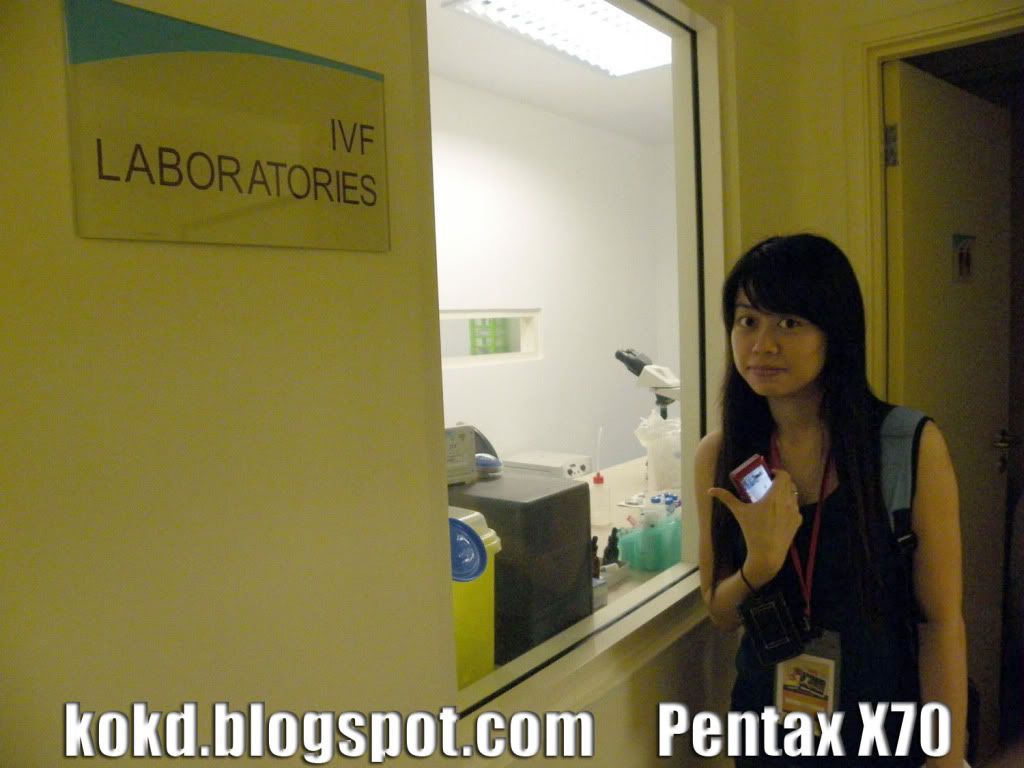 The very scary and interesting thing about test tube babies is that after this, the mother is implanted with 2-3 embryoes. What more, you do not have to get pregnant for 9 months! Instead, nowadays, you can find surrogate mothers who will get pregnant with your baby! Making babies minus the hassle i tell you! Well, should you decide to get pregnant, and after all that 9 months, you can come back here for a stay. When that baby comes knocking on your door the maternity suites offer everything a new mother can need.It has a kitchen, bath room and bed! Looks more like a hotel!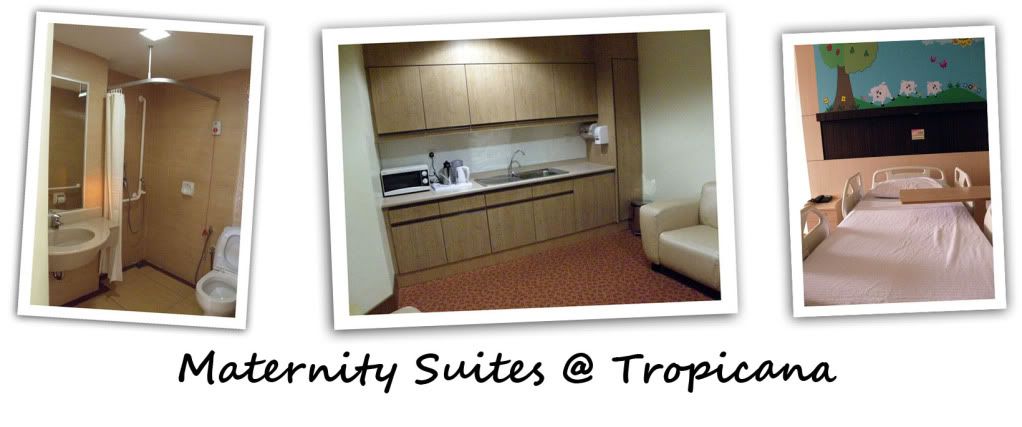 And when the baby is big enough to play around, don't forget to visit the kiddies play pen!
Phew... having babies is a difficult job so you can keep yourself fit by using the gymnasium provided here at the rehabilitation centre!
After our tour of the center, we were met with Mr Francis Lim, the CEO for Tropicana.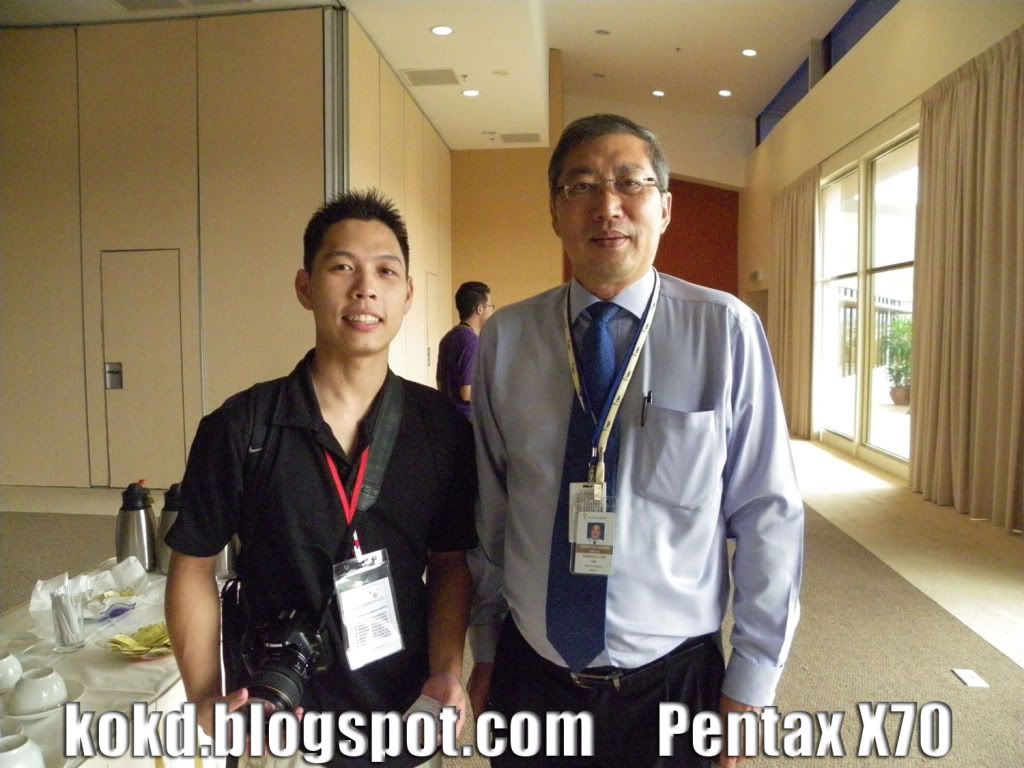 Here we were treated to some light refreshments as we concluded to tour of the facility. Outside, I noticed a good view of the gold course and so intuitively, I decided to try out the
X70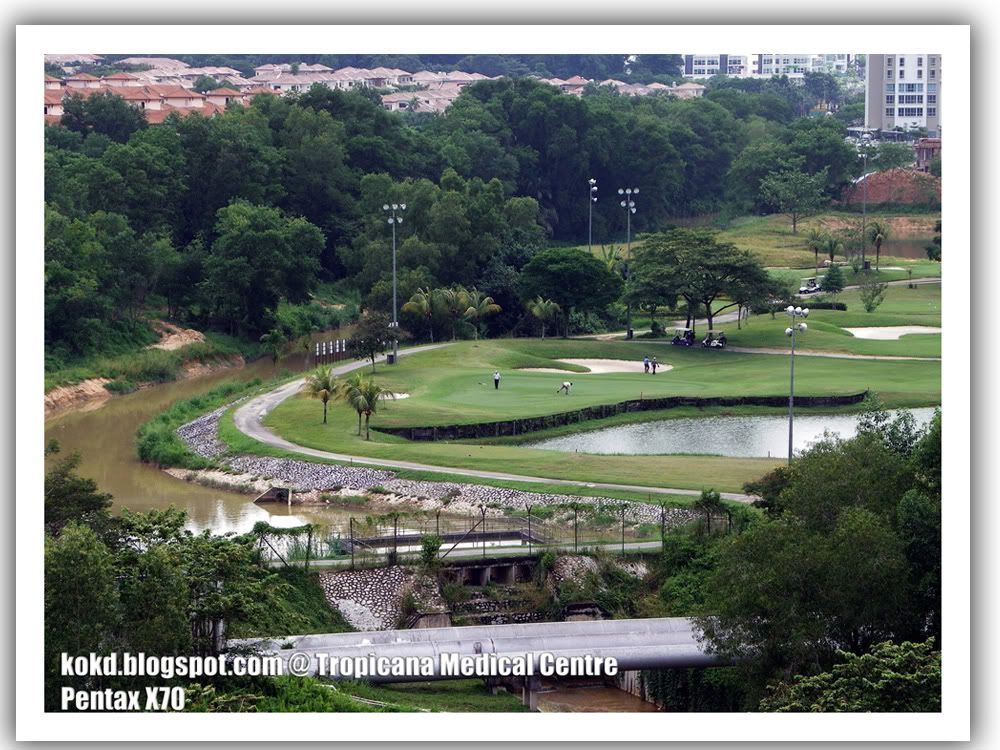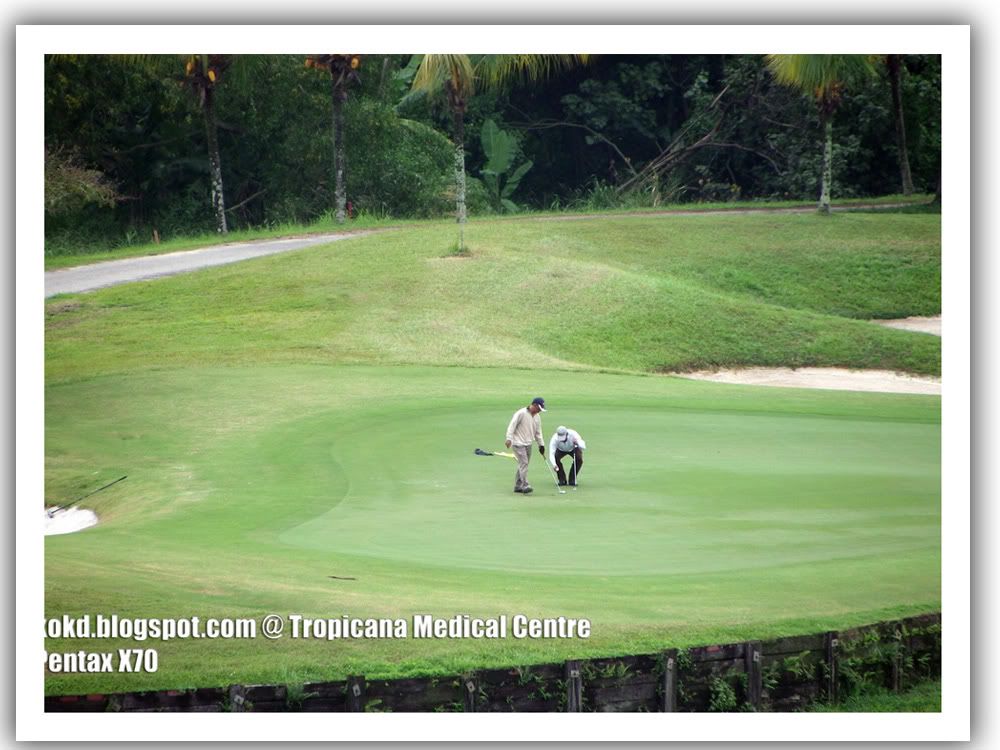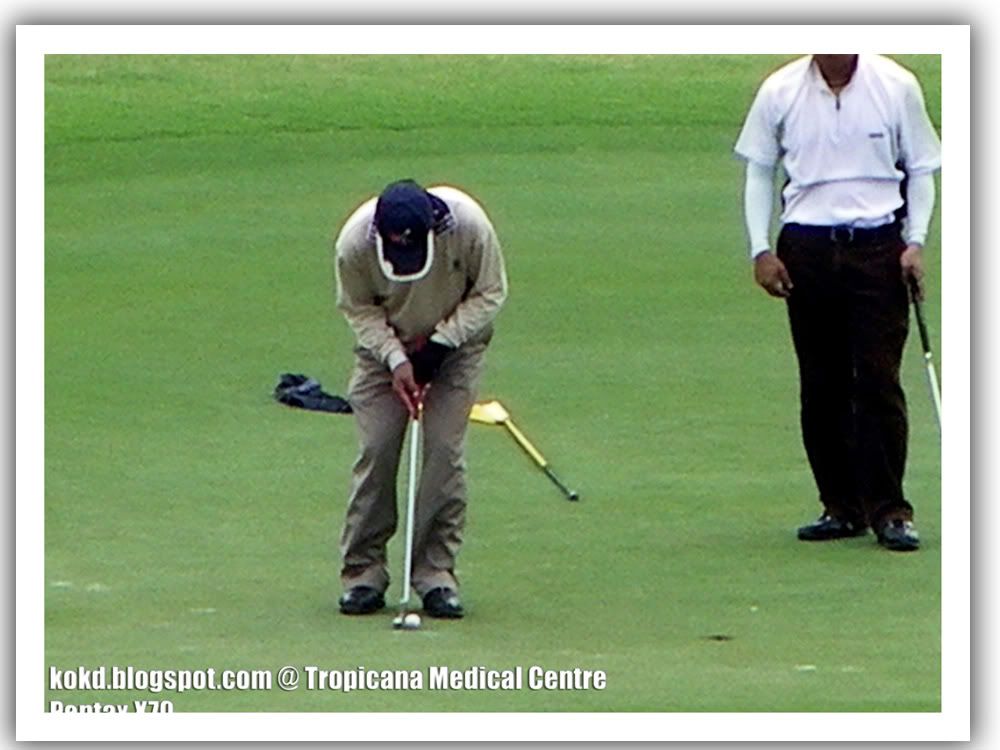 Anyway, I reiterate, making babies is tiring and hungry... so next stop lunch at Sunway Pyramid!
If you know someone in need of medical assistance or needs advice in having babies, contact,
Alan Chin
Marketing Manager / International
alan@tropicanamedicalcentre.com
+6016-2113 217
Tropicana Medical Centre (M) Sdn Bhd
TMC Fertility Centres
STEMTECH International
No 11, Jalan Teknologi, Taman Sains Selangor 1,
PJU 5, Kota Damansara,
47810, Petaling Jaya,
Selangor Darul Ehsan,
Malaysia
or go straight to Tropicana Medical Centre!
View Larger Map
Frames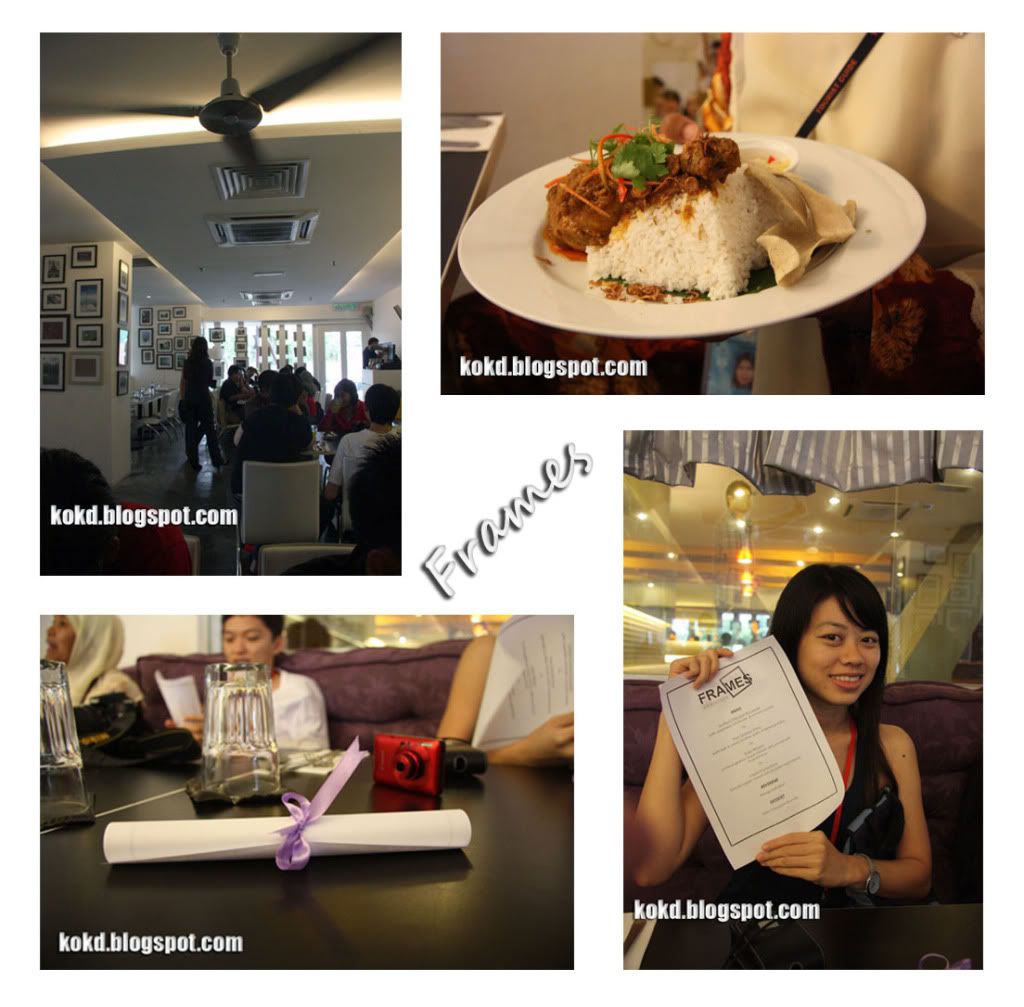 Welcome to Frames! This restaurant is located at the Sphinx of Sunway Pyramid! Today, the MSS top 30 is going to sample the food here! The first thing you will no doubt notice when you enter is the theme of the restaurant! I has all frames! What sets it apart is that the restaurant holds photography contests every now and then to promote photography!
Anyway, I ordered a nasi lemak. I must say the portion was generous and the rendang was quite good! On the menu was also salmon, beef and a selection of vegetarian food! The ambience is set in a very lowly lit scene. Coupled with the cool interior and the inviting pictures, this is no doubt one of the unique dining experiences you should try in Selangor! Let the pictures make you drool!
Okay, here is the deal, a really cool themed restaurant good for fine dining and photo competitions! Food = good! Drinks = So So. Atmosphere = 5 stars!
Sunway Lagoon
Welcome to Sunway Lagoon! If you had not already known, Sunway Lagoon is a theme park located in the middle of Selangor! The biggest theme park in Malaysia, the lagoon features a beach in the middle of the city! Although it opened its doors to the public almost 20 years ago, the park still attracts hordes of visitors every year! As such, the lagoon is the ideal venue for various concerts and events! Anyway, us bloggers were given an all day- all park pass to go play around!
Sunway Lagoon is divided into a few sections. The dry park and the wet park is the original theme park which opened a long time ago. As such, I will leave this to the previous posts in my blog to explain about it! The latest attraction however I will not miss! Dubbed the Xtreme park,
Babe
and I went exploring to bring you the latest from Sunway Lagoon!
As we entered the park, we could already see the newly opened beach! You can actually surf here when the wave machine is up! Where else in the middle of Malaysia or any contry in fact do you have palms, sand and waves!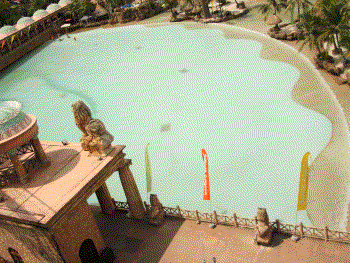 The latest attraction is for people who would think of jumping down a building and seeing how that feels! Popular in places like New Zealand and in the suicidal parts of Tokyo (only they do it without the ropes), ladies and gents, I bring to you a brave soul!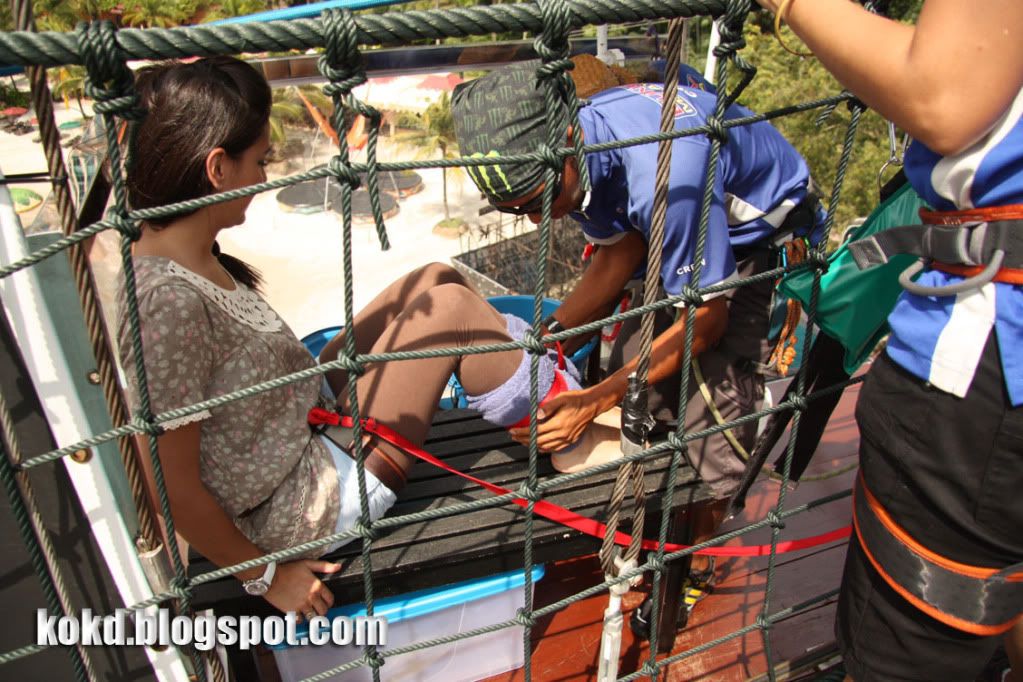 This lady has just paid RM50 (About 10 quid) to get strapped on to a piece of elastic rope and then walk the plank! Skurrrrvvvyyyy! Shiver me timbers and here she goes!!!!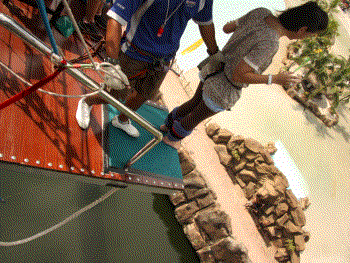 Note to bloggers and photographers: The best place to get pictures of people putting their
hands in to the lives
lives into the hands of the expert is right below! The process of jumping down is also an interesting one! You have to be weighed before you get the right rope tied around you! Any mistake means you would get a wet head and a mouth full of water or you might just come back up!
Any how, me and
Babe
walked down the hanging bridge to see what has the Xtreme park got in store for us!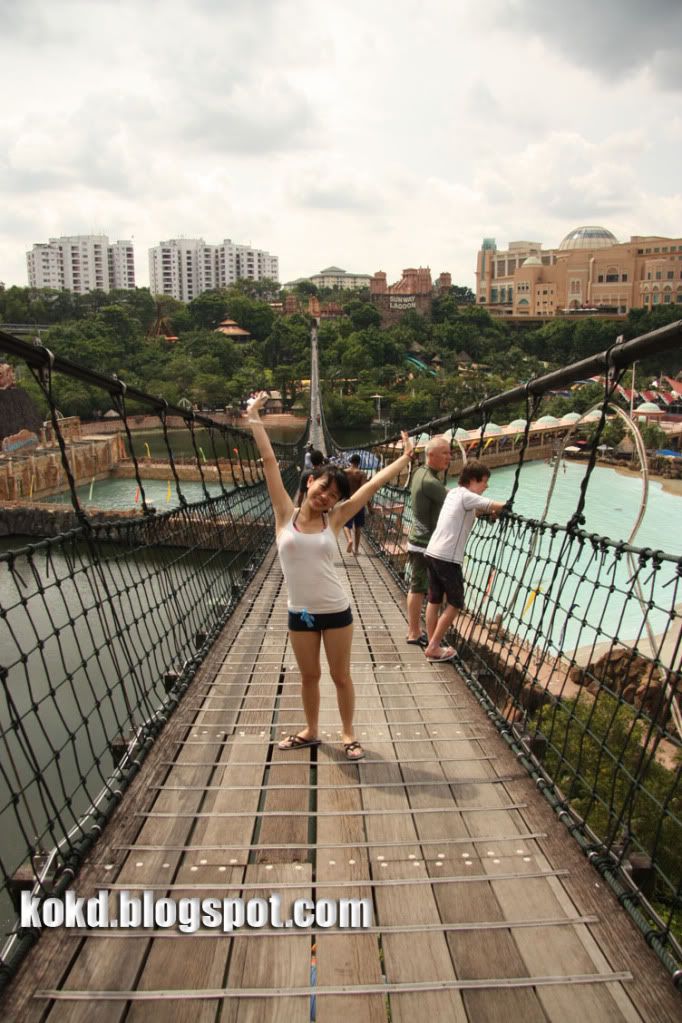 It was a Monday actually, and we
stopped
spotted the flying fox which runs from the 10 storey tower to the beach below! Even on a weekday evening the place was crowded! We had to wait 2 hours just to get on the flying fox! Either the ride is so popular or the management needs to get more of them up! Sob... did not get to do the flying fox!
No matter, we had other plans. Where else can you enjoy the beach in the middle of the city so we took the liberty of heading down to the sands! Next thing I knew we were taking pictures in the scenic venue along the 100m beach!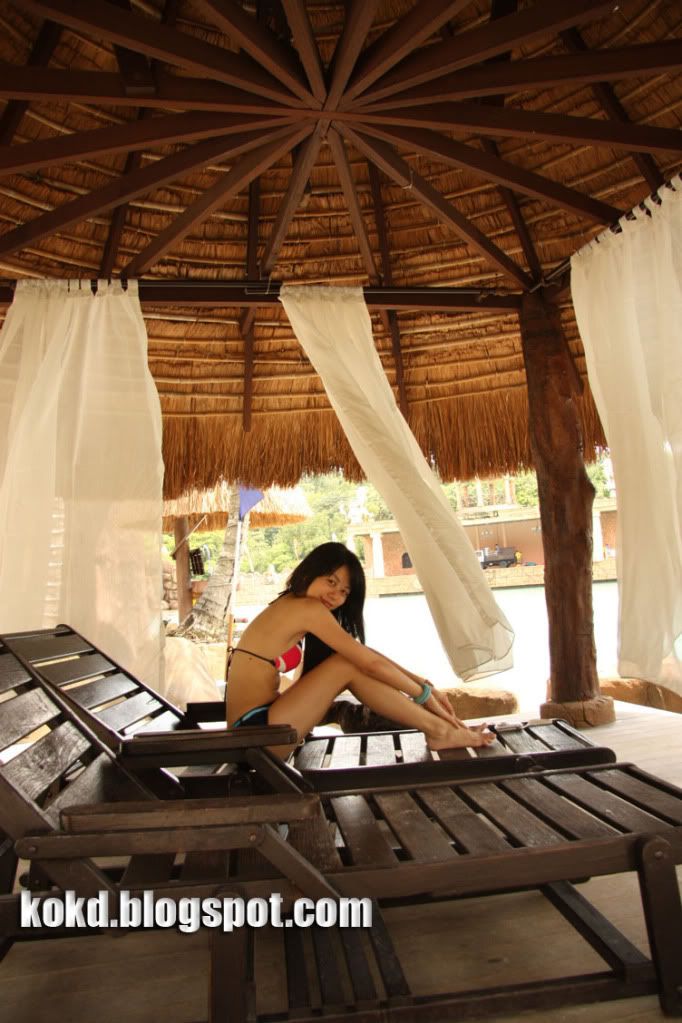 Looking up, you will see flying Koks and also have a good view of the hotels, shopping malls and the college!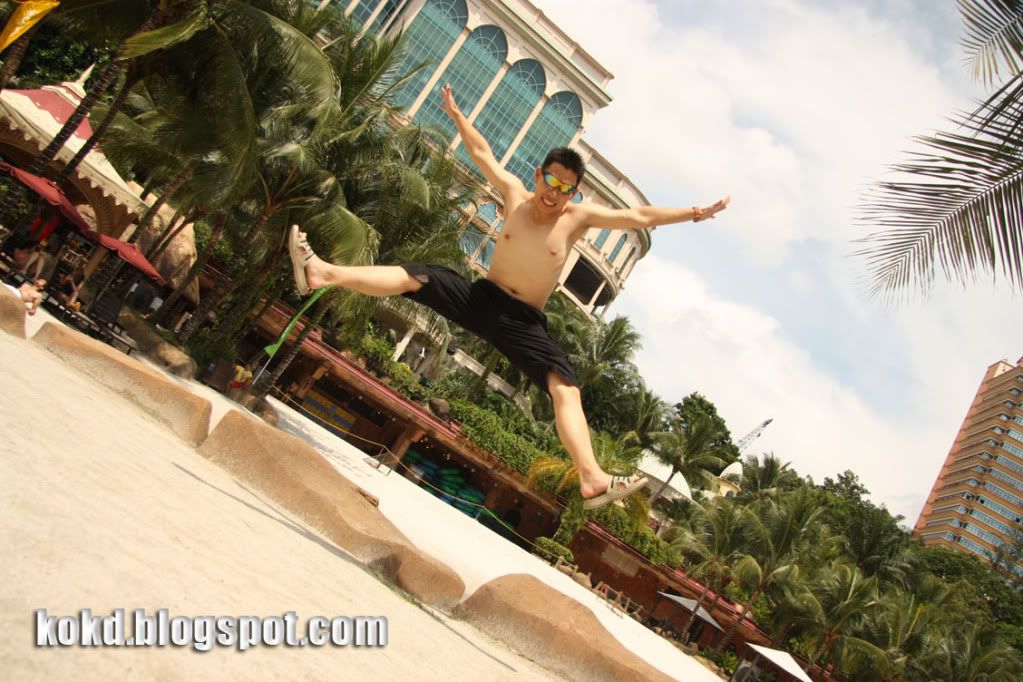 As we walked down the path, we were invited by the nice staff there to come shoot some arrows!
Finally, and excuse to flex those muscles! Anyhow, it was harder than it looked seriously! The guy beside me shot consistently near the bulls eye while I was shooting so randomly it was like spraying all over the toilet! One arrow even went out of the
bowl
target. Well, lets see if girls can get any luck out of this!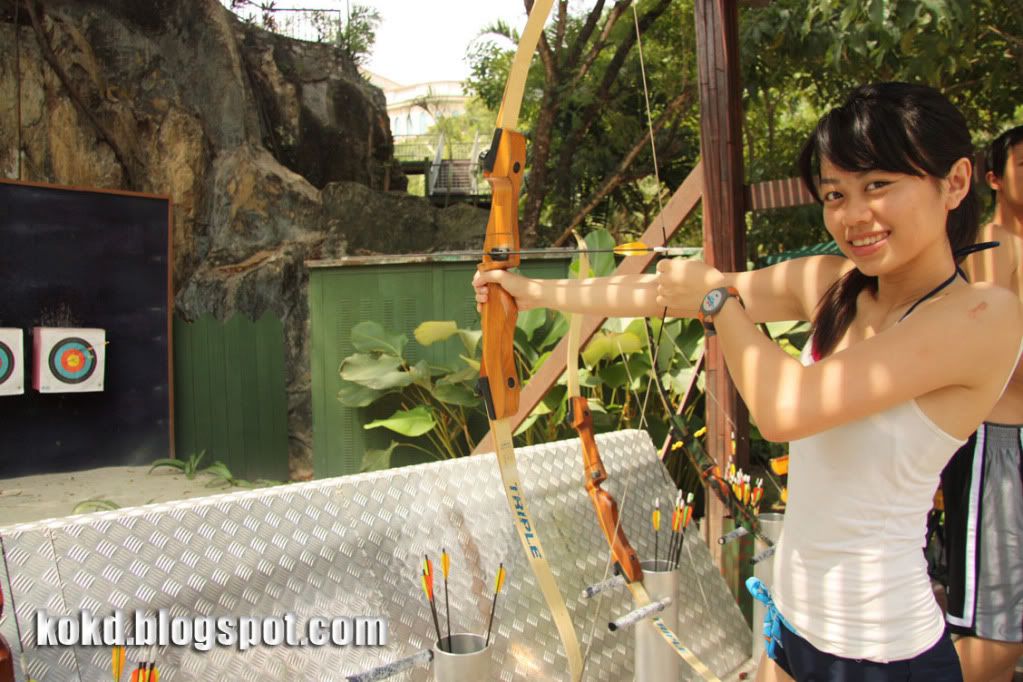 Babe being cute on the bow! Sassy! She shoots and she scores!
Next we waited patiently for the many people wanting to go on this! The all terrain vehicle trek! ATV! Finally, some dirt on my hands! After a 15 minute wait, it was finally our turn! Yay!! We got on our protective gear: Helmet and Crocs and off we went!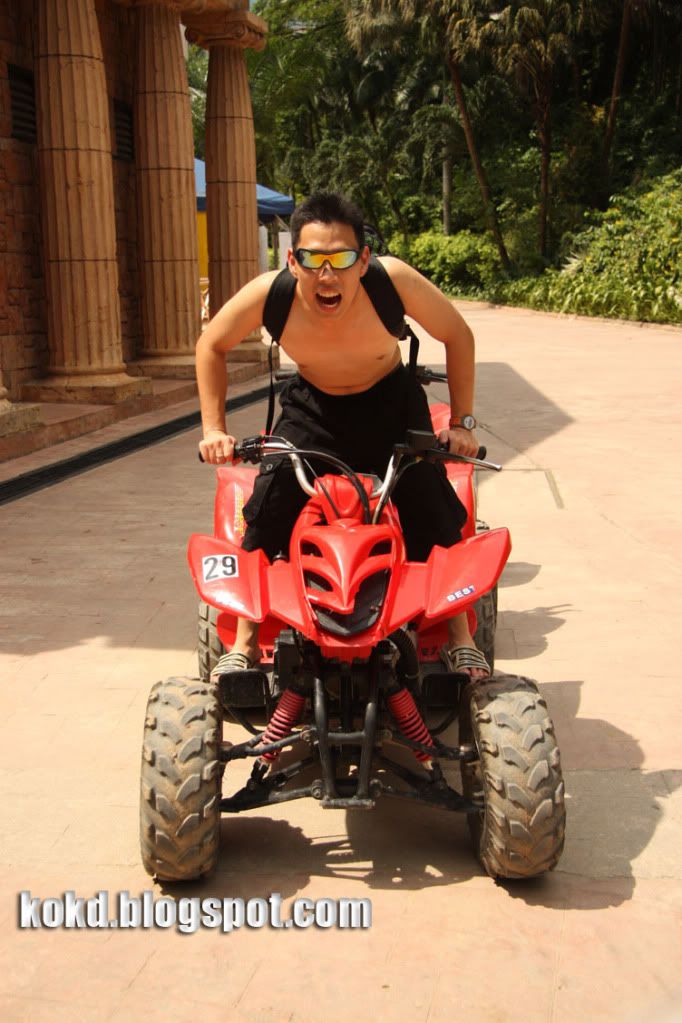 It was not as dramatic as the picture suggests. In fact, the next lot of kids who went up were no bigger than a piece of A3 paper. So much for Xtreme. I mean what happened to the adrenaline! Yet, I was soon prooven wrong when one guy behind (One grown able bodied GUY) rode the ATV like a headless chicken or a car which instead of fuel, ran on some honey cinnamon cocktail blended in ice topped with a slice of lemon. Just doesn't work! Conclusion, lil kids learn faster than big adults!
In search of more adventure, I had to empty the sea monster and found a really interesting sign: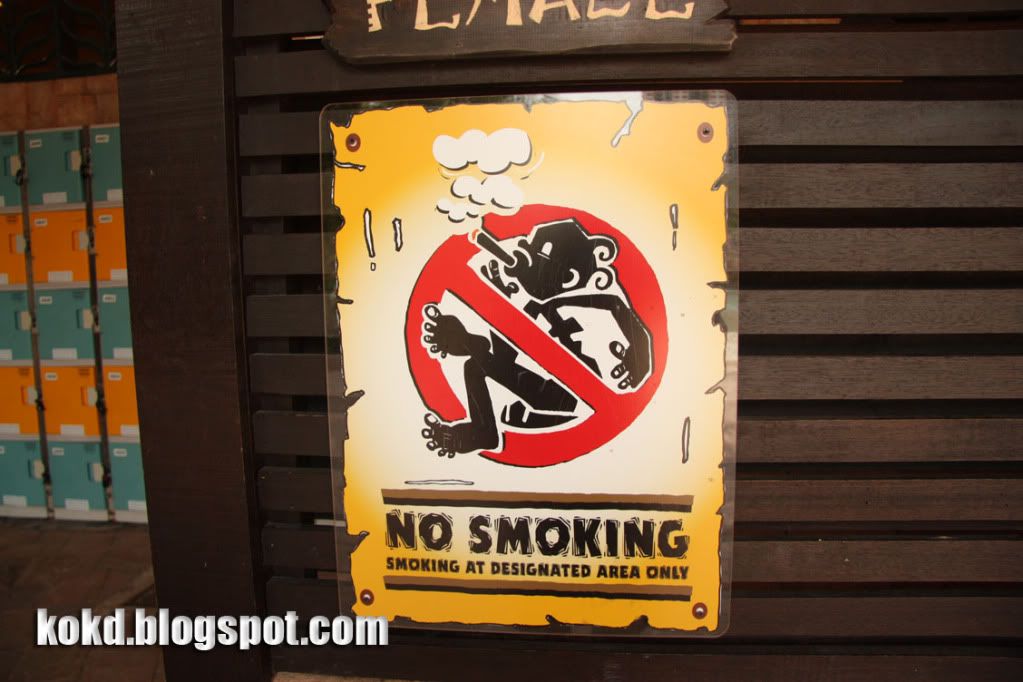 No comments.
Okay, what else can you do in the sun? Yesh volley ball! Beachfoot ball and more!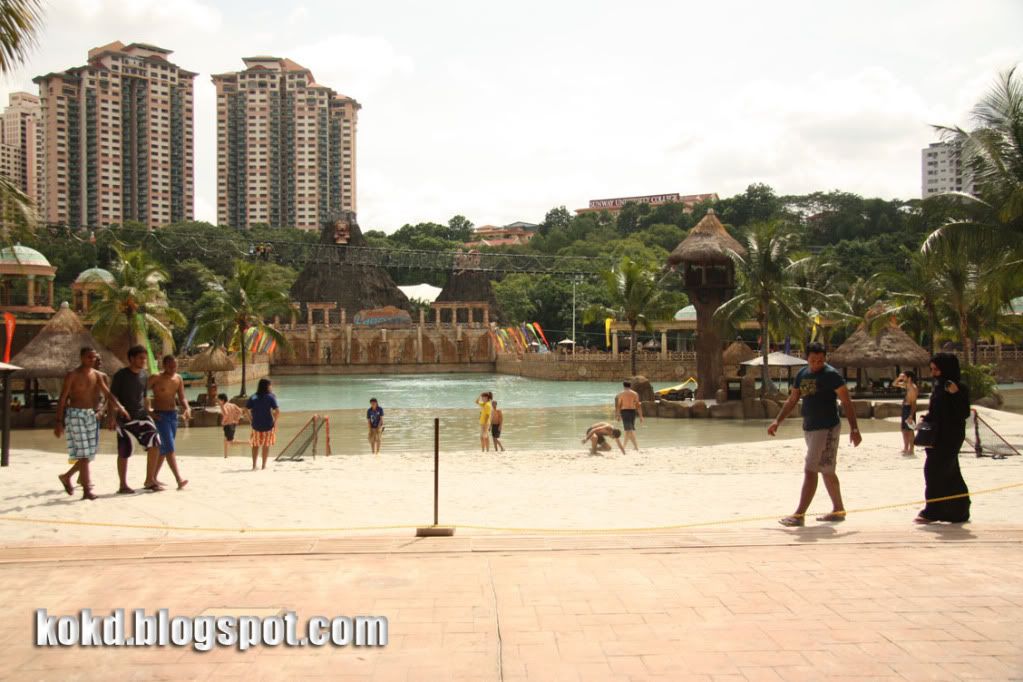 Some guys already have their imaginations running wild and I you are too naive to know what I mean, just type DOA into your browser! Anyhow, there is a beach volleyball court so bring along your friends and start firing away!
And if your friend pisses you off, you can certainly get revenge! The other really interesting thing in this park is the paint balls! They even have a training centre where you can practice shooting the targets! Now all you need is your
friend's
enemy's portrait and start shootin'em!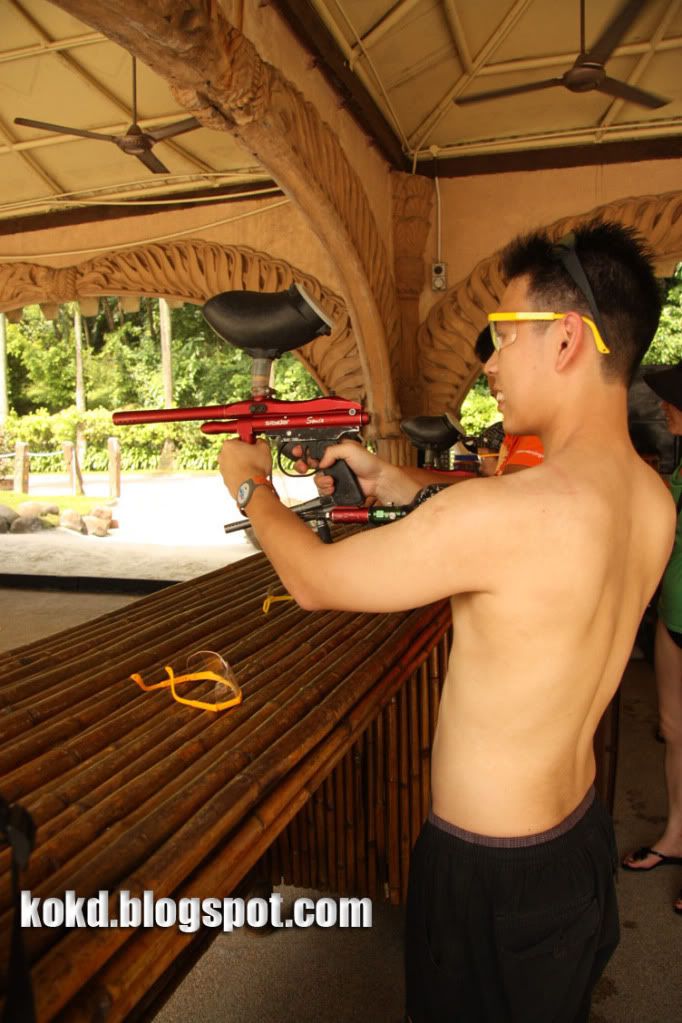 The other attractions to look out for in the extreme park is the G force and the Trampolines! Hint: Do not do a double summersault on the trampoline without good underwear!
After that, me and babe went to the water park where there were slides and the pool!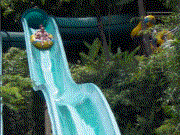 Time to get wet! Makes you wonder what are two grown men doing like this no? Just prooves that Sunway Lagoon is not only for little kids! My next shot was ruined by some one who did not notice I was taking videos and just wanted to be famous! Bleh... I call it curious case of the phat man!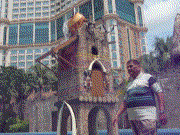 I mean he could be anywhere else but in front of my camera! Anyhow, Babe and I went around to see the highlights. Unfortunately, we were not sponspored a water proof camera. The good thing is we get to enjoy the park!
See you there! We are off to get wet! To get more information on Sunway, contact
Adelene Wong
Head - Brand Communications
Sunway city Berhad
adelenew@sunway.com.my
+6 03 5639 8797
Sunway City Berhad
Level 1.2, Menara Sunway, Jalan Lagoon Timur
Bandar Sunway, 46510 Petaling Jaya,
Selangor Darul Ehsan,
Malaysia
www.sunwaycity.com
or to join us, come here now!
View Larger Map
Romance in Haven
As a last leg of the MSS blogging competition, the top 30 bloggers headed to the hills! Ampang Lookout Point is one of the tallest points in Selangor at 280m above sea
level! Also, if there is time for good lessons in getting there here they are!
Lesson number 1: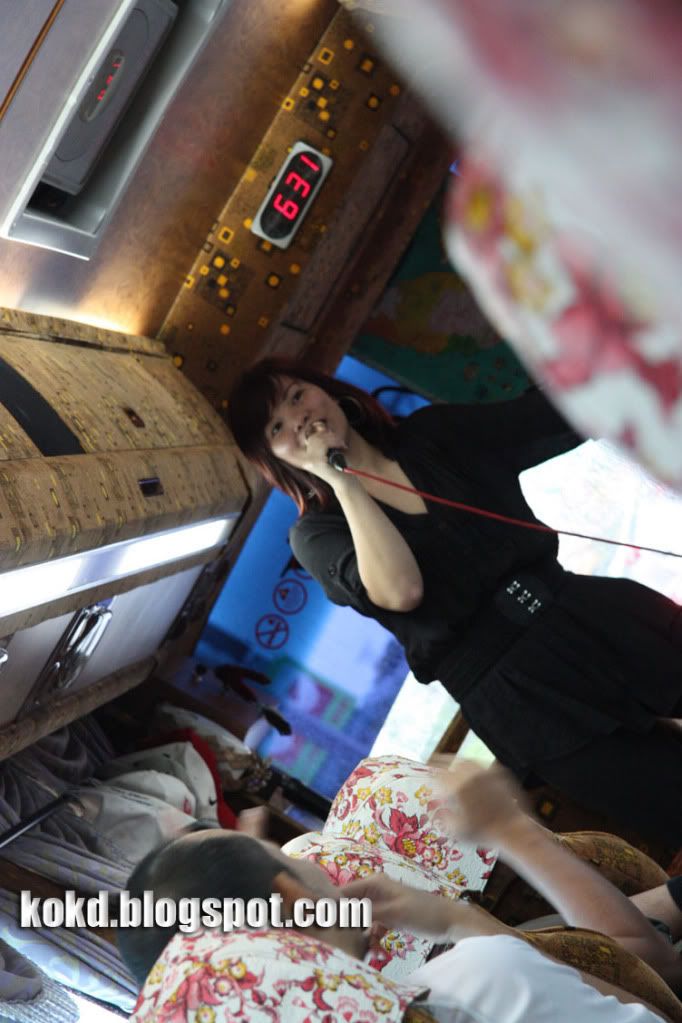 If you want to arrive at 7pm, leave at 6pm! Why? This is because there will most certainly be heavy traffic before you get there so do spare some time for your
journey! If you can see, in the clock it read 6.30, and we were half way! Yay!
Lesson number 2:
Ampang Lookout point is not in Ampang!! As the name deceptively suggests, it overlooks Ampang, when it is in fact in Cheras!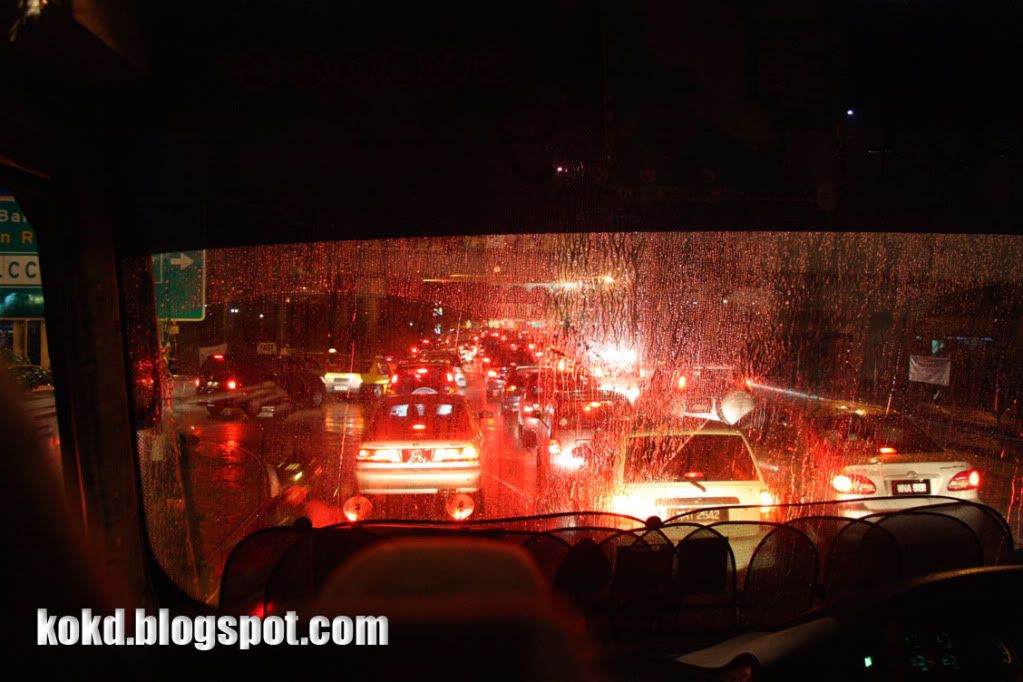 Before we knew it, we were caught in the evening traffic heading to Ampang! There is where the Petronas Twin Towers are! If you do not know about why you do not want
to be there,
read this.
If you see this, you are lost: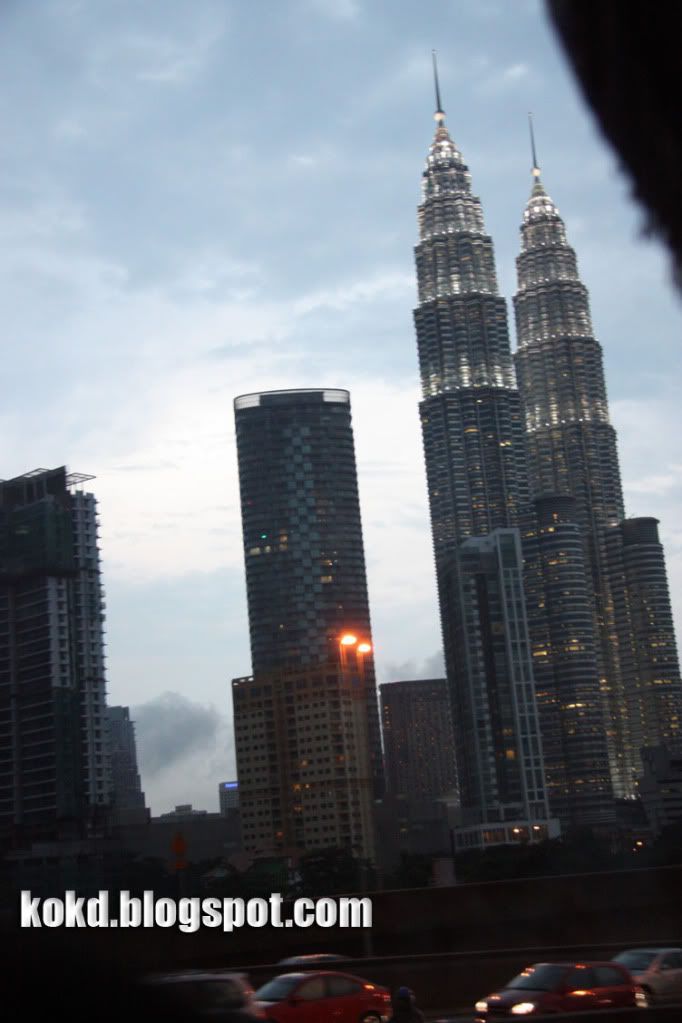 Anyhow, our 6pm journey ended at about 9pm due to misdirection and the rain!
Babe
was already hungry from Sunway Lagoon,
which brings us to...
Lesson number 3:
Keep some light snacks and food with you in your vehicle!
Yet we got there! and boy did it feel great! Personally I think its a conspiracy to get us hungry because the food never tasted so good! I can imagine the manager Mr
Anan: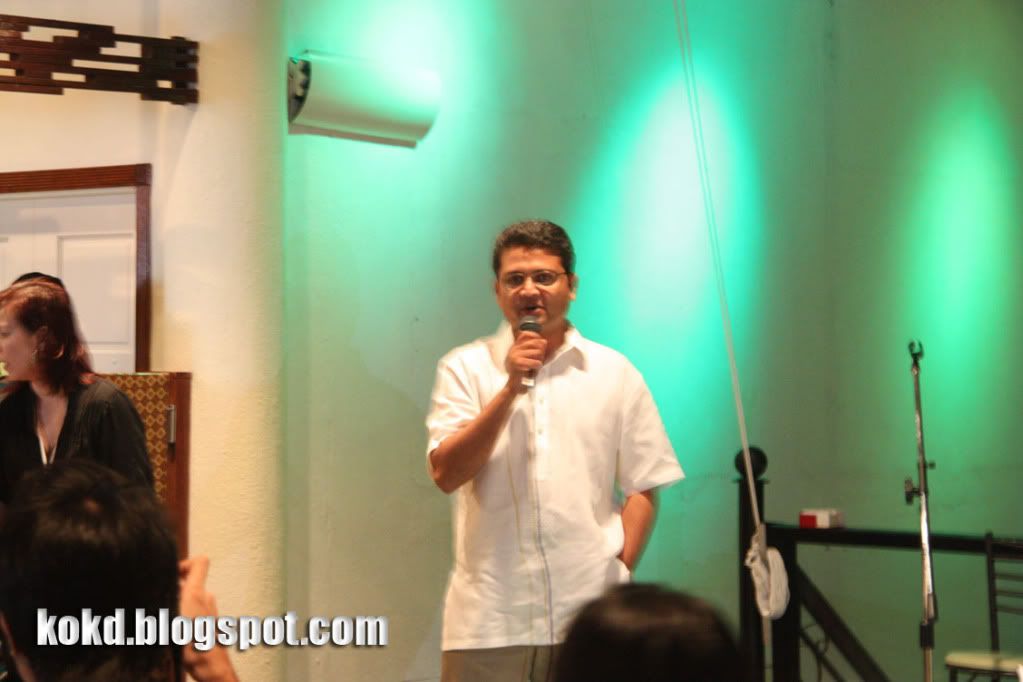 saying to the bus driver, "Mwhahahaha, take those bloggers into the traffic jam for 3 hours and starve them! Then the food here will taste so good that they will blog
about it! Mwhahahah *evil grin" and to the rain,"Mwahhaha, make it rain, we'll starve those bloggers!" By the time we arrived, the rain had not stopped and a few of us were caught wet! From the lookout,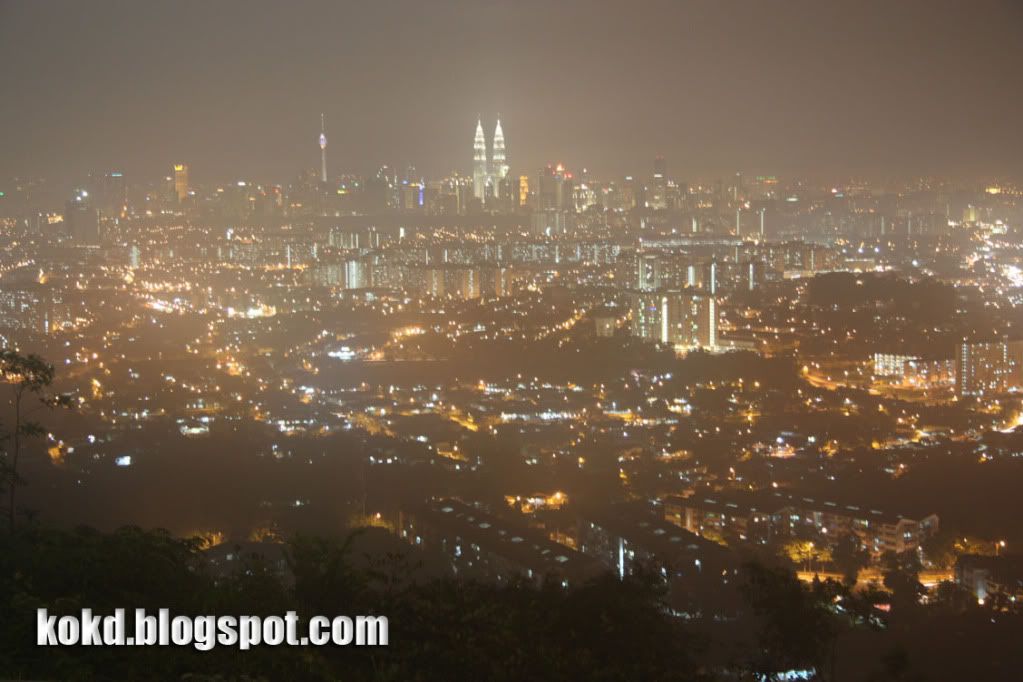 Whatever they did, it worked be cause after scaling the hill, we were welcomed by the staff at Haven who prepared for us:
A buffet for appetizer! There was also a heap of fruits: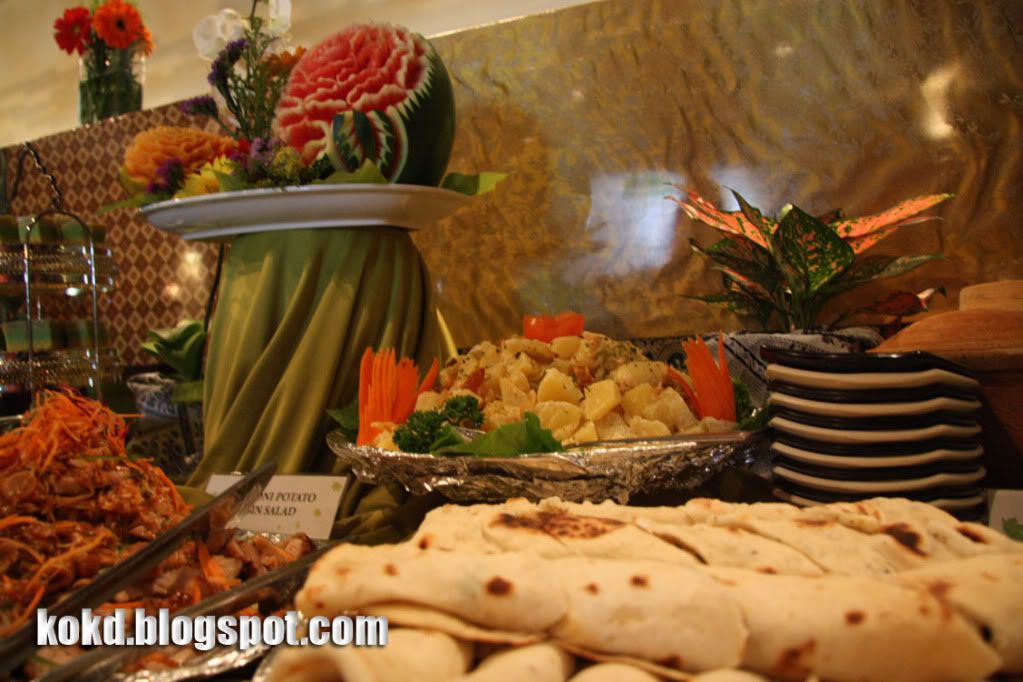 But after a long hungry journey in the bus, we were O.O to see this in the appetizer!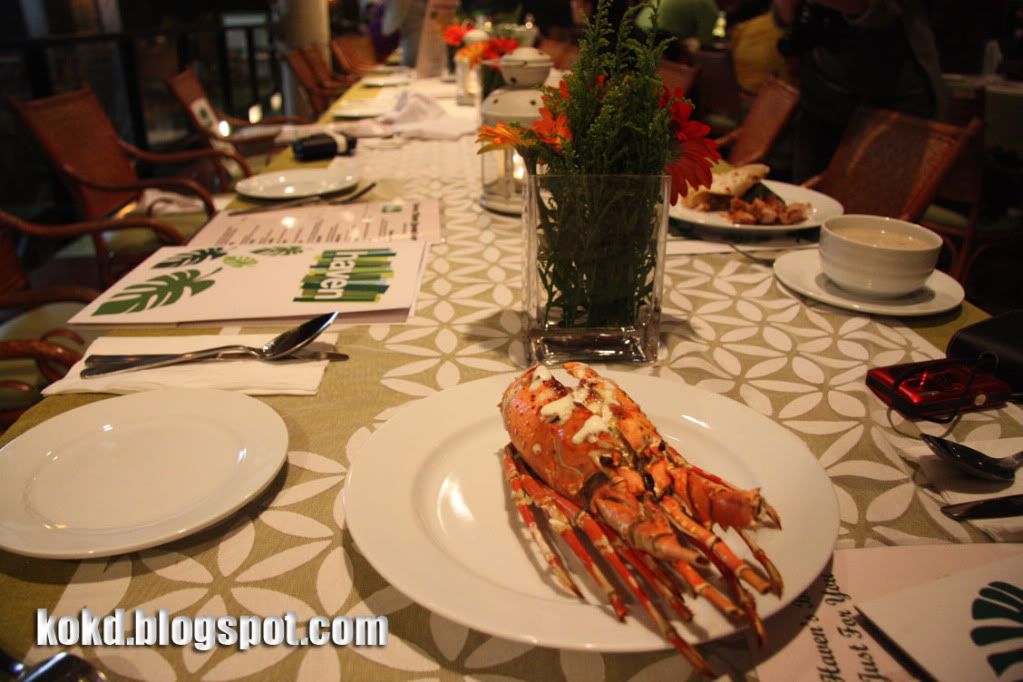 OMG! Lobster for our appetizer, amazing! Now if you do not agree what is better than that I'd wrap my brains in a gold brick smack it with a slice of lemon!
You have been devoured my crustacean friend! Creamed, baked and cheesed! (Me no like cheese)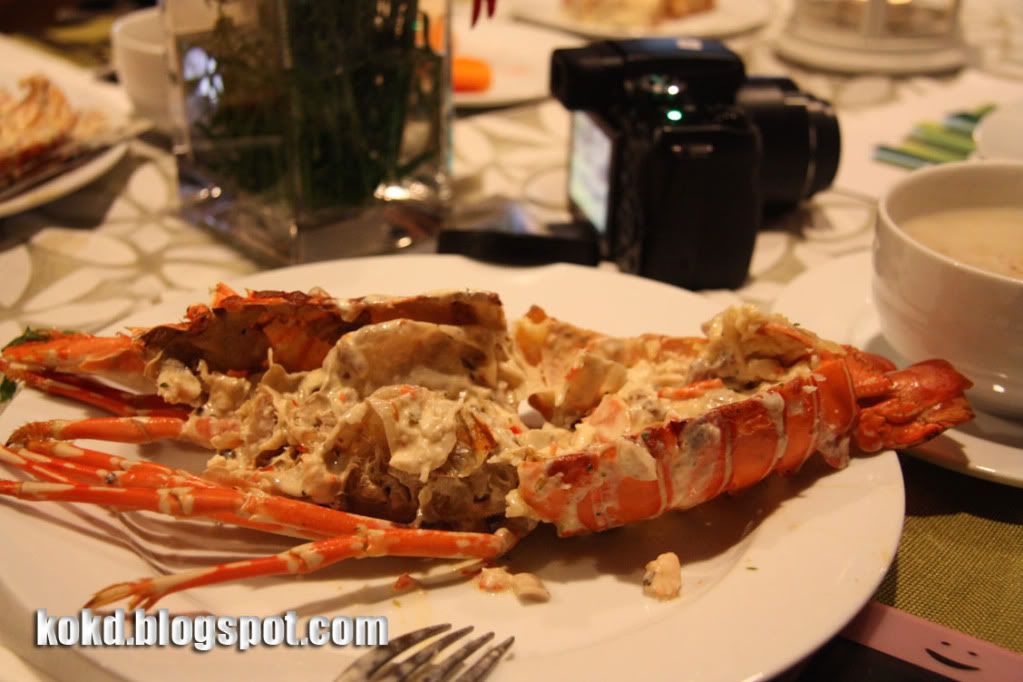 That was indeed the best appetizer I had so far! Waiting for the main course, you will find the view breathtaking! Yeap, the finely designed restaurant is still open
air and gives you that homely feel!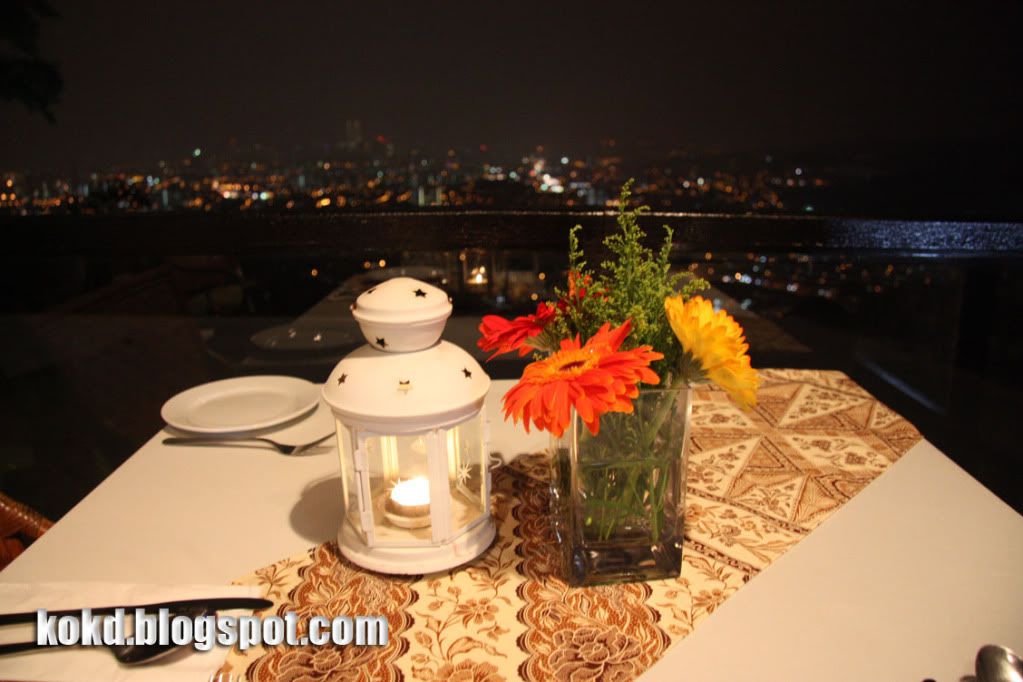 What came next was the most unexpected, which brings us to lesson 4:
Do not order more than you can chew! The portions are generous!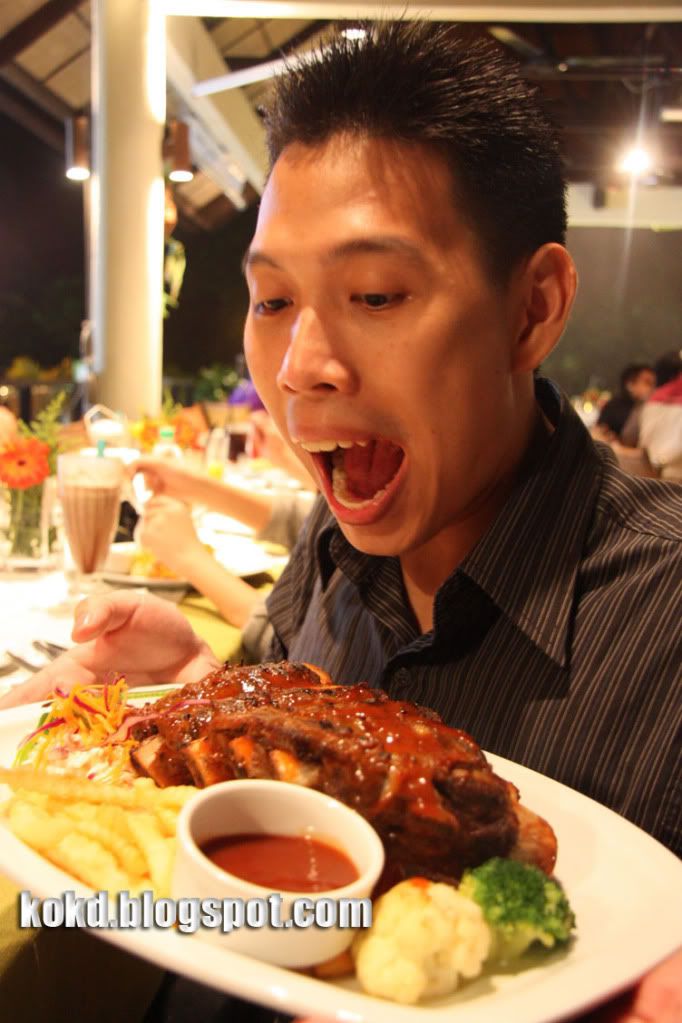 Beef-1 Kokd-0
I do not usually do this, but with the food so good, not typing out the main courses would be a crime!
Haven's Special BBQ Beef Back Ribs
Succulent and juicy beef ribs cooked to perfection and coated with our own Haven's Special BBQ sauce served with mash potatoes and fresh veetables. You will love it!
Grilled Norwegian Salmon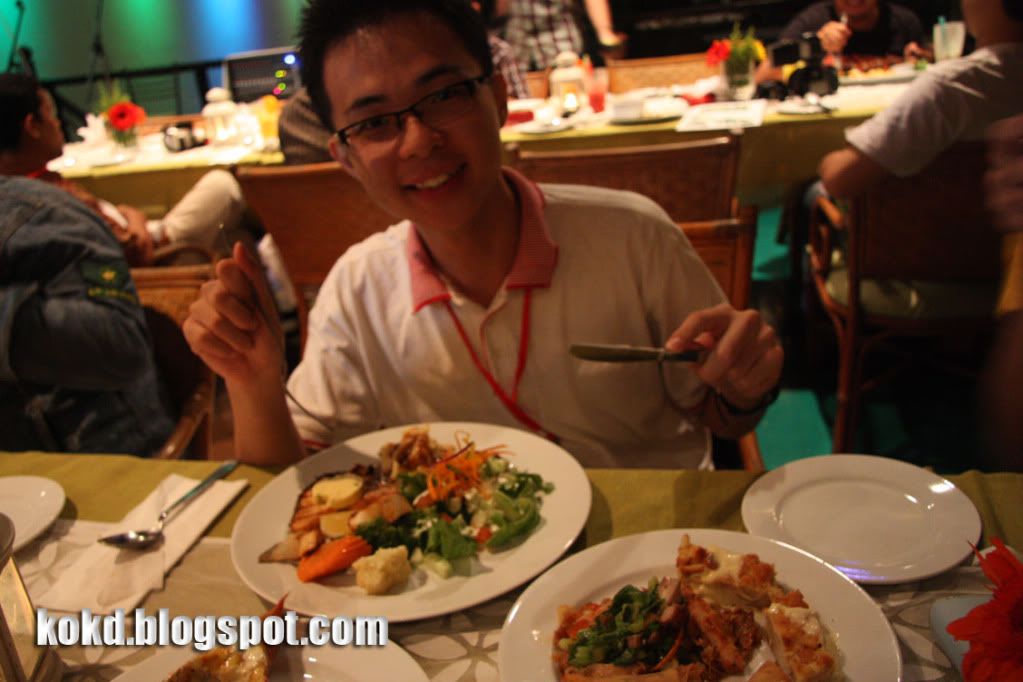 Served with Lemon Butter sauce, coleslaw and mixed salad. A favourite!
Briyani Lamb Shank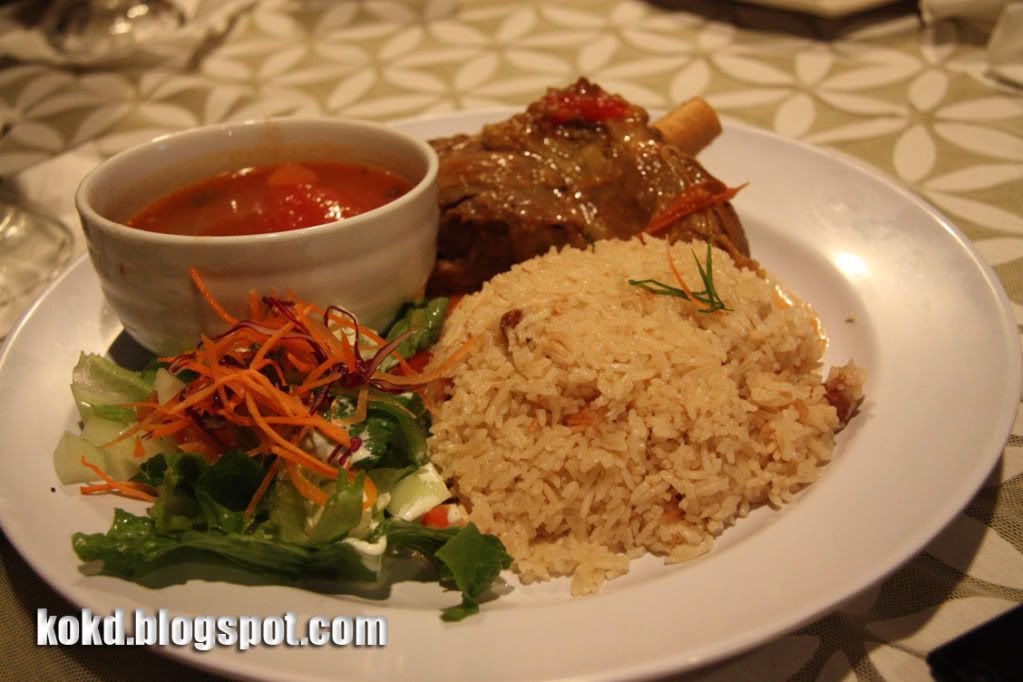 Juicy Lamb Shank accompanied with our special sauce served with briyani rice and salad. A middle eastern special.. Nice!
Haven's Special Grilled Chicken Chop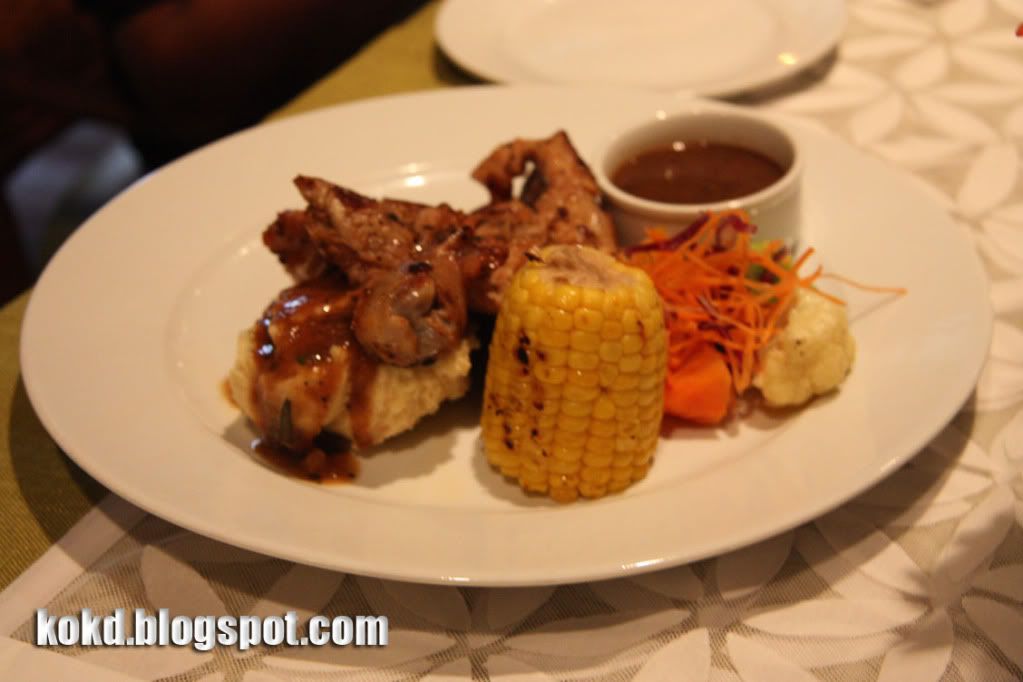 Tender boneless chicken grilled and served with your choice of either mushroom or black pepper sauce. Absolutely scrumptious!
Haven's Vegetarian Delight
Your choice of either vegetarian pizza or vegetarian mamak mee. Just for you!
Tom Yam Fried Rice with Shrimp
Originally famous Thai cuisine with a touch of "Haven". A must try!
Shisha to go!
The other amazing part of this restaurant is their range of drinks! Fruit juices, fizzers, ice blendeds, sodas, tea, coffee and shakes are at your finger tips!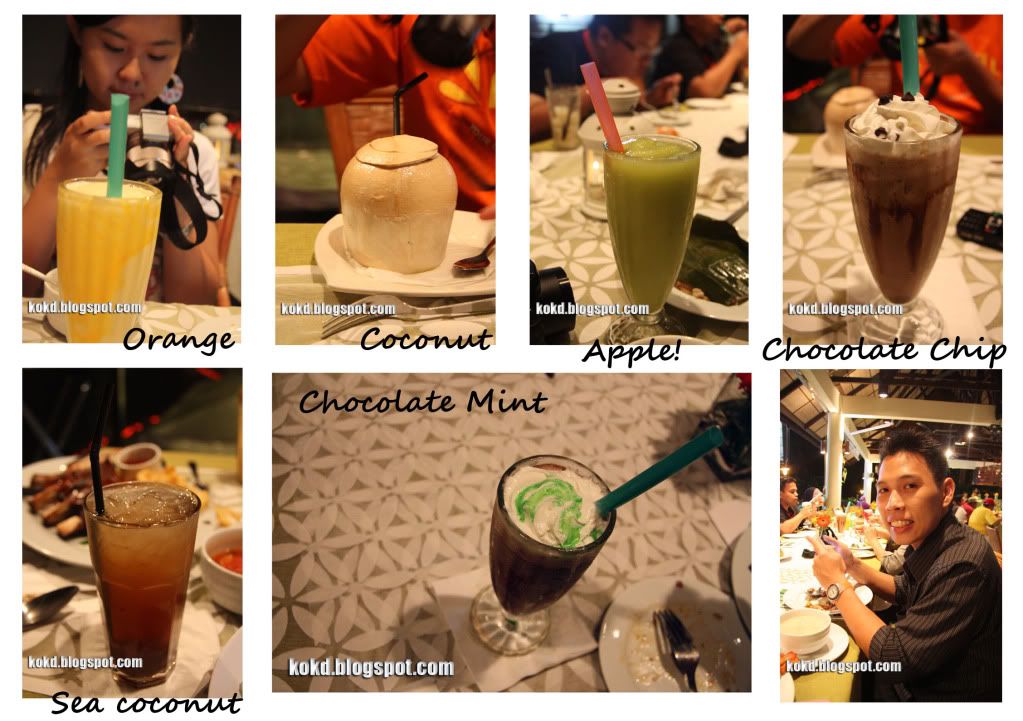 Honestly, the drinks were diverse and good!
Do not forget desert!
Do try a portion of their sago jelly and also the fruits!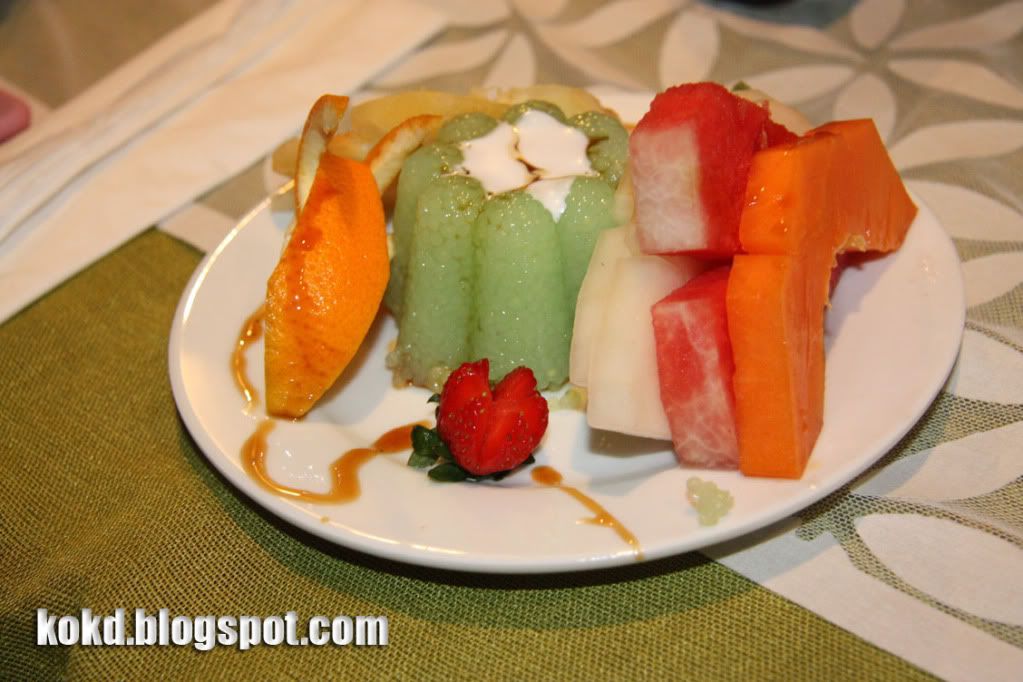 Ask your waiter if you could get the Haven cupcakes!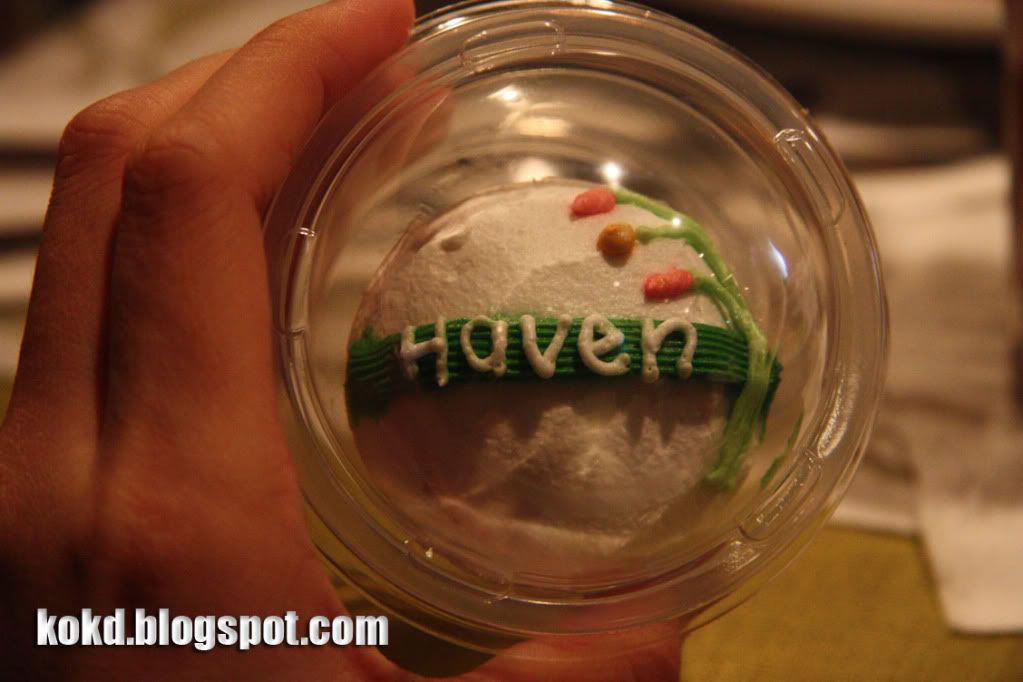 Also find out if you can get the carrot cakes!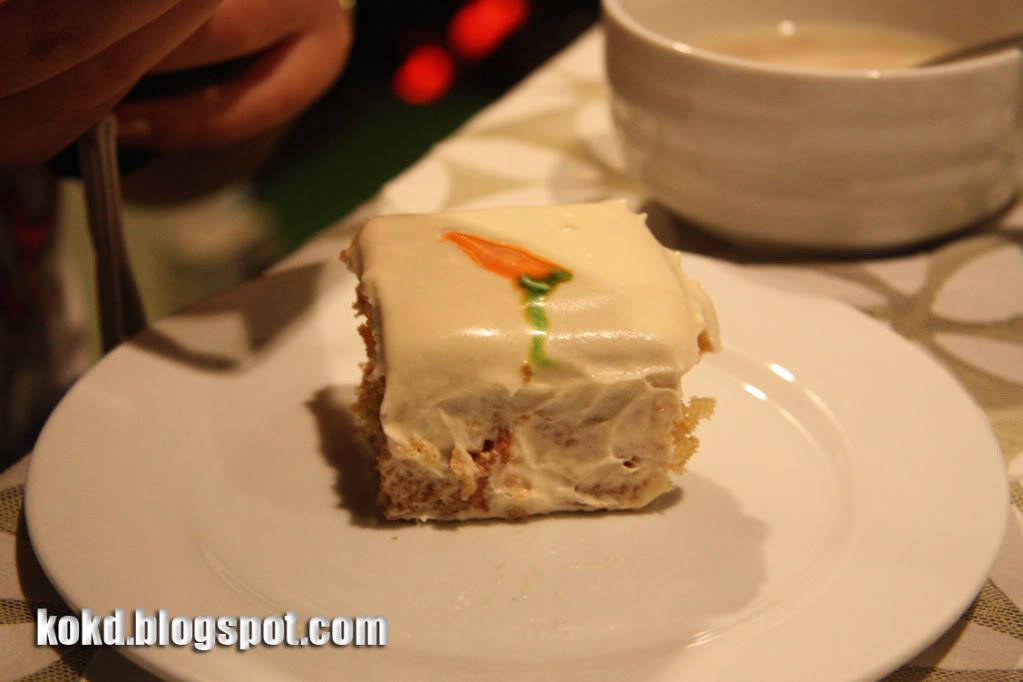 However, the food is only second to the picturesque scenery. Facing the west, the lookout point is a great spot for sunset and at night, when the city lights dot the map, you get a very romantic scene close enough to civilisation but far enough for the romantic feel!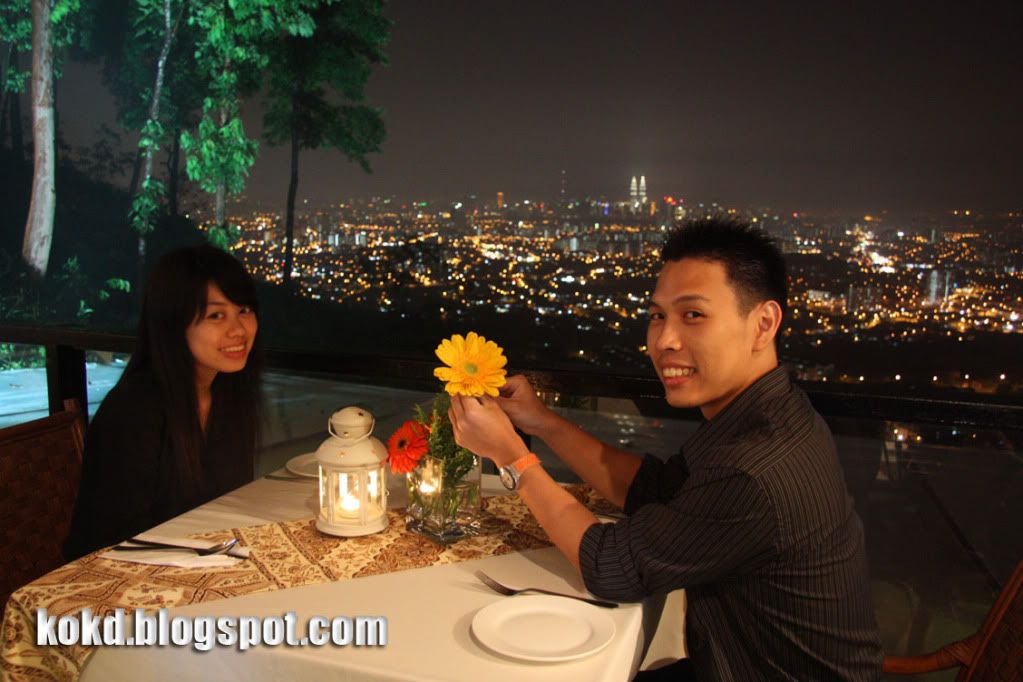 By the way, just for the record, up the hill from Haven, there is a wooden structure built by the council. This sturcture is for public use and was turned into a restaurant. It is illegal and you should not patronise a place that looks like this: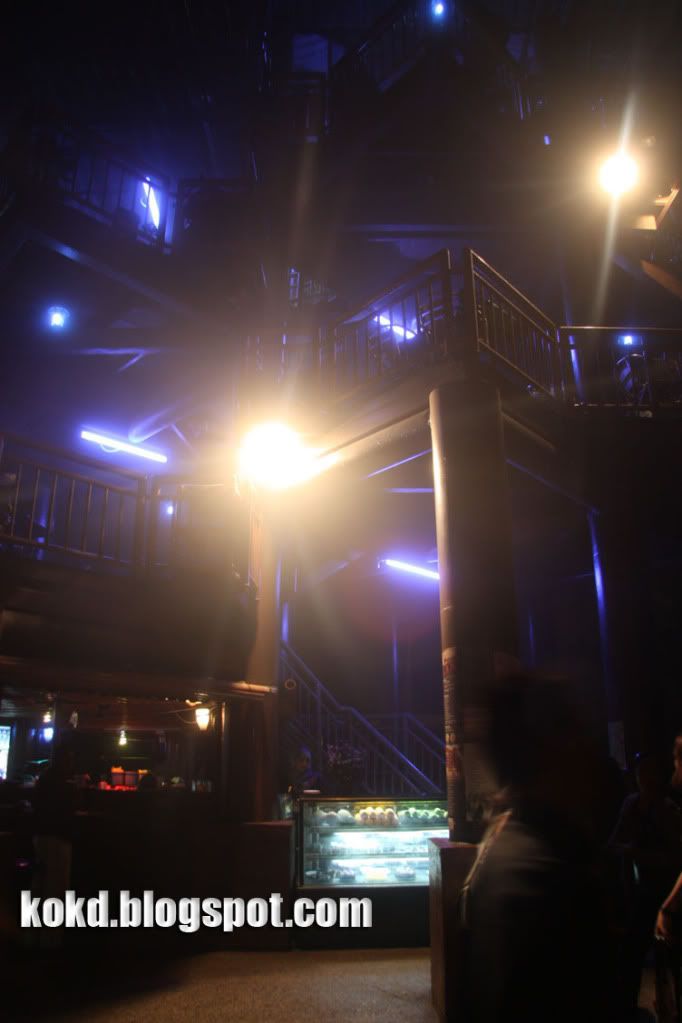 As the fog cleared on KL and the rain stopped, we could see the twin towers in the horizon! As a suggestion, it would be great to provide tripods to guests who arrive with their cameras! Otherwise, set up a good photographer there to get shots!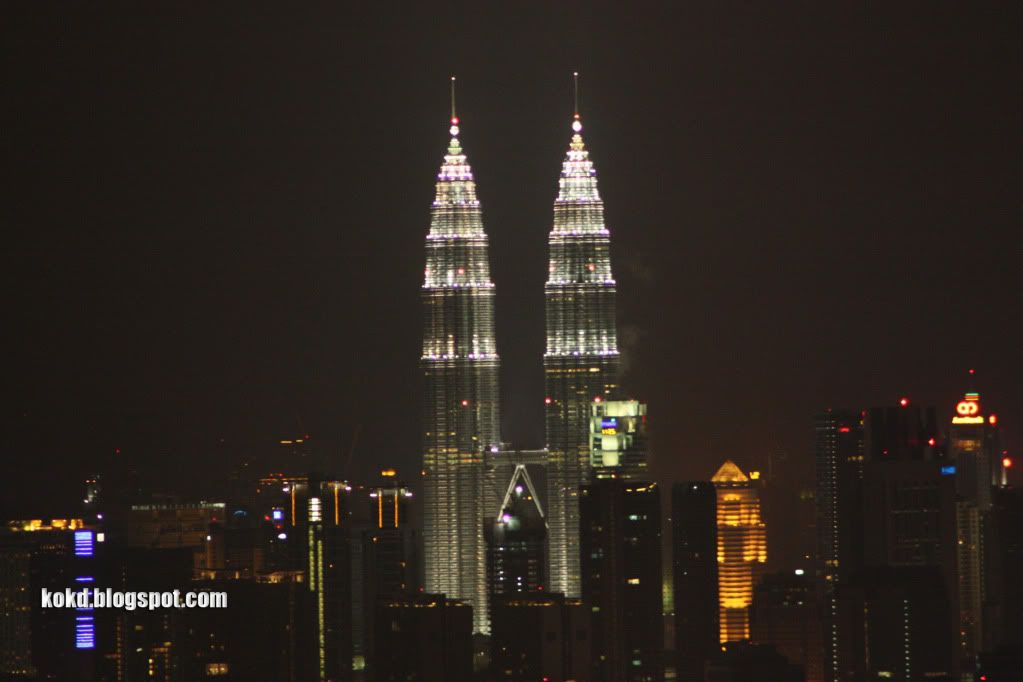 The view was so nice that
Babe
got a picture taken!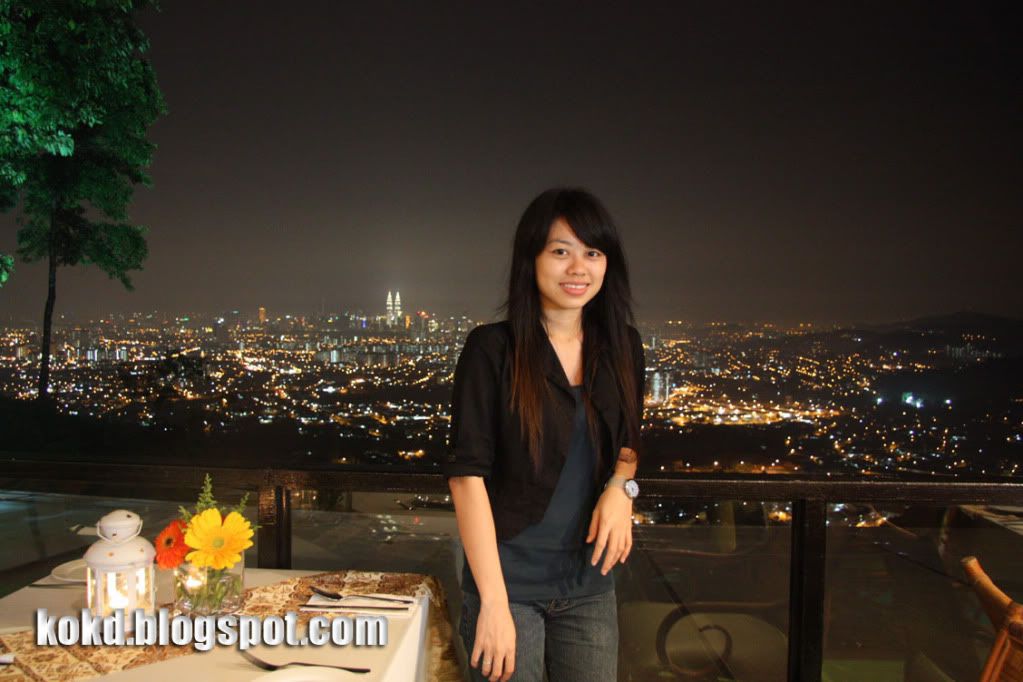 As we thought the night was over, it just got better, we were entertained by the likes of one Mr Razlan who began in song accompanied by guitar (check him out in the video). Food, view, music, = one of the most romantic places in Selangor!
As for the food, the real men that managed to take what Haven has thrown at us!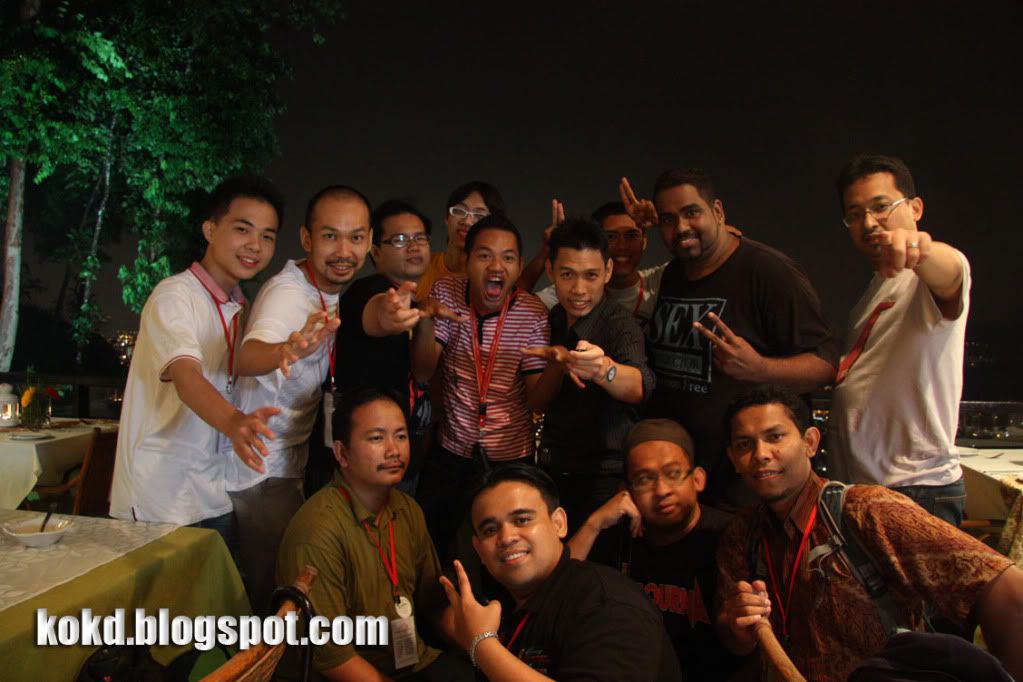 Tonight, I'm gonna sleep with only one word in my mind, "Haven".
To find out more,
Anantharaj Appanan
Managing Partner
anan@havenrestaurant.com.my
+6 016 2323999
Haven
Lot 1A&1B Ampang Lookout Point,
Pusat Pelancongan Menara Tinjau
Jalan Ampang-Hulu Langat.
Bukit Langat, Hulu Langat,
43100 Selangor Darul Ehsan
Malaysia
View Larger Map